Trump Reverses Parts Of Obama's Opening To Cuba
Foolishly, President Trump is rolling back part of President Obama's opening to Cuba.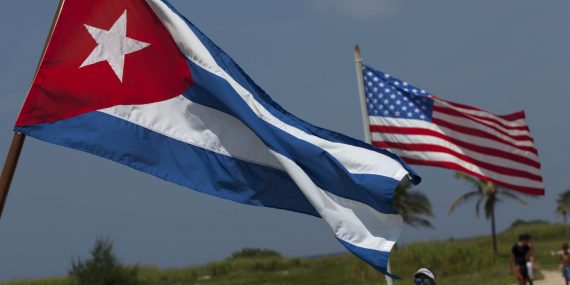 Yesterday during a visit to Miami, President Trump announced a rollback of President Obama's opening to Cuba that has resulted in the resumption of diplomatic relations and some economic and business dealing after more than five decades of an embargo that was imposed at the height of the Cold War:
MIAMI — President Trump announced on Friday that he was reversing crucial pieces of what he called a "terrible and misguided deal" with Cuba and will reinstate travel and commercial restrictions eased by the Obama administration in an attempt to obtain additional concessions from the Cuban government.

During a speech in Little Havana, the epicenter of a Cuban exile community that enthusiastically supported him in last year's election, Mr. Trump said he was keeping a campaign promise to roll back the policy of engagement begun by President Barack Obama in 2014, which he said had empowered the communist government in Cuba and enriched the country's repressive military.

"We will not be silent in the face of communist oppression any longer," Mr. Trump said at the Manuel Artime Theater, named for a former supporter of Fidel Castro who became a leader of Brigade 2506, the land forces that spearheaded the United States-led Bay of Pigs invasion in 1961.

"Effective immediately, I am canceling the last administration's completely one-sided deal with Cuba," Mr. Trump said.

But Mr. Trump's action fell well short of doing so. After the speech, he signed a six-page directive that ordered new travel and commercial restrictions while leaving in place some key Obama-era measures that eased sanctions.

As part of the new policy, Americans will no longer be able to plan their own private trips to Cuba, and those who go as part of authorized educational tours will be subject to strict new rules and audits to ensure that they are not going just as tourists. American companies and citizens will also be barred from doing business with any firm controlled by the Cuban military or its intelligence or security services, walling off crucial parts of the economy, including much of the tourist sector, from American access.

"We do not want U.S. dollars to prop up a military monopoly that exploits and abuses the citizens of Cuba," Mr. Trump said.

Despite his grandiose description, the policy represents a middle ground between hard-liners in Congress, including Senator Marco Rubio and Representative Mario Díaz-Balart, both Florida Republicans who have called for a complete reversal of Mr. Obama's Cuba policy, and business leaders, human rights groups and many of Mr. Trump's own advisers who wanted to preserve it.

It drew swift condemnation from diverse quarters, from congressional Democrats and a handful of Republicans who support greater engagement with Cuba, to business-minded conservatives like the U.S. Chamber of Commerce, which argued the move would hurt American businesses and jobs.

Still, Mr. Trump's action allowed him to claim credit for taking a tough stand while leaving in place many of the changes made by Mr. Obama, which polls have shown are broadly supported, including by most Republicans.

(…)

But Mr. Trump's speech was a stinging rejection of Mr. Obama's announcement in 2014 that he and President Raúl Castro of Cuba would begin normalizing relations between the two countries. Mr. Trump's speech evoked, instead, the Cold War thinking that dominated the United States government's stance toward Cuba for a half-century.

"To the Cuban government, I say: Put an end to the abuse of dissidents," Mr. Trump said. "Release the political prisoners. Stop jailing innocent people. Open yourselves to political and economic freedoms. Return the fugitives from American justice."

Just over one year ago, Mr. Obama took the stage at a theater in Havana, with Mr. Castro in attendance, to reject that thinking and declare that he intended to "bury the last vestige of the Cold War" and "leave behind the ideological battles of the past."

On Friday, Mr. Trump sought to revive that struggle, listing the misdeeds of the Castro government over more than five decades. "We will never, ever be blind to it," Mr. Trump said. "We remember what happened."

His audience of Cuban exiles and their families, including Mr. Rubio and Mr. Díaz-Balart, roared its approval. "President Trump will treat the Castro regime as the malevolent dictatorship that it is," Mr. Díaz-Balart said.

But critics argued that Mr. Trump was returning to a strategy that had been a proven failure.

Benjamin J. Rhodes, a former deputy national security adviser for Mr. Obama who led secret negotiations with Cuban officials that led to the rapprochement, said Mr. Trump's moves would undermine his stated objectives, pushing the Cubans into the arms of the Chinese and Russians, who have no restrictions on their dealings there, and emboldening hard-liners in the country who are opposed to moving toward democracy.

"If you want Cuba to change and reform, we are doing the opposite of what would be most likely to bring about reforms inside of Cuba," Mr. Rhodes said.

(…)

Under Mr. Trump's directive, the Treasury and Commerce Departments will have 30 days to begin writing new travel and commercial regulations. They are instructed to reverse a rule that Mr. Obama put in place last year to allow Americans who are making educational or cultural trips to initiate their own travel to Cuba without special permission from the United States government and without a licensed tour company, as long as they kept records of their activities for five years.

Such trips will now only be possible through a United States government-approved tour company, as was the case before 2016. The move shuts down what amounted to a backdoor way to allow American tourism in Cuba, despite the decades-old embargo that prohibits it.

Mr. Trump is also directing a broad prohibition against Americans doing business with companies controlled by the military, intelligence or security services in Cuba, which own large segments of the economy through the military's business arm known as Grupo de Administración Empresarial S.A., or Gaesa.

The change could have sweeping implications for American companies, but it is not clear how it will affect existing deals, such as the one struck by Starwood Hotels and Resorts last year to manage hotels in Cuba, including one owned by the military conglomerate Gaviota.
The reality, of course, is that this policy change has little to do with concern for human rights and everything to do with Republican political pandering in Florida. If Trump were truly concerned about human rights, he wouldn't be cozying up to authoritarian regimes in Egypt, Saudi Arabia, and The Phillippines at the same time that he seems to be willfully alienating our long-standing democratic allies in Europe, for example. Additionally, it's worth noting that most Americans supported President Obama's changes to American policy toward Cuba, as did most Republicans and even most Cuban-Americans. The only significant demographic group that remained opposed to the changes was made up of the small community of Cuban exiles in South Florida that have voted reliably Republican for decades now. This community, which Cuban-American Republicans such as Senator Marco Rubio and Congressman Mario Diaz-Balart continues to pander to, is a much smaller part of the Cuban-American community nationwide but still politically powerful in Florida. This is why Trump went to Miami to announce these policy changes.
As noted, as was the case with pretty much every other candidate for President on the Republican side last year, Trump ran for office promising to reverse Obama's opening to Cuba, a policy that he contended was another example of the "bad deals" that the United States had made that he would reverse if elected. As it turns out, though, the action that Trump took yesterday falls short of a full reversal of the President's policy, although the prospects for a further rollback of the embargo in the future seem low. For example, the policy change does not impact diplomatic relations between Washington and Havana. The U.S. Embassy in Cuba, and the Cuban Embassy in Washington remain open, although it's unclear if Trump intends to appoint an Ambassador or if the Senate would confirm such a nomination. After normalization of relations, President Obama nominated Acting Ambassador Jeffrey DeLaurentis to the position, but he was never due to the refusal of the Republican-controlled Senate to act on the nomination. DeLaurentis remains in the position of Acting Ambassador to this day. In addition to diplomatic relations, many business contacts will continue, as will the expanding market for cruises and direct flights between the United States and Cuba that have been put in place over the past three years since the policy changes made by President Obama. Finally, as noted above, it will still be possible for Americans to travel to Cuba although the changes will make the process somewhat more cumbersome.
Despite the fact that Trump's policy change falls short of the full reversal he promised as a candidate, it's still significant enough to be noteworthy, and it seems to be to be entirely counterproductive. As The New York Times notes even these minor changes could end up harming the multitude of small businesses that have sprung up in Cuba in recent years, many of which were benefiting from increased trade and travel prompted by the changes that President Obama was able to bring about. In addition to reopening air travel for the first time fifty years, increased travel by Americans and others provided Cubans the opportunity to profit from such companies as Airbnb, which has proven to be quite competitive in Cuba given the fact that there are currently few hotels available to accommodate increased travel from the United States and elsewhere. Of course, President Obama was unable to fully lift the embargo since that would require Congressional consent that Republicans have made clear would not be forthcoming, but the changes that had been made have been helping the Cuban people. Stepping back from them is a mistake that will only help Cuban hardliners, hurt the Cuban people, and restrict the freedom of American citizens to travel wherever they please.
Finally, as Daniel Davis and Frances Garcia argue at The National Interest scaling back the Obama reforms to U.S. engagement with Cuba is the wrong way to try to make things better for the Cuban people:
Cuba has already announced that Raúl Castro will step down as president on February 24 of next year. The heir apparent, fifty-seven-year-old Miguel Díaz-Canel, has already been announced. According to press reports, Díaz-Canel is a modern-thinking person who genuinely cares about the people. Many Cubans—especially the millennial generation—are very hopeful that he will institute positive changes in the economy and increase freedoms for the people. There is a clear hunger for more liberty and advanced economic opportunity, and the Trump administration can take advantage of that to propel positive change.

Instead of greeting Díaz-Canel next year with demands and threats of increased sanctions, President Trump should hold out the possibility of increased cooperation and expanded trade. The Cuban form of government is never going to change because the United States instructs or demands it to do so. Such attempts will almost certainly have the opposite effect.

Cuba represents no threat of any kind to the United States. We risk nothing by expanding engagement and cooperation with Cuba, yet doing so substantially increases our chances of accomplishing American goals of fostering democracy. Rolling back the current opening will make it less likely that Cuban officials will reform, increases the likelihood of preventing improved quality of life for regular Cubans, and unnecessarily prevents the expansion of American business abroad. We therefore urge the Trump administration and Congress to seize this opportunity to foster democracy from within Cuba.

Cuba represents no threat of any kind to the United States. We risk nothing by expanding engagement and cooperation with Cuba, yet doing so substantially increases our chances of accomplishing American goals of fostering democracy. Rolling back the current opening will make it less likely that Cuban officials will reform, increases the likelihood of preventing improved quality of life for regular Cubans, and unnecessarily prevents the expansion of American business abroad. We therefore urge the Trump administration and Congress to seize this opportunity to foster democracy from within Cuba.
Instead of creating more opportunity for freedom to flourish in Cuba, Trump is handing a victory to the hardliners. All because of a desire to pander to a shrinking minority of voters in Miami.