Trump Speaks on Coronavirus…
...and confusion (and a further market tumble) ensues.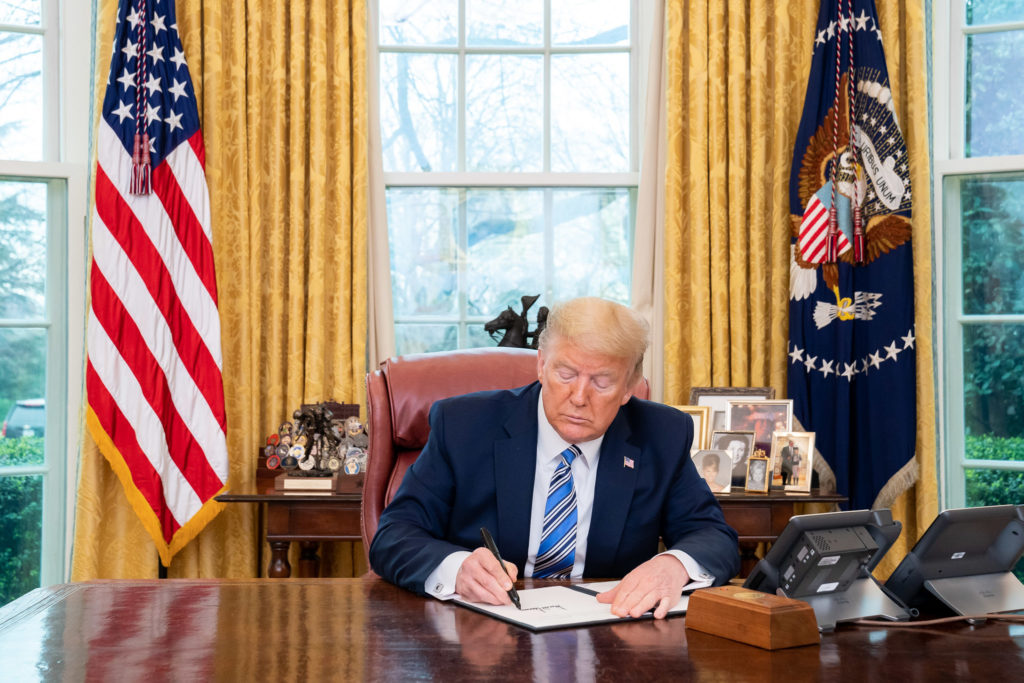 Last night, President Trump addressed the nation in regards to the Coronavirus pandemic. In a speech that was delivered in a near monotone, Trump created confusion by seeming to ban all travel and trade with Europe (it was later clarified that he was only banning travel of non-US citizens from the EU and that trade would not be affected). He also provided some modest policy proposals more appropriate for fighting a mild recession than for dealing with a global pandemic.
Like most of Trump's non-rally speeches, this one felt perfunctory and as if it was the first time he was reading it aloud.* I did not watch the speech live but watched it in full this morning. It was lifeless and was very much too little, too late (and that assessment is kind as it requires ignoring the Europe policy debacle, the general air of xenophobia, and the lack of any discussion about testing).
Some of it was anodyne boilerplate, such as:
The vast majority of Americans: The risk is very, very low. Young and healthy people can expect to recover fully and quickly if they should get the virus. The highest risk is for elderly population with underlying health conditions. The elderly population must be very, very careful.

In particular, we are strongly advising that nursing homes for the elderly suspend all medically unnecessary visits. In general, older Americans should also avoid nonessential travel in crowded areas.
Then there was this, which is risible given the way Trump himself has been dealing with this issue for weeks:
We are all in this together. We must put politics aside, stop the partisanship, and unify together as one nation and one family.
I cannot think of a single way in which this president has sought to unify the nation, and he has clearly treated this as a partisan issue (or self-protection) from the very beginning.
The actual policy moves in the speech are a combination of ineffective at best and nonsensical at worst.
Let's start with nonsensical:
To keep new cases from entering our shores, we will be suspending all travel from Europe to the United States for the next 30 days. The new rules will go into effect Friday at midnight. These restrictions will be adjusted subject to conditions on the ground.

[…]

These restrictions will also not apply to the United Kingdom.
Several thoughts occur all at once.
First, it is too late for travel bans (and to suggest that travel bans are a solution is to not understand how diseases spread–the virus is already here). I could understand and would support a more thorough screening process for international travelers, but a further ban is the proverbial fixing the barn door once the horse has come home.
Second, if a ban is a good idea, then why exclude the UK? Why not ban all travel? It really makes no sense. (If one checks out this list, one would note that many European countries have profiles no different than the UK).
Third, the discussion of Europe elided the entire issue of under-testing here in the US:
The European Union failed to take the same precautions and restrict travel from China and other hotspots. As a result, a large number of new clusters in the United States were seeded by travelers from Europe.
The problem for this logic (that the low number of cases in the US relative to Europe is due to the ban on Chinese travel) is that we really do not know how many cases there are in the US because we have not been prepared to test. The more we start testing, the more cases we are going to find.
Fourth, the travel ban was certain to cause an already jittery market to react even more negatively (especially when Trump seemed not to understand his own policy proclamations). It is never a good thing when the executive branch has to issues corrections to a major policy pronouncement immediately after the president has made said pronouncement.
Also, the whole speech smacks of xenophobia:
This is the most aggressive and comprehensive effort to confront a foreign virus in modern history.
(Emphasis mine).
Virii have no nationality (but xenophobia is on-brand for this administration).
Other issues from the speech include misleading information about insurance coverage:
Earlier this week, I met with the leaders of health insurance industry who have agreed to waive all copayments for coronavirus treatments, extend insurance coverage to these treatments, and to prevent surprise medical billing.
While it is true co-pays for testing have been waived, treatment is another matter. There have not been any offers to waive copays on treatment.
Also, this is the land of utter denial:
This is not a financial crisis, this is just a temporary moment of time that we will overcome together as a nation and as a world.
Tell that to the market. More significantly, tell it to the tourism industry, the airlines, the NBA, and so forth. The virus is clearly creating a global economic crisis and while it is strictly not a financial crisis such as that which sparked the Great Recession, it could have extremely significant ramifications. While I certainly agree that panic should be avoided, downplaying the situation is problematic (and that has been the administration's approach from the beginning).
This situation is just another example of why treating Trump like a business genius is utterly laughable.
One last thing: the following policy moves seem to me to be both inadequate and poorly chosen for the current moment:
Effective immediately, the SBA will begin providing economic loans in affected states and territories. These low-interest loans will help small businesses overcome temporary economic disruptions caused by the virus. To this end, I am asking Congress to increase funding for this program by an additional $50 billion.

Using emergency authority, I will be instructing the Treasury Department to defer tax payments, without interest or penalties, for certain individuals and businesses negatively impacted. This action will provide more than $200 billion of additional liquidity to the economy.

Finally, I am calling on Congress to provide Americans with immediate payroll tax relief. Hopefully they will consider this very strongly.
These feel like warmed-over recession-focused policies. They do not address where the real problems are likely to be: workers without benefits who will struggle to survive without paychecks if they get sick or if they are not able to work due to their industries (e.g., sports, tourism, festivals) going on hiatus.
As many have noted: a payroll tax cut is worthless if you aren't getting paid. Also, while they may be stimulative in the aggregate, the individual help to a waiter or other member of the service industry is small.
Competence matters and this event illustrates that fact. We are witnessing a truly incompetent administration in action.
---
*Look, I know that reading a speech and speaking extemporaneously are different skill sets and all of us likely sound worse reading. But goodness, he is terrible at it.