Trump Unleashes Racist Twitter Attack On Democratic Congresswomen
Trump opened his mouth and, once again, racist bilge came spewing out.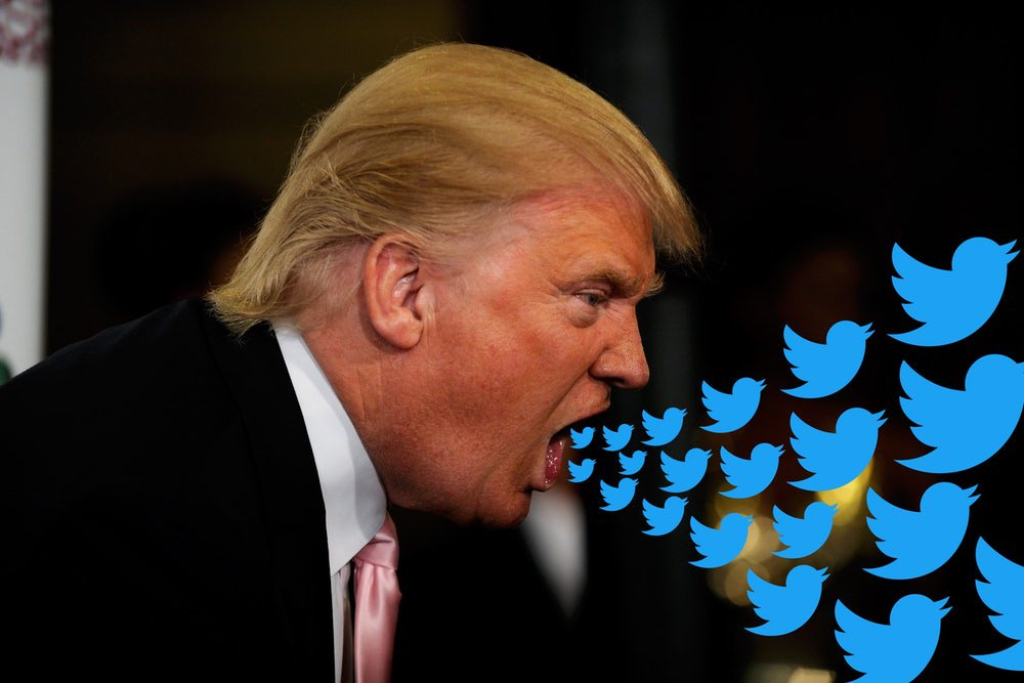 Inserting himself in the middle of a dispute that had developed between the Democratic Leadership in the House and more progressive members of Congress such as Alexandria Ocasio-Cortez, President Trump called out four Freshman Congresswoman, telling them to go back where they came from:
President Trump said Sunday that four minority, liberal congresswomen who have been critical of House Speaker Nancy Pelosi (D-Calif.) should "go back and help fix the totally broken and crime infested places from which they came," prompting other Democrats — including Pelosi — to rally to their defense.

Pelosi denounced Trump's tweets as "xenophobic comments meant to divide our nation."

Trump's remark, made in morning tweets, comes as the infighting between Pelosi and the four freshman women of color — Democratic Reps. Ayanna Pressley (Mass.), Rashida Tlaib (Mich.), Alexandria Ocasio-Cortez (N.Y.) and Ilhan Omar (Minn.) — has spilled into public view. It also comes as U.S. Immigration and Customs Enforcement officers are preparing to round up migrant families that have received deportation orders across the country.

"So interesting to see 'Progressive' Democrat Congresswomen, who originally came from countries whose governments are a complete and total catastrophe, the worst, most corrupt and inept anywhere in the world (if they even have a functioning government at all), now loudly and viciously telling the people of the United States, the greatest and most powerful Nation on earth, how our government is to be run," Trump tweeted.

Pressley was born in Cincinnati, Tlaib was born in Detroit and Ocasio-Cortez was born in New York — about 20 miles from where Trump was born. Omar was born in Mogadishu, Somalia; her family fled the country amid civil war when she was a child, and she became a U.S. citizen as a teenager.

All four women won election to Congress in 2018.

In a follow-up tweet, Trump suggested that the four Democrats should leave Washington.

"Why don't they go back and help fix the totally broken and crime infested places from which they came," he said. "Then come back and show us how it is done. These places need your help badly, you can't leave fast enough. I'm sure that Nancy Pelosi would be very happy to quickly work out free travel arrangements!"

Trump's tweets prompted a sharp response from Pelosi, who described them as racist and divisive.

"When @realDonaldTrump tells four American Congresswomen to go back to their countries, he reaffirms his plan to 'Make America Great Again' has always been about making America white again," she said in a tweet. "Our diversity is our strength and our unity is our power."
She also called on Trump to halt the planned ICE raids on Sunday and "work with us for humane immigration policy that reflects American values."

Other Democrats also responded with outrage, with some pointing out Trump's history of birtherism as well as the fact that the president's wife, Melania, immigrated to the United States. Melania Trump immigrated from Slovenia in 1996 for modeling.

New York Mayor Bill de Blasio (D), who is running for president, called Trump's tweets "another effort to divide people along lines of religion, ethnicity, origin, and create a country where there can't be unity."

"Unfortunately, there's an American tradition of telling people to go back where they came from," de Blasio said on CNN's "State of the Union." "It's a very bad tradition that we need to weed out of our nation, because we are a nation of immigrants. That's who we are by our nature for hundreds of years. But you don't expect to hear it from the president of the United States."
Here are the President's Tweets:
As noted, of the four Congresswomen that Trump attacked in these tweets, three of them were born in the United States. Alexandria Ocasio-Cortez, for example, was born in New York City to parents of Puerto Rican origin, meaning that she still would have been an American citizen even if she had been born where her parents "came from." Ayanna Pressley, meanwhile, is African-American and was born in Cincinnati, Ohio. Her family has most likely been in this country longer than Trump's. Rashida Tlaib was born in Detroit, Michigan to Palestinian immigrant parents and has been a citizen of the United States from birth. Ilhan Omar, meanwhile, was born in Somalia and brought to the United States when she was 10 years-old as they fled the war-torn country and sought, and were ultimately granted, asylum in the United States. She became a citizen of the United States in 2000 at the age of 17.
Telling these women to "go back" where they came from is absurd and quite obviously based on the fact that they are dark-skinned and have what, at least to the members of his base, unusual names. As Dan Drezner stated on Twitter, there really is no other honest way to interpret what the President said here, and it is unfortunately consistent with things that he and his supporters have said in the past. For that reason, I suppose, it doesn't come as a surprise, but it is nonetheless sad, distressing, and outrageous all at the same time. Had any other politician said this, people would be shocked and outrage. With Trump, it's just another example of the "same shit, different day" pattern we've come to expect from Donald Trump. And the Republican Party seems to be entirely okay with it.