Trump's Bizarre, Unhinged Letter to Erdogan
There's no rational explanation for this.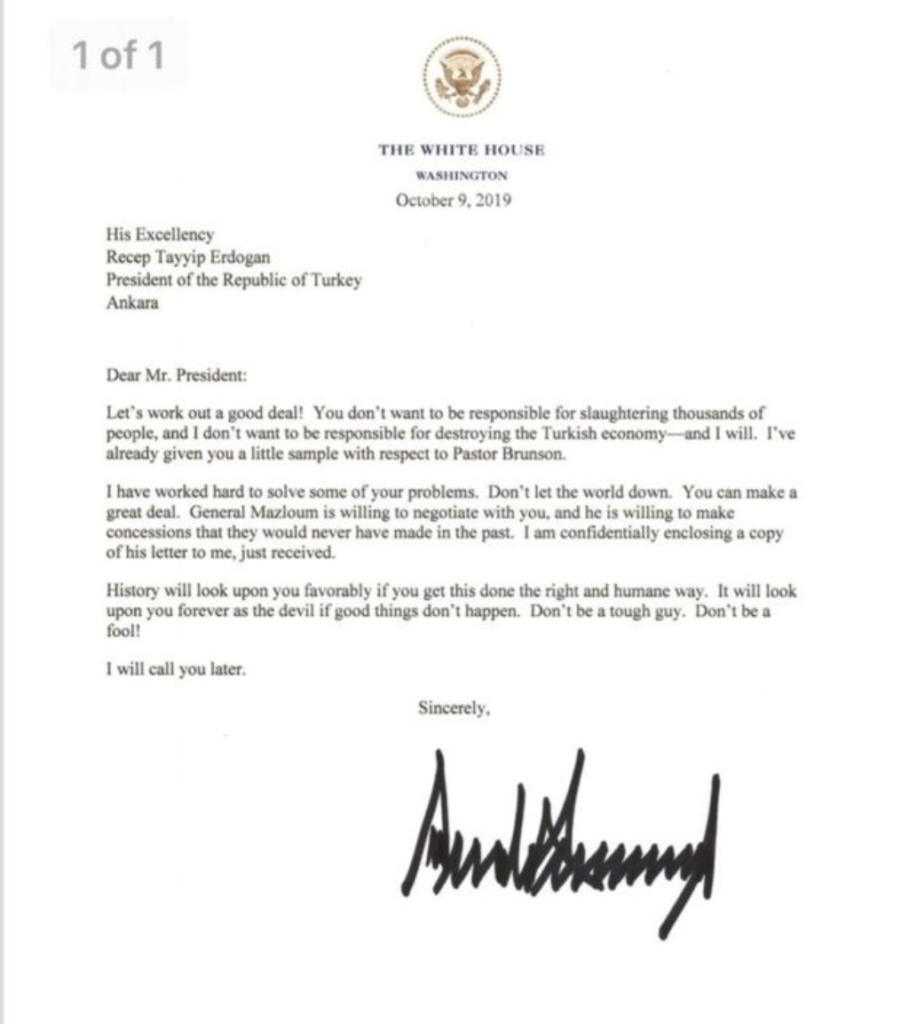 Last week, just days after he had agreed in a phone call with Turkish President Recep Tayyip Erdoğan to move American forces in northern Syria aside so that Turkey could invade the region, President Trump sent what can only be called a bizarre letter to Turkish President Erdogan:
President Donald Trump warned President Recep Tayyip Erdoğan of Turkey against being "a tough guy" and "a fool" in a bombastic letter last week that was apparently delivered as the Turkish military launched its invasion of northeast Syria.

In the letter, which was authenticated by the White House, Trump urges his foreign counterpart to negotiate an end to Turkey's assault against U.S.-allied Kurdish fighters, which has drawn widespread condemnation by the international community.

The correspondence was made public Wednesday as the president continues to face fierce criticism for granting tacit approval of the incursion earlier this month, and as administration officials have sought to project a hard line against Erdoğan's government amid sustained political fallout.

"Let's work out a good deal! You don't want to be responsible for slaughtering thousands of people, and I don't want to be responsible for destroying the Turkish economy — and I will. I've already given you a little sample with respect to Pastor Brunson," Trump wrote in the letter, referring to sanctions the Treasury Department previously imposed on senior Turkish officials for the detention of an American evangelical clergyman.

"I have worked hard to solve some of your problems. Don't let the world down. You can make a great deal," he continued, adding that Kurdish General Mazloum Kobani of the Syrian Democratic Forces "is willing to negotiate with you, and he is willing to make concessions that they would never have made in the past."

"History will look upon you favorably if you get this done the right and humane way. It will look upon you forever as the devil if good things don't happen," the president concluded. "Don't be a tough guy. Don't be a fool! I will call you later."
Daniel Larison offers this observation:
Trump is anxious to show that he wasn't simply caving to Turkey, so he threatens to wreck their economy, but at the same time he effectively approved the Turkish invasion that he is now desperate to denounce. His tone somehow manages to be bullying and desperate at the same time. He makes promises that Turkey will gain concessions that he can't possibly guarantee, and then warns that Erdogan will be seen as "the devil" if he doesn't comply with Trump's demands. In what universe would a message like this produce a favorable response? I can imagine Erdogan laughing at this letter, and I can imagine him cursing at it, but I don't see how he is supposed to take it seriously.
According to the BBC, Erdogan's response was about what you'd expect:
Turkish President Recep Tayyip Erdogan put US President Donald Trump's letter "in the bin", the BBC has been told.

In the letter dated 9 October, and sent after US troops were pulled out of Syria, Mr Trump told Mr Erdogan: "Don't be a tough guy. Don't be a fool!"

Turkish presidential sources told the BBC that the letter was "thoroughly rejected" by Mr Erdogan.

On the day the letter was received, Turkey launched a cross-border offensive against Kurdish-led forces.
When this letter was first made public on the Twitter account of Fox Business Network reporter Trish Reagan many observers questioned whether it was for real or some kind of bizarre Photoshop job. After all, while we all know that Trump often speaks in language like this in public, one would assume that his official correspondence to foreign leaders, which under normal protocol would have been reviewed by the Chief of Staff and other officials and is typically drafted or edited by staff would not read like it was written based on the taunts of a sixth-grader on a school playground. Soon after it was released, though, the White House confirmed that the letter was genuine.
To call this letter embarressing is an understatement. As I said, it reads more like the taunt of a supposed schoolyard bully than a serious piece of correspondence written by the President of the United States of America to the leader of an ally aimed to trying to avert war in a region that has already seen its fair share of war over the past eight years. If this is an example of the kind of correspondence that Trump is sending to foreign leaders, then things are much, much worse than I thought.
Here's the letter: