Trump's Travels On Pace To Cost Taxpayers More In One Year Than Obama Did In Eight
It's not the time away from the White House that matters, it's the hypocrisy.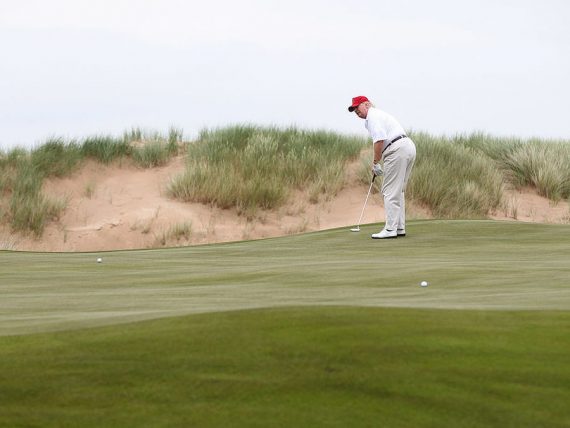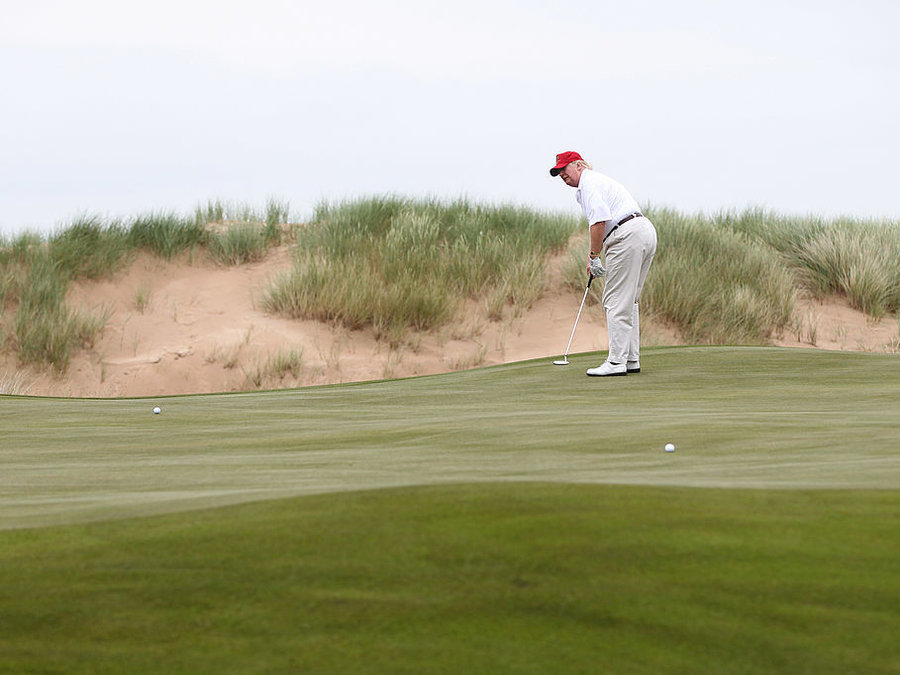 For a good part of the time that President Obama was in office, Donald Trump and other Republicans relentlessly attacked the former President for the time he spent golfing on weekends during the spring, summer, and early autumn and for the costs imposed on taxpayers for his vacations. After only six months in office, President Trump is on a pace to cost the Federal Government more in one year than President Obama's travel did in eight years in office:
President Trump's Florida club cost taxpayers more than $6.6 million to protect since January, according to a new report published Friday.

Mar-a-Lago, one of Trump's resort golf courses which sits on waterfront property on Florida's coastline, requires protection by both air and sea while the president is visiting.

Spending for one of Trump's trips to Mar-a-Lago is close to $1 million dollars, The Washington Post reported on Friday.

In comparison, security costs for a similar trip to Florida by former President Barack Obama in 2013 cost closer to $586,000.

Trump has reportedly already spent more than $21 million on travel so far in his presidency, which would outpace Obama's entire 8-year travel budget by the end of 2017.

White House officials have defended Trump's frequent trips to his properties, arguing he works wherever he is.

"He is not vacationing when he goes to Mar-a-Lago. The president works nonstop every day of the week, no matter where he is," a White House spokeswoman said in February.

The cost of protection is reportedly stretching the Coast Guard thin.

The Coast Guard spent more than $17.8 million on presidential security costs between October 2016 and March 2017, according to the Post. That's a $2.7 million increase from the same period one year earlier, and a $5.1 million jump from October 2015 to March 2016.'
When it comes to golf, President Trump is already well on a pace to outdo President Obama and other recent Presidents, although his current pace would not come close to the record for Presidential golf outings even if he serves for two terms. Through last weekend, Trump had played at least 40 rounds of golf, most at Mar-A-Lago or his course in Virginia, but also during his visits to his course in Bernardsville, New Jersey, which seems to be a favorite spot away from Washington during summer weekends. That puts him on a pace to play roughly 306 rounds of golf through the time when his current term in office. As it happens, that apparently matches the exact number of golf outings that President Obama had during his entire eight years in office.  He's only been in office six months and he's already on a pace to match the 333 rounds that President Obama played over eight years according to The Golf Channel's count. In fact, Trump has already played about the same number of rounds in six months that President Obama averaged per year over the course of eight years. If Trump keeps up this pace over the course of two terms in office, that would put him at over 600 rounds of golf over eight years. That's far more than any recent President, including President Clinton who is believed to have played about 400 rounds over his eight years in office. If he hit that number, though, Trump would still be behind what appear to be the record holders for Presidential golf outings. During his eight years in office, President Eisenhower is said to have played roughly 800 rounds of golf, although it's not clear if that includes the time he spent on the putting green he had built on White House grounds. President Woodrow Wilson, meanwhile, played what is believed to be over 1,000 rounds during his time in office notwithstanding the fact that he was disabled by a stroke during his final year or so in office. (Source)
Additionally, according to The Hill's count, Trump has visited one of his properties 57 times since becoming President, including dinner last night at the new Trump International Hotel in Washington, D.C. that remains a source of controversy given ongoing lawsuits regarding alleged violations of the Constitution's Emlouments clauses filed by outside groups, If he keeps that pace up, then we'll likely see at least 430 visits to a Trump property in his first term alone, and more than 800 if he were to serve two terms in office.
As I did during the Obama Administration, I'm not going to criticize the President for spending time away from the White House. For one thing, being President of the United States is a high-volume, high-stress job and it's a good idea that the person in that office gets some "down time" to relax whether it's by playing golf on the weekends or taking time away from Washington. For another, even when a President is "on vacation," he's not really off the job. Wherever he travels, he's accompanied by a swarm of aides, advisers, military officials who always stay close to him for national security reasons, and, of course, the Secret Service. Thanks to modern communications, they're never more than a few minutes away from a telephone or other means of communication should a crisis arise or someone important need to reach them immediately. I didn't criticize President Bush for the time he spent at his ranch in Crawford, Texas, and I didn't attack President Obama for his annual Christmas vacations to Hawaii or the time that he spent with his family in Martha's Vineyard during the annual Congressional summer recess. And, I'm not going to attack President Trump for going to Mar-A-Lago or his golf course in New Jersey or for his golf outings on weekends at his golf course in Loudoun County, Virginia. Yes, it's true that the Secret Service and other government agencies have ended up paying rent to Trump's companies for space at Trump Tower, Mar-a-Lago, and the golf course in New Jersey, but they are required by law to pay the going market rate for whatever property they use. During the Obama years, for example, the Secret Service had an "outpost:" built on Joe Biden's property in Delaware for his security detail that they ended up paying rent directly to Biden because they were using a part of his property. They are doing the same now that Trump is President and, as long as they are being charged the same amount of rent as other tenants would be, there's nothing wrong with that.
The point here isn't about Trump golfing or traveling or about where the money spent on his security or space for the entourage that is required to accompany the President, it's about the hypocrisy. Trump attacked Obama relentlessly for his golfing and vacations in Hawaii for Christmas and Martha's Vineyard for the August recess. The same was true of conservative talk radio hosts and many of the hosts on Fox News Channel. Given that criticism, it's more than slightly ironic that, as President, Trump is likely to spend more time golfing, and cost the taxpayers more when it comes to the cost of time away from the office. If it was acceptable to attack President Obama over these issues, then surely one must criticize Trump as well. Right, conservatives? Bueller? Bueller?
Photo via NPR