Two American Soliders Killed Over Afghan Koran Burnings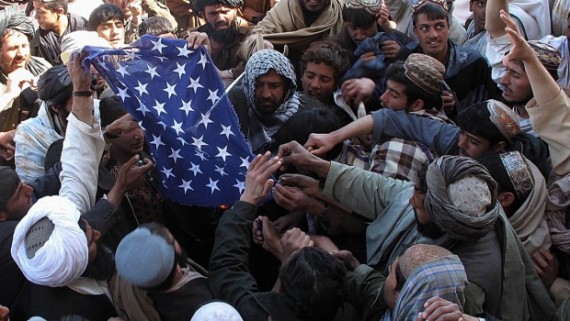 The protests in Afghanistan over the inadvertent burning of the Koran by American troops have claimed their first victims:
Two U.S. troops have been shot to death and four more wounded by an Afghan solider who turned his gun on his allies in apparent anger over the burning of Korans at a U.S. military base in Afghanistan, an Afghan official tells CBS News.

A statement from the International Security Assistance Force – Afghanistan, the international coalition in the country, confirmed that two troops were killed in Eastern Afghanistan on Thursday by "an individual wearing an Afghan National Army uniform."

ISAF does not typically give the nationality of casualties until family members have been notified, but the CBS News source in the Afghan government said those killed and injured in the attack in the eastern Ningarhar province, along the border with Pakistan, were Americans.

The source also said the shooting appeared to be motivated by the burning of Korans at the sprawling U.S. Bagram air base, north of Kabul, but he did not provide additional details as to what led him to that conclusion.

The suspect apparently joined other protesters already demonstrating against the U.S. at an American military outpost and opened fire with an automatic weapon, according to the Afghan source.
The killings are unjustifiable, of course. However, I agree completely with James Joyner's assessment that this is yet another reason why we need to bring as swift an end to our ill-fated missing in Afghanistan as soon as possible.
Photo via CBS News