Two Key Thoughts on Mass Shootings
Part 1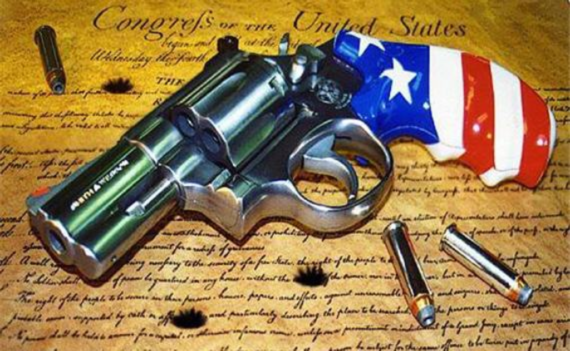 There have been three high profile mass shootings in the United States is less than a week. In Gilroy, CA three were killed and twelve injured on July 28th; yesterday in El Paso, TX at least 20 were killed and another 26 injured; and, early this morning in Dayton, OH, at least nine have been killed and another 26 injured.
The NYT further informs me of 29 other mass shootings just this year (and it is only early August):
The bloodshed in Ohio on Sunday was the 32nd mass killing by firearms in the United States this year. A mass killing is defined by the Justice Department as three or more killings in a single episode. There is no legal definition for the term "mass shooting," despite its frequent use by gun control groups and the news media.

Source: A Week of Bloodshed Underscores a Spate of Mass Shootings
The piece goes on to list a number of multiple-victim homicides committed with firearms in 2019.
I am struck this morning how Gilroy already seems like a distant event.
At any rate, two thoughts come to mind. Neither are especially original, but they nonetheless are worth repeating and discussing.
The Key Variable: Gun Availability
There is a lot of talk today (as there is every time we have one of these events) about mental health and video games (notably by Texas Lt. Governor Dan Patrick and House Minority Leader Kevin McCarthy). Yes, we need more resources into mental health care (although I do not think the party of the gentlemen in question cares to fund such) and no, video games are not the problem.
I fully understand the constitutional, legal, cultural, and logistical problems associated with gun control, but the bottom line is clear: other advanced industrial countries have citizens who play video games and who have mental health issues. What they do not have are frequent (or, in many cases, any) mass shootings.
From a NYT piece a few years ago (What Explains U.S. Mass Shootings? International Comparisons Suggest an Answer):
Americans make up about 4.4 percent of the global population but own 42 percent of the world's guns. From 1966 to 2012, 31 percent of the gunmen in mass shootings worldwide were American, according to a 2015 study by Adam Lankford, a professor at the University of Alabama.

Adjusted for population, only Yemen has a higher rate of mass shootings among countries with more than 10 million people
Here is a listing of gun ownership (using the same data as used in the graph above) for democracies: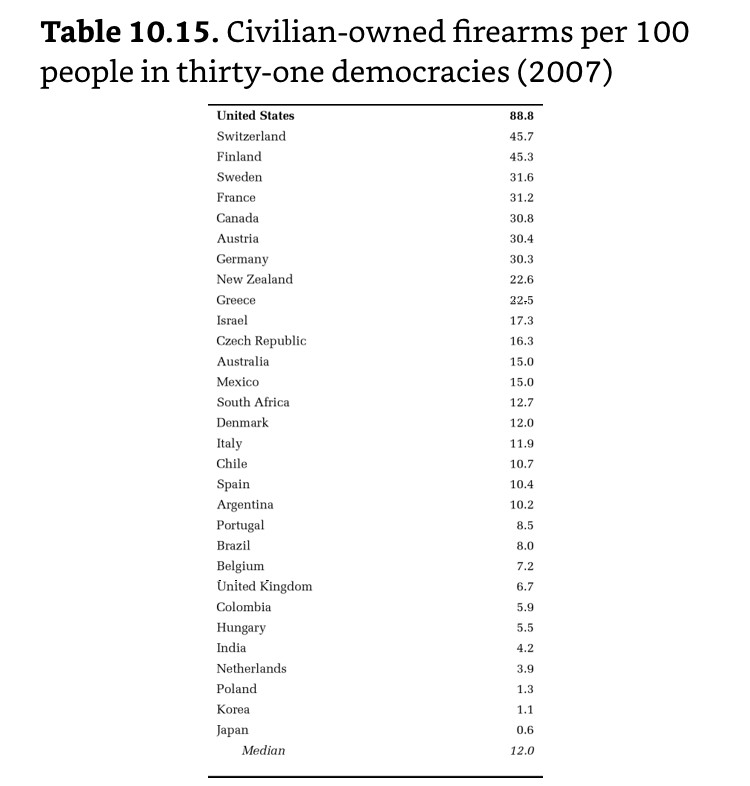 The correlations are clear (and yes, I understand that correlation is not causation). But to repeat: other countries have mental illness. Other countries have violent video games. Other countries have violent movies. Only the US has the mass shooting problems that we have, and guns are remarkably easy to get in the United States.
Indeed:
If mental health made the difference, then data would show that Americans have more mental health problems than do people in other countries with fewer mass shootings. But the mental health care spending rate in the United States, the number of mental health professionals per capita and the rate of severe mental disorders are all in line with those of other wealthy countries.

A 2015 study estimated that only 4 percent of American gun deaths could be attributed to mental health issues.

Whether a population plays more or fewer video games also appears to have no impact. Americans are no more likely to play video games than people in any other developed country.

Racial diversity or other factors associated with social cohesion also show little correlation with gun deaths. Among European countries, there is little association between immigration or other diversity metrics and the rates of gun murders or mass shootings.
Further,
Americans sometimes see this as an expression of deeper problems with crime, a notion ingrained, in part, by a series of films portraying urban gang violence in the early 1990s. But the United States is not actually more prone to crime than other developed countries, according to a landmark 1999 study by Franklin E. Zimring and Gordon Hawkins of the University of California, Berkeley
And, in fact,
More gun ownership corresponds with more gun murders across virtually every axis: among developed countries, among American states, among American towns and cities and when controlling for crime rates. And gun control legislation tends to reduce gun murders, according to a recent analysis of 130 studies from 10 countries.
To broaden the point beyond even murders or mass shootings, gun laws matter. To wit (from a recent USAT piece):
Children living in states with more restrictions on firearms are less likely to die from them, a new study says.

States with the strictest gun laws had about 40% fewer firearm-related deaths among children compared with states with the most lax laws, according to the study, published Monday in journal Pediatrics.

[…]

Her team also found that states mandating universal background checks prior to gun purchases had 35% lower gun-related mortality rates in children.

Source: Fewer kids die from guns in states with stricter laws, study says
At a minimum, I would appreciate it if people like Patrick and McCarthy would just be honest and state that mass shootings are the price we pay for our open and easy access to firearms, rather than pretending like Fortnite of Call of Duty is to blame.
Such a position would at least be honest.
Part 2 can be found here.