U.S. Drone Strike Hits Head Of Iranian Revolutionary Guard
An American drone strike has taken out the head of Iran's Revolutionary Guard, a move likely to significantly increase tensions across the Middle East.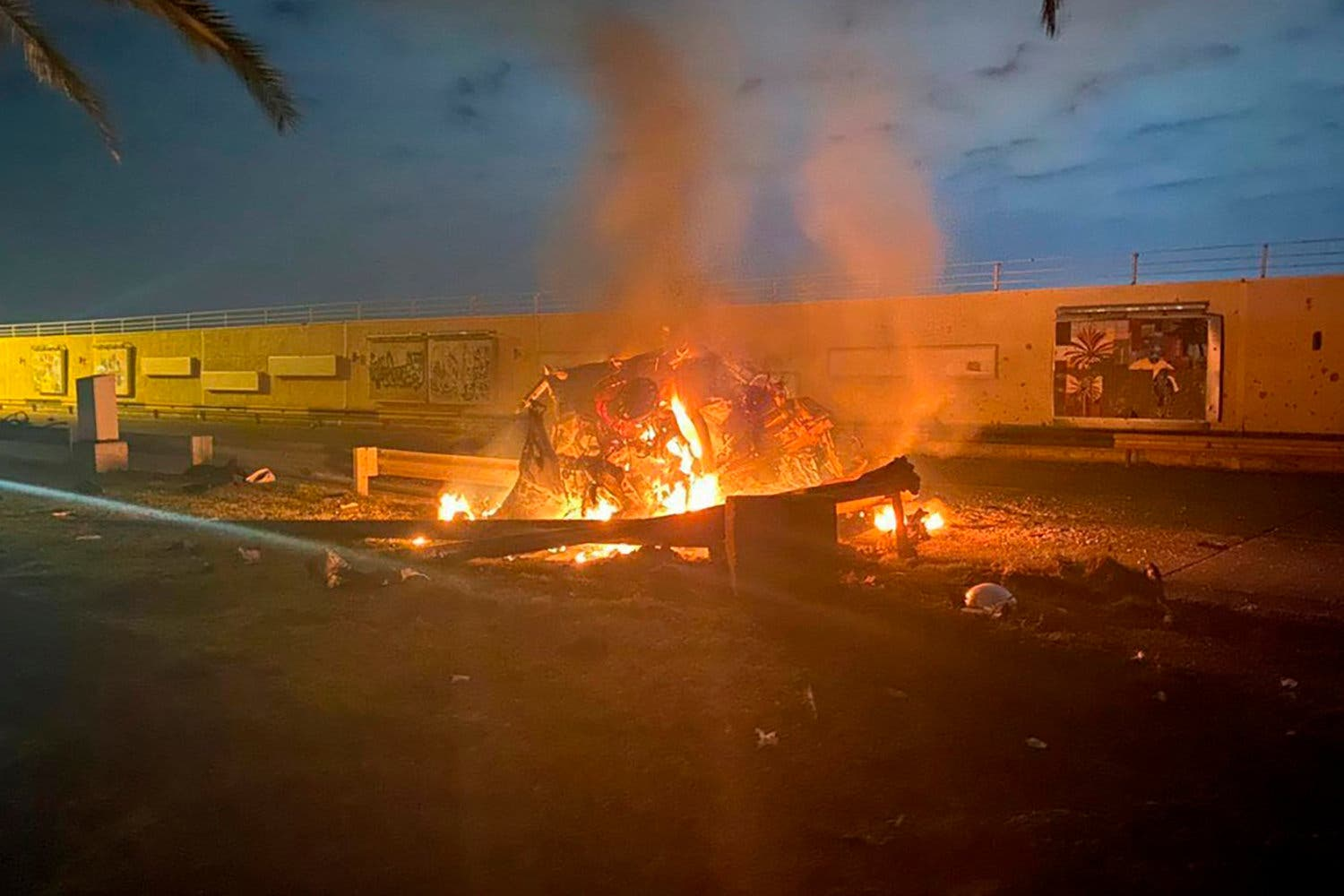 In what could end up becoming the most significant military action in the Middle East since the Iraq War, and the most significant American action against Iran specifically in a generation, an American missile strike at the Baghdad Airport has killed the head of the Iranian Revolutionary Guard:
Iran's top security and intelligence commander was killed early Friday in a drone strike at Baghdad International Airport that was authorized by President Trump, American officials said.

The commander, Maj. Gen. Qassim Suleimani, who led the powerful Quds Force of the Islamic Revolutionary Guards Corps, was killed along with several officials from Iraqi militias backed by Tehran when an American MQ-9 Reaper drone fired missiles into a convoy that was leaving the airport.

General Suleimani was the architect of nearly every significant operation by Iranian intelligence and military forces over the past two decades, and his death was a staggering blow for Iran at a time of sweeping geopolitical conflict.

The strike was also a serious escalation of Mr. Trump's growing confrontation with Tehran, one that began with the death of an American contractor in Iraq in late December.

In Iran, the leadership convened an emergency security meeting. And the country's supreme leader, Ayatollah Ali Khamenei, issued a statement calling for three days of public mourning and then retaliation.

"His departure to God does not end his path or his mission," the statement said, "but a forceful revenge awaits the criminals who have his blood and the blood of the other martyrs last night on their hands."

United States officials were braced for potential Iranian retaliatory attacks, possibly including cyberattacks and terrorism, on American interests and allies.

Israel, too, was preparing for Iranian strikes. Some of the country's most popular tourist sites, including the ski resort at Hermon, were closed, and the armed forces went on alert, officials said.
More from The Washington Post:
A U.S. airstrike killed Iranian Quds Force commander Qasem Soleimani in Baghdad late Thursday, the Pentagon said, a dramatic escalation of tensions between the two countries that could lead to widespread violence in the region and beyond.

Defense Secretary Mark T. Esper said the Pentagon had taken "decisive defensive action" against Soleimani, the revered military figure who had close links to a network of armed groups backed by Iran across the Middle East and, according to the United States, bore responsibility for hundreds of American deaths.

"Gen. Soleimani was actively developing plans to attack American diplomats and service members in Iraq and throughout the region," Esper said in a statement. "This strike was aimed at deterring future Iranian attack plans."

Iran confirmed the death of one of its most active military figures and vowed revenge against the United States. Iran's supreme leader, Ayatollah Ali Khamenei, said in a statement Friday that Soleimani's death was "bitter" but "the final victory will make life more bitter for the murderers and criminals."

Defense Minister Brig. Gen. Amir Hatami added that the attack would be met with a "crushing" response. Foreign Minister Javad Zarif called the strike an "act of international terrorism" and, in a message on Twitter, said the United States "bears responsibility for all consequences of its rogue adventurism."

Earlier, Iraqi militia officials and the country's state TV channel announced that Soleimani had been killed in an airstrike alongside a top Iraqi militia leader just outside the country's main airport. The Iraqi, Jamal Jaafar Ibrahimi, who is better known by his nom de guerre, Abu Mahdi al-Muhandis, is closely associated with attacks against the United States dating to 1982.

In a statement, Iraqi Prime Minister Adel Abdul Mahdi condemned the U.S. "assassination," adding that the killing of the Iraqi militia leader was an act of aggression against Iraq and a breach of the conditions under which American forces operate in the country.

A video circulated by Shiite militia groups showed, accompanied by the sound of wailing, the crumpled wreckage of the vehicle in which Soleimani purportedly was traveling. A photograph claimed to show his bloodied, ash-covered hand wearing the same blood-red ring seen in earlier photos of him alive.

A U.S. official, who like others spoke on the condition of anonymity because he was not authorized to comment on the record, said the attack was conducted by a U.S. drone and struck a two-car convoy carrying Soleimani and others on an access road near Baghdad International Airport. At least half a dozen people were believed to have been killed.

Senior officials with the Popular Mobilization Forces, as the Iraqi militia groups are known, lamented the deaths in messages circulating on WhatsApp. "May God reward you for the loss of the brave leaders, Hajj Soleimani and Hajj Muhandis. May God accept them as martyrs in his vast mercy," wrote Ahmed al-Assadi, the chief spokesman of the Popular Mobilization Forces, many of which are seen as being funded and directed by Iran.

Despite a long period of increasing tension between Iran and the Trump administration, which has vowed a tougher stance on Tehran's support for proxy groups, the attack against an incomparable figure in Iran's security establishment came as a surprise to many analysts, in part because it was seen as likely to ignite a significant Iranian response.

Ilan Goldenberg, who worked on Middle East issues during the Obama administration, characterized the move as a "massive game changer" in the region.

"Iran will seek revenge. It may escalate in Iraq, Lebanon, the gulf or elsewhere. It may attempt to target senior U.S. officials," said Goldenberg, now a scholar with the Center for a New American Security.

"Unfortunately, I highly doubt the Trump administration has thought out the next step or knows what to do now to avoid a regional war."

The attack, which Esper said was authorized by President Trump, raises fresh questions about the president's approach to the Middle East. While Trump has employed bellicose rhetoric and authorized several strikes against the Syrian government, an ally of Tehran, he has repeatedly voiced his desire to get the United States out of costly wars in the region.

The attack appeared intended to cripple a force that has been the vanguard of Iran's decades-long effort to shape events in the Middle East in its favor. Soleimani, who rose from poverty in southeast Iran, joined the Revolutionary Guard Corps as a young man, and later took control of the Quds Force, its external wing, in the late 1990s.

Under his command, the force expanded its support for armed groups across the region, including in Iraq, where U.S. officials blamed Iran-backed militias for killing at least 600 American troops following the 2003 U.S. invasion. The force also was named in a 2011 plot to assassinate a Saudi diplomat at a Washington restaurant. In recent years Soleimani was regularly seen making visits to affiliated militias in Iraq, Syria and elsewhere, demonstrating not just his military influence but significant diplomatic clout.
To be fair, Soleimani was hardly an innocent figure and most assuredly not a friend of either peace or of the United States. He was the head of an organization that has fomented terrorism and attacks on American interests and allies across the Middle East since its formation in 1979, and he was most emphatically part of the hardliners in the Iranian government who were opposed to things such as the Joint Comprehensive Plan of Action (JCPOA) and other efforts to reach a rapprochement with the West in contrast to leaders such as President Hasan Rouhani and Foreign Minister Mohammed Zarif. He was also known to be one of the top military advisers to Ayatollah Khamenei, who himself is generally seen to be on the side of the hardliners. If nothing else, the domestic impact of this inside Iran is likely to see the position of the hardliners strengthened while more moderate leaders such as Rouhani and Zarif are likely to go with the flow in order to not fall out of favor with the consensus inside the Iranian government.
As one analyst on Morning Joe this morning put it, taking out Soleimani was a tactical win for the United States because it takes a powerful and smart player who held influence both inside Iran and in nations like Iraq and Syria off the table. That being said, it is far from clear that this was a smart strategic move in either the short or the long term. In the short term, this is likely to lead to significantly increased tensions in the Middle East generally and the Persian Gulf area specifically as the region waits to see what kind of response we might see from Iran. While direct confrontation with American naval or land forces in the area seems unlikely, it's quite likely that we'll see retaliation of some kind. Most likely this will come in the form of attacks against American interests or allies by proxy forces in Iraq, Yemen, and Syria. This could include attacks against Saudi Arabia from forces based in Yemen, attacks against Israeli interests from forces in Syria and/or Lebanon, and cyberattacks on American assets that would carry with them an air of plausible deniability. The most unlikely outcome is that Iran will fail to respond to this attack at all.
In addition to the response from Tehran, it will be important to watch Baghdad will be the reaction of the Iraqi government and people. The attack itself comes just days after massive protests in and around the so-called "Green Zone" meant to serve as protection for the American Embassy in Baghdad by protesters linked to militia and other forces allied with Iran. Additionally, even before this attack, there were political forces in the Iranian Parliament who were calling for the removal of American forces from the country. This move could cause those voices to grow louder. In terms of immediate responses from Baghdad, the Iraqi Prime Minister said in a statement that the attack would "light the fuse" of war across the Middle East. Additionally, the State Department has already issued a statement calling on American civilians to leave Iraq as quickly as possible, although it has not taken any formal steps to move non-essential personnel out of the Embassy in Baghdad. That could change depending on how things proceed from here.
The biggest question here, of course, is what sort of thinking led the Administration and the President to take a step such as this, which constitutes a major escalation of tension between the United States and Iran. While some will attempt to draw an analogy between this attack and the raid that resulted in the death of Osama bin Laden. While bin Laden was a terrorist leader responsible for the death of thousands of Americans, he was in no way comparable to Soleimani, who was a top official in a nation that is a significant player in the Middle East. He was also a man who many believed would be a candidate for Iran's Presidency in the future and, perhaps, the nation's next political leader.
Carrying out the somewhat unprecedented assassination of a foreign leader from a nation with which we are not a war inside the territory is a serious step. In initial comments, the White House and Pentagon are claiming that the attack was justified because of alleged evidence that he was planning attacks on Americans but so far we haven't seen anything resembling evidence to back up this assertion. Additionally, it's notable that the Administration apparently did not notify or consult with Congressional leadership or the so-called "Gang of Eight" ahead of this attack and, of course, that there is nothing resembling authorization for this attack by Congress itself. Because of all that, we're currently left with just the assertions of the White House, and given the propensity of this President and his Administration to lie there's really no reason to believe them.
Hold on folks, because things are likely to get worse before they get better.