U.S. Postal Service Is Logging All Mail For Law Enforcement
Every piece of mail you send and receive is being logged by the Postal Service.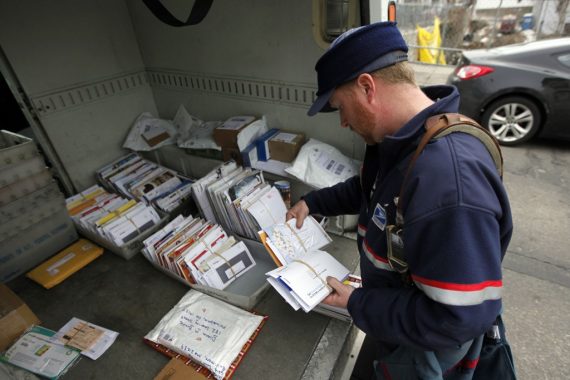 Every piece of mail you send is being logged and photographed by the Post Office:
WASHINGTON — Leslie James Pickering noticed something odd in his mail last September: A handwritten card, apparently delivered by mistake, with instructions for postal workers to pay special attention to the letters and packages sent to his home.

"Show all mail to supv" — supervisor — "for copying prior to going out on the street," read the card. It included Mr. Pickering's name, address and the type of mail that needed to be monitored. The word "confidential" was highlighted in green.

"It was a bit of a shock to see it," said Mr. Pickering, who owns a small bookstore in Buffalo. More than a decade ago, he was a spokesman for the Earth Liberation Front, a radical environmental group labeled eco-terrorists by the Federal Bureau of Investigation. Postal officials subsequently confirmed they were indeed tracking Mr. Pickering's mail but told him nothing else.

As the world focuses on the high-tech spying of the National Security Agency, the misplaced card offers a rare glimpse inside the seemingly low-tech but prevalent snooping of the United States Postal Service.

Mr. Pickering was targeted by a longtime surveillance system called mail covers, but that is only a forerunner of a vastly more expansive effort, the Mail Isolation Control and Tracking program, in which Postal Service computers photograph the exterior of every piece of paper mail that is processed in the United States — about 160 billion pieces last year. It is not known how long the government saves the images.

Together, the two programs show that snail mail is subject to the same kind of scrutiny that the National Security Agency has given to telephone calls and e-mail.

The mail covers program, used to monitor Mr. Pickering, is more than a century old but is still considered a powerful tool. At the request of law enforcement officials, postal workers record information from the outside of letters and parcels before they are delivered. (Actually opening the mail requires a warrant.) The information is sent to whatever law enforcement agency asked for it. Tens of thousands of pieces of mail each year undergo this scrutiny.

The Mail Isolation Control and Tracking program was created after the anthrax attacks in late 2001 that killed five people, including two postal workers. Highly secret, it seeped into public view last month when the F.B.I. cited it in its investigation of ricin-laced letters sent to President Obama and Mayor Michael R. Bloomberg. It enables the Postal Service to retroactively track mail correspondence at the request of law enforcement. No one disputes that it is sweeping.

"In the past, mail covers were used when you had a reason to suspect someone of a crime," said Mark D. Rasch, the former director of the Justice Department's computer crime unit, who worked on several fraud cases using mail covers. "Now it seems to be 'Let's record everyone's mail so in the future we might go back and see who you were communicating with.' Essentially you've added mail covers on millions of Americans."

Bruce Schneier, a computer security expert and an author, said whether it was a postal worker taking down information or a computer taking images, the program was still an invasion of privacy.

"Basically they are doing the same thing as the other programs, collecting the information on the outside of your mail, the metadata, if you will, of names, addresses, return addresses and postmark locations, which gives the government a pretty good map of your contacts, even if they aren't reading the contents," he said.

But law enforcement officials said mail covers and the automatic mail tracking program are invaluable, even in an era of smartphones and e-mail.
The article is correct to describe this as essentially a snail mail version of the National Security Agency's electronic surveillance programs, and indeed its a program that predates what the NSA was doing by many decades. The difference, of course, is that we now live an era where the technology exists to make a program that was once used in a limited manner to track individual suspects into something that is capable of tracking every single piece of mail sent and received in the United States. They may not know what is in that mail, but they will at least know where it was mailed from, who mailed it (if there is a return address), where it is being mailed to, and perhaps other information that can be extracted just from an observation of the exterior of the envelope or package. That's a tremendous amount of data, and it points out quite starkly that when you drop something in a mailbox, you're essentially advertising to the world who you're communicating with, what magazines you receive, and where you order products from.
Much like the NSA metadata, there don't seem to be any Constitutional issues here. Once you place a piece of mail in a mailbox, you can't seriously claim to have a legitimate expectation of privacy as to what's written on the outside of the envelope. The contents, of course, are a different story and ought to require a warrant for law enforcement to gain access to, but the "metadata" of who you sent the envelope do doesn't have the same protection. That said, the combination of the logging with the technology to retain, and potentially track, that data over long periods of time is something that ought to concern all of us. There are serious privacy concerns, as well as questions about what happens to this data once it is collects it. Who has access to it? Who long is it is maintained? When can it be accessed and under what circumstances? These are the kind of questions that we wouldn't even know to ask if programs like this didn't become public knowledge.