Understanding Ukraine
Trying to nail down some basics about a very complicated situation.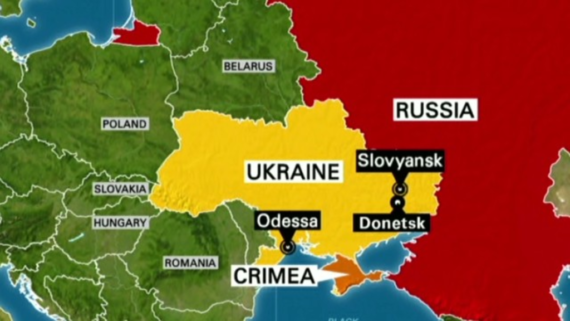 There are some key elements to the basic politics of Ukraine that need to be understood if one is to be able to adequately assess the current scandal unfolding regarding Trump's call with Ukrainian president Zelensky. This post is an attempt to provide some basics, if anything, for myself. I am not an expert on Ukraine, nor Eastern Europe, but know the basic context and have sought to fill in some key blanks.
First, it is "Ukraine" not "the Ukraine." Liesl Schillnger explains The Geopolitics of Ukraine's 'The' via Foreign Policy:
The Ukrainian journalist Olena Goncharova broke down the specifics of the etymological insult in a series in the Kyiv Post called "Honest History." "Saying 'the Ukraine' is more than a grammatical mistake — it is inappropriate and disrespectful for Ukraine and Ukrainians," she wrote. Attaching "the" in front of the name not only suggests that Ukraine is a "sub-part or region of a country," like "the Fens in England, the Algarve in Portugal, and the Highlands in Scotland," but it implies that Ukraine is a vassal state, a colonial territory, whereas "Ukraine is no longer a part of another country or empire," she emphasized. "After many hard battles, it has become an independent, unitary state."

[…]

As a rule, English speakers don't use the definite article in naming countries. Think about it: If you were heading to Paris or Berlin, would you tell a friend you were going to "the" France or "the" Germany? But there are a couple exceptions. We do use "the" for countries that are composed of plural entities, such as "the United States" and "the Bahamas," and we use it for distinctive geographical regions, whether they're countries or not, such as Goncharova's Fens, Algarve, and Highlands, not to mention the Congo, the Sudan, and, in this country, the Midwest.

There's no harm in calling England's coastal marshland "the Fens" or in describing Indianapolis as a city in "the Midwest." But several of these regional names carry loaded historical associations. To refer to today's Republic of the Congo and Democratic Republic of the Congo as "the Congo" summons thoughts of King Leopold II, who brutally exploited the Belgian Congo and its people in the late 19th and early 20th century. Saying "the Sudan" evokes the British colonization of that vast sub-Saharan region in the first half of the 20th century. And in the 21st century, if you say "the Ukraine," wittingly or not, you impose a territorial, Kremlin-style attitude to that autonomous nation.
Indeed, not to put too fine a point on it, but "But most Ukrainian politicians, journalists, and loyalists are not so sanguine. In their eyes, the fact of saying "Ukraine," not "the Ukraine," is not cosmetic—it's existential, and, more simply, correct."
If one even gives Ukrainian history a brief look, one can see how geography has been a central issue. And one could further see why such linguistic issues might be a sensitive issue for Ukrainians.
Second, there are a lot of moving parts in this story. Here are some of the key actors:
Yanukovych: Viktor Yanukovych, the former president currently in exile in Russia, has been a central figure of great relevance to the current era, dating back to 2004. He ended up being central to both the Orange Revolution of 2004 and the Maidan revolution of 2013.
The Orange Revolution In November 2004 was focused on the allegations that Yanukovych won the presidential election fraudulently. This lead to the Supreme Court nullifying those elections (with Viktor Yushchenko winning the redo elections).
Yanukovych made a comeback in 2010, promising to be a reformer and to fight corruption. He was elected to the presidency in February of that year.
During the Yanukovych administration the parliament voted to cease pursuit of NATO membership and Yanukovych himself decides to stop pursuing closer ties with the EU. The EU issue leads to massive street protests, including security forces killing protestors in Kiev in February of 2014. Soon thereafter Yanukovych leaves for Russia, never to return. The Ukrainian legislature wastes little time in voting him out of office.
Russia invades Crimea in Match of 2014 followed by incursions into eastern Ukraine.
Poroshenko: Petro Poroshenko was elected president in May of 2014. He lost his re-election bid 73%-25% in 2019 to Zelensky.
Zelensky: Volodymyr Zelensky was a comedian know for, among other things, starring in a sitcom about a teacher who becomes president. He had zero experience in politics prior to his election. He is now globally famous because of his phone call with Trump that has become the central issue in an impeachment inquiry.
Shokin: Viktor Shokin was the Prosecutor General of Ukraine for roughly a year (February 2015-March 2016) during the Poroshenko administration. This is the prosecutor that Trump claims Biden had fired to protect Biden's son, Hunter.
Freedom House's 2016 report on Ukraine noted the following:
Another key problem is pervasive corruption among Ukraine's prosecutors and judges. Poroshenko resisted numerous calls to replace Prosecutor General Viktor Shokin during 2015, and reformers such as Deputy Prosecutor General David Sakvarelidze complained that many prosecutors block efforts to fight corruption.
In 2017 FH reported:
Under intense pressure from his critics and civil society, Poroshenko in February initiated the removal of Prosecutor General Viktor Shokin, who was seen as blocking anticorruption reforms, and replaced him in May with loyalist Yuriy Lutsenko, who lacks legal training. Before his removal by the parliament in March, Shokin sacked his deputy, corruption fighter Davit Sakvarelidze; another reformist deputy prosecutor general, Vitaliy Kasko, had resigned earlier. Although the parliament adopted a lustration law in 2014, it has not been used against prosecutors and judges.
All evidence suggests that Shokin was corrupt and that US goals regarding his removal was part of a broad coalition of actors (both international and Ukrainian) aimed as increasing anti-corruption activity by the Ukrainian government.
Lutsenko: Yuriy Lutsenko was Shokin's replacement. He is no longer in office since Poroshenko lost reelection and Zelensky installed a new cabinet. Note the FH assessment above: he was a Poroshenko "loyalist… who lacks legal training."
Lutsenko was convicted of corruption charges in 2010, but was pardoned by Yanukovych. An initial read suggest that this conviction was politically motivated as Lutsenko was an ally of Yanukovych's chief rival. The pardon may have been to appease the US and other western countries worried political corruption.
Freedom House's 2019 report noted the following about prosecutions during the time Lutsenko and Shokin were in office:
Although due process guarantees exist, in practice individuals with financial resources and political influence can escape prosecution for wrongdoing.

The government has made little progress in meeting domestic and international demands to investigate and prosecute crimes committed during the last months of the Yanukovych administration in late 2013 and early 2014, which included the shooting of protesters. The authorities have also failed to mount effective investigations into high-profile killings such as the murder of journalist Pavel Sheremet with a car bomb in central Kyiv in 2016.
Lutsenko had, earlier this year, seemed to be potential ally to the Trump administration's goals in Ukraine, whether it be the Biden issue or the theories that Ukrainians fabricated Russia's 2016 election interference (the main sources of these stories appear to be pieces by John Solomon* at The Hill, such as here–these pieces seem to be a huge part of the foundation of current right-wing media narratives about Ukraine).
This week, however, the LAT reported: Former Ukraine prosecutor says he saw no evidence of wrongdoing by Biden.
Ukraine's former top law enforcement official says he repeatedly rebuffed demands by President Trump's personal lawyer to investigate Joe Biden and his son, insisting he had seen no evidence of wrongdoing that he could pursue.

In an interview, Yuri Lutsenko said while he was Ukraine's prosecutor general he told Rudolph W. Giuliani that he would be happy to cooperate if the FBI or other U.S. authorities began their own investigation of the former vice president and his son Hunter but insisted they had not broken any Ukrainian laws to his knowledge.

Lutsenko, who was fired as prosecutor general last month, said he had urged Giuliani to launch a U.S. inquiry and go to court if he had any evidence but not to use Ukraine to conduct a political vendetta that could affect the U.S. election.
Meanwhile, USAT reports: Ukraine opens case against former prosecutor Yuriy Lutsenko.
Authorities in Ukraine on Tuesday opened an investigation into a former government prosecutor who is indirectly connected to allegations that have prompted Democratic lawmakers in the U.S. to launch an impeachment inquiry into President Donald Trump.

Ukraine's State Bureau of Investigations (SBI) opened criminal proceedings against Yuriy Lutsenko over his possible abuse of power, the government agency said.

It said that Lutsenko and other former lawmakers may have conspired to "provide cover" for illegal gambling businesses in Ukraine. Lutsenko disputes the allegations.

[…]

Olexiy Haran, a political scientist at the National University of Kiev-Mohyla Academy, said that the timing of the decision by Ukraine's SBI to accept the case against Lutsenko "looked strange" given that he is a figure in the U.S. impeachment inquiry.

But Haran cautioned against jumping to conclusions about whether the case is politically motivated because, he said, the SBI is obligated to open an investigation into alleged wrongdoing and doing so does not necessarily mean the case is credible.
So, in that context, third, Ukrainian politics have not been especially stable in recent years. Note that President Viktor Yanukovych abandoned office in 2014 as the result of a popular uprising (he remains in exile in Russia). The next elected president (after a brief caretaker presidency), Petro Poroshenko was so unpopular he lost re-election in a major landslide to a TV comedian.
Further, Ukraine's democracy is weak, at best. If we look, for example, at the Polity IV assessment of the country, we find that that is shows substantial volatility from independence in 1991 through to 2013 when that assessment stops: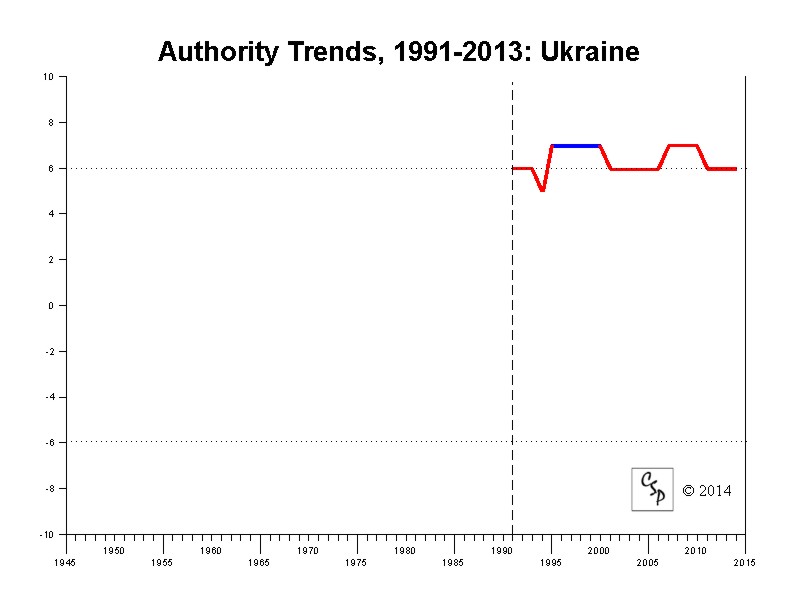 Being below "6" is non-democratic, and being on the line , as well as being red indicates, what the project calls "factionalism" which means means, among other things, a lack of stability of the rules of governance. This occurs due to substantial internal conflict over basic politics. The blue line indicates relative stability (the minority of the country's post-independence existence).
For example, 2004 saw the "Orange Revolution" and 2013 the Maidan revolution illustrate this classification (as noted above) and hence the red lines and the ups and downs.
Freedom House currently rates Ukraine as "partly free." It assessed the 2014 presidential election of Poroschenko as "free and fair" but had some reservations about the legislative elections owing to Russian occupation of Crimea and parts of eastern Ukraine. More troubling was its assessment of the electoral laws and the legal framework for enforcing them (scoring this 2/4):
Election monitors have expressed concern about courts' varying interpretations of electoral laws when faced with complaints regarding candidate registration and other topics, as well as about long delays in the adjudication of election-related cases. New electoral laws have sometimes been adopted in haste shortly before voting.
Fourth, which flows from the third (and should be clear by now), Ukraine has a serious problem with corruption. Transparency International scores Ukraine as a 32/100 (the lower the number, the worse the score) and ranks it 120 out 180 countries (#1 is the least corrupt country in the world by this metric, and 180 is the worst). This is important when trying to assess the honesty and integrity of statements made by past members of the Ukrainian government as well as to understand the general context of Ukrainian politics.
On this topic, Freedom House states the following: "Ukraine has enacted a number of positive reforms since the protest-driven ouster of President Viktor Yanukovych in 2014. However, corruption remains endemic, and initiatives to combat it are only partially implemented."
Fifth, it cannot be forgotten how much Ukraine relies on the US in the context of ongoing occupation of Ukrainian territory by Russia.
For example, Politico reported this week: How U.S. military aid became a lifeline for Ukraine.
The U.S. has provided about $1.5 billion in military support to Kiev between 2014 and this past June, according to an updated analysis by the nonpartisan Congressional Research Service. And Trump's temporary cut off of the aid represented a significant setback for the country.
It should also be noted how much the internal politics of the country are linked to serious tension between pro-Europe and pro-Russian tensions.
There are a lot of moving parts here, to be sure. I would also recommend the following episode of The Lawfare Podcast: WTF, Ukraine!
I am open to any corrections or suggestions for further information.
---
*John Solomon deserves his own post, but I will point readers to the following. WaPo: How a conservative columnist helped push a flawed Ukraine narrative and this piece from 2018: Staffers at The Hill press management about the work of John Solomon.