Vast Majority Of Americans Support 'Right To Die'
A new Gallup poll finds widespread support for individual choice when it comes to end of life decisions.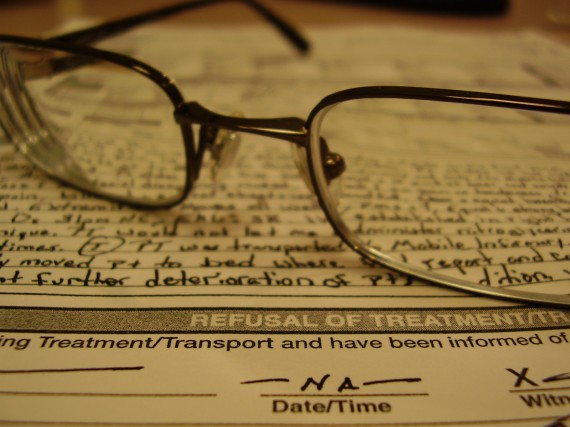 A new Gallup poll indicates that a majority of Americans support what has come to be called as a "right to die" for people with terminal medical conditions:
WASHINGTON, D.C. — Most Americans continue to support euthanasia when asked whether they believe physicians should be able to legally "end [a] patient's life by some painless means." Strong majorities have supported this for more than 20 years.

Although these are largely private family matters, controversy about euthanasia and other end-of-life situations has often become public — most recently, regarding the death of iconic radio host Casey Kasem. His children and his wife fought in court over what to do in the final stages of Kasem's battle with Lewy body disease, a form of dementia. Ultimately, a judge granted his daughter the authority to have doctors remove his infusions of water, food, and medicine.

These data are from Gallup's May 8-11 Values and Beliefs poll, conducted before Kasem's death. Gallup began asking this question about euthanasia in 1947. At that time, Americans were about half as likely (37%) to support euthanasia as they are today. Support had grown by 1990, and since then, a large majority of Americans have backed euthanasia.
The Casey Kasem dispute, which I mentioned in my post on his death, didn't really garner much media attention, certainly not as much as the nearly decade old Terry Schiavo case, so I'm not sure that it will move the debate forward in any respect. However, the issues that were involved they fall precisely within the polls parameters. Kasem's children by his first marriage were seeking to enforce the terms of the medical directive that he had signed before he fell ill, and were apparently being opposed by his second wife. Fortunately, the Washington State judge who heard the case decided to uphold the directive, and Kasem died in peace as he wished. This, quite obviously, was in stark contrast to the absurd and in the end disgusting spectacle that "pro-life" groups and Congressional Republicans turned the Schaivo matter into, although it is worth noting that in that case there was no advance medical directive.
As with many issues such as same-sex marriage and marijuana use, there has been a significant shift in public opinion on this issue since Gallup first polled it in 1948: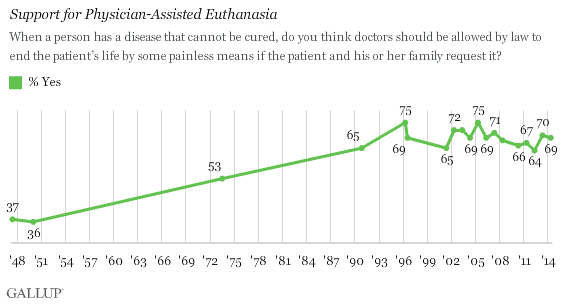 The sharp upturn in support in the 1970s is not surprising since this is roughly the time during which the issue first really came into the public consciousness through cases such as that of Karen Ann Quinlan, a young New Jersey woman who was placed in a persistent vegatative state due to a drug overdose. While Quinlan's family, which was devoutely Catholic, did not want to end her life they did end up in a long legal battle with her medical providers to get her disconnected from a ventilator and other life sustaining equipment. Ultimately, the Quinlan family won that battle at the New Jersey Supreme Court in 1976 and Quinlan was taken off the ventilator. As it turned out, she was able to breath on her own and lived in a New Jersey nursing home until she passed away in 1985. Quinlan's case, among others, served as the impetus for legal reforms that were designed to make it easier for families to act in these cases, and for people to state in advance what they wished to have done should they end up in a similar medical state. Depending on where you live, every state in the country has its own version of a Living Will or Advance Medical Directive, and the execution of such documents has become a standard part of estate planning.
Not surprisingly, there remain differences of opinion on the issue of euthanasia depending on how religious a person happens to be: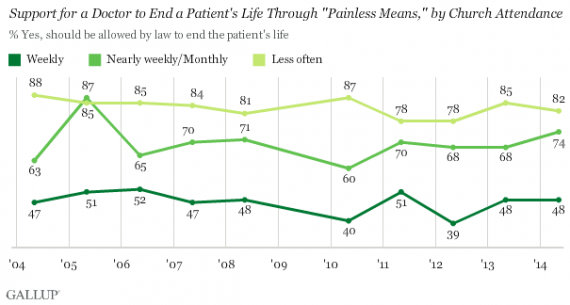 And, the level of public support is different if the question is worded differently, especially if people are asked about "physician assisted suicide":It strikes me as significant that even doctor assisted suicide, which brings up memories of Jack Kevorkian, also has majority support in the poll. It suggests to me that, when it comes to end of life decision, the American public believes that the decisions should be left to the patient and their family in consultation with medical professionals, and that state really has no business in this at all. Given how intensely personal a situation this is, that strikes me as the only reasonable solution to this issue.
As anyone who has had a family member in a situation where they were hovering on the edge of life and death, or suffering from a terminal illness where the question became how long it would be before they were released from obvious pain, this is an intensely personal decision. Though it's not an area of law that I've ever practiced in, I've always told anyone who asked me about the subject that an Advance Medical Directive, or whatever your state calls it, is something you should take care of no matter what age you happen to be. Absent that, its purely a family decision. There's no role for government here, and certainly no role for busybodies in the so-called "pro-life" movement who think its their business to tell a family that is already grieving how to handle one of the most difficult situations they'll ever face.
Advance Medical Directive graphic via Wikipedia