Virginia Putting ERA over the Top?
The Commonwealth is about to become the 38th State to ratify the Nixon-era Amendment.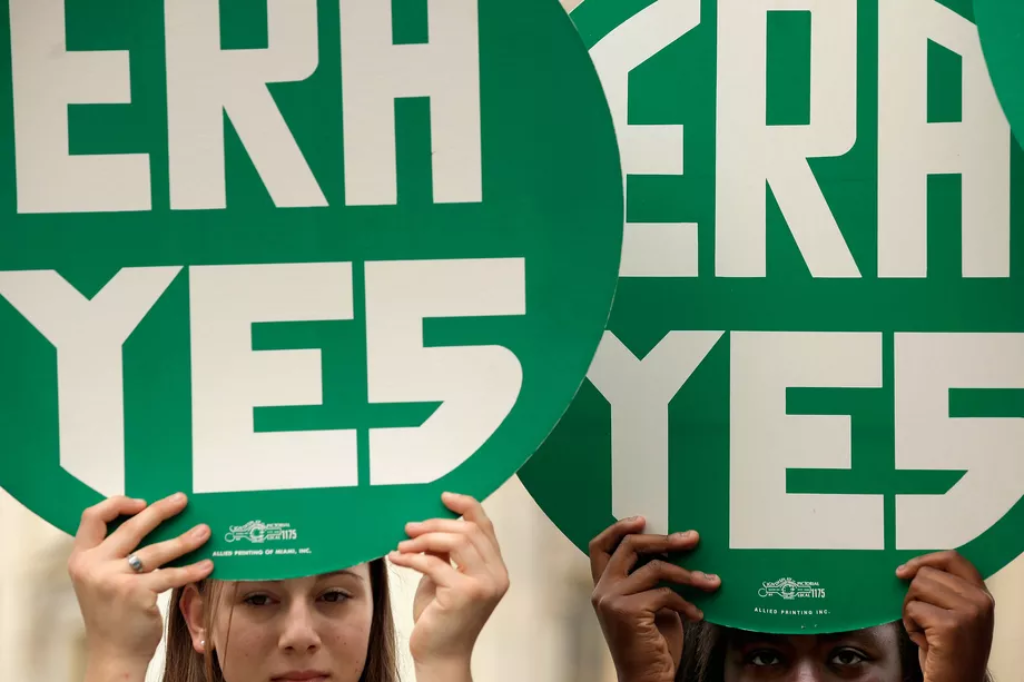 As has been speculated since Democrats took control of both houses of its legislature last November, my home state of Virginia is about to become the 38th state to ratify the Equal Rights Amendment.
AP's Sarah Rankin ("Virginia moves to brink of becoming 38th state to ratify ERA"):
Virginia on Wednesday moved to the brink of becoming the crucial 38th state to ratify the Equal Rights Amendment in what was seen as a momentous victory for the women's rights movement even though it is far from certain the measure will ever be added to the U.S. Constitution.

The state House and Senate approved the proposed amendment with bipartisan support, well over a generation after Congress sent the ERA to the states for ratification in 1972. Each chamber now must pass the other's resolution, but final passage is considered all but certain.

Amendments to the Constitution must be ratified by three-quarters of the states, or 38. But whether this one will go on to become the 28th Amendment may have to be decided in court because the deadline set by Congress for ratification of the ERA ran out in 1982 and because five states that approved it in the 1970s have since rescinded their support.
Doug Mataconis thoroughly explored these issues two months ago in a post titled "A Rebirth For The Equal Rights Amendment? Maybe, Maybe Not." The short version: Congress approved the ERA way back in 1972 (I was starting 1st grade that year; I have kids in 3rd and 5th grade now—and was 43 when the first of them was born) with a proviso that ratification by 38 states had to take place within 7 years. When the Amendment fell just short, Jimmy Carter persuaded Congress to extend the deadline for three years. Not only did it still not pass, some states actually rescinded their ratification.
Most of us had long considered the ERA a dead letter. Congress tried multiple times over the years to restart the process with a revamped ERA but was never able. But, along the way, more states both ratified the Amendment while a handful rescinded their ratification.
As noted in Doug's rebirth post and a back-and-forth with erstwhile commenter HarvardLaw92 in a follow-up post titled "Lawsuit Seeks To Preempt Efforts To Declare Equal Rights Amendment Ratified," the legal questions are less settled than most of us had presumed.
The Supreme Court established almost a century ago in Dillon v. Gloss (1921) that Congress has the authority to impose a deadline on state ratification. Additionally, it simply makes good sense. It's absurd to consider the ratification by a state legislature in 1972 and one by another state legislature in 2020 contemporaneous.
At the same time, in Coleman v. Miller (1939). the Supreme Court ruled that, if Congress didn't specify a deadline when passing an amendment, it could be considered open indefinitely. Crucially, they added that it's up to Congress to decide whether such an Amendment was valid. This came into play with the most recent Amendment to the Constitution, the 27th, which was passed by Congress way back in 1789 as part of the original Bill of Rights—-and not ratified until more than two centuries later, in 1992.
Coleman vs Miller is an incredibly messy precedent because it considered many separate questions and produced multiple concurrences rather than a majority opinion. But many legal scholars contend that Congress can decide to ignore both their own deadlines and the fact that five states rescinded their ratifications. Others argue otherwise.
I find the latter arguments more persuasively legally. More importantly, I think ratifying the ERA decades after its apparent death would be unseemly and undemocratic.
If the 2020 election goes the way of 2018, it's quite possible that we'll have a Democratic President, House, and Senate roughly a year from now. If they believe we need a Constitutional Amendment declaring women equal citizens under the law, they should pass it and send it back to the states for a clean ratification. It would almost certainly pass. (And, yes, I'm aware that the President has no formal role in the Amendment process. But, certainly, a President Elizabeth Warren or President Joe Biden would be more helpful in securing passage than a second-term President Donald Trump.)
Beyond that, the ERA was a creature of a long-ago era. While there are obviously still hurdles to overcome, women have long since become full economic and political citizens. Discrimination on account of sex has been banned by both statute and judicial Constitutional interpretation for decades.
Indeed, we've long since reached reductio creep on sex discrimination. I'm old enough to remember Phylis Schlafly and others warning that, if the ERA were to pass, women would be serving in the infantry, men would be marrying men, and even gender-segregated bathrooms would be illegal. Those things have, of course, become reality. And the Republic still stands.
Furthermore, as some commenters on the aforementioned threads noted, the 1972-era language could ostensibly cause real damage to LGBTQ rights. We've moved past a binary conception of sex and gender. Again, the solution is the same: If proponents believe an ERA is necessary to protect women and others from a future President Trump. pass a modern version through the normal process.