Voter Registration Restrictions and Representative Democracy
We should want more voters, not less, if we actually value representaitve democracy.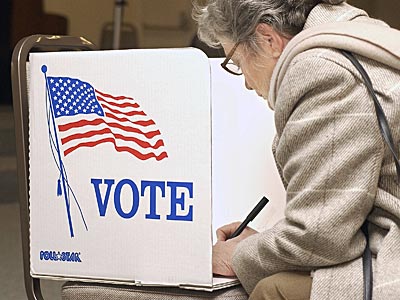 Via the Reuters:  New curbs on voter registration could hurt Obama
Voting laws passed by Republican-led legislatures in a dozen states during the past year have sharply restricted voter-registration drives that typically target young, low-income, African-American and Hispanic voters – groups that have backed the Democratic president by wide margins.

A further 16 states are considering bills that would end voter registration on election days, impose a range of limits on groups that register voters and make it more difficult for people to sign up, according to the Brennan Center for Justice at New York University Law School.

[…]

Last May, Florida Governor Rick Scott, a Republican, signed a law that imposes tough new restrictions on third-party groups if they do not turn in voter registration forms quickly.

[…]

But the groups that try to register voters say the law – which requires the groups to register with the state and turn in voter forms within 48 hours of obtaining them or face at least $5,000 in fines – are onerous and discriminatory.

The law also cuts the number of days for early voting and no longer allows voting on the Sunday before Election Day. Some activists said that unfairly targeted blacks and Hispanics, who went to the polls in large numbers the Sunday before Election Day in 2008 through programs called "Pews to the Polls" and "Souls to the Polls.

[…]

In Wisconsin, new laws require licensing for anyone who registers someone else to vote, and the rules for licensing vary in the state's 1,800 municipalities.

That could mean a volunteer for a voting drive in a school district would have to take a course and get licensed in a dozen different municipalities in that one school district, said Jeannette Senecal, director of elections for the League of Women Voters.
If one views election and governance as a competition between sports teams then, clearly, the salient issue in any discussion of voter registration drives is "does it help my team or hurt my team?"  However, we should ask:  is this really the way we ought to be assessing things like voter registration?
And yes:  the story that I am quoting puts it these terms:  i.e., in terms of whether it will help or hurt a specific candidate.  On the one hand, there are legitimate questions about how a given set of rules impact a given candidate or party, but such approaches also obscure broader and more important issues (or, perhaps, speak to at least part of motivation of those who made the given policy).  Moreover, there are persons who clearly look at these situations solely in terms of advantage or disadvantage to their preferred candidates (I recall, for example, complaints from conservatives about "motor voter" (laws that allow you to register to vote at the DMV or other services because they believed that such rules disproportionately helped Democratic constituencies).
However, if one actually cares about representative democracy and the electoral process itself, then one ought to favor making it easier for citizens to vote.   To claim otherwise one has to explain why it is not a general good for more voters to vote in a representative democracy.  If one's answer is:  because I don't like what a specific bloc of voters might like then one is not committed to the principles of representation.  If one only wants one's own view reflected in government then one wants an oligarchy (wherein oneself is one of the oligarchs) not a representative democracy.
Quite frankly, there is no reason not to have some system of automatic registration with citizens only having to proactively worry about it when they move from one jurisdiction to another.
Yes, measures need to be taken to prevent fraud.  But, as I have noted on numerous occasions before (most comprehensively here), the evidence of serious voter fraud problems does not exist.
On last, and yet very key issue:  we cannot ignore the fact that these "reforms" disproportionately affect the poor, the elderly, and minorities.  Moreover, it ignores the fact that one of the key points at which systematic discrimination took place was via the registration process, which is easier to manipulate than the actual process of voting.  Pretending otherwise is ahistorical at best.