Voter Fraud Exposed!
Dead people almost voted in New Hampshire. Zombie democracy is nigh!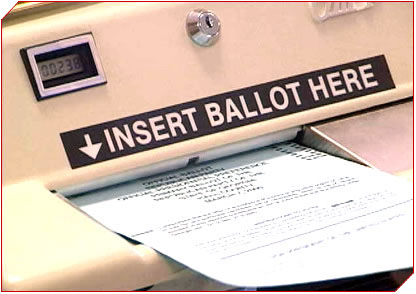 The Daily Caller has a "bombshell" for us:  NH poll workers shown handing out ballots in dead peoples' names [VIDEO]
The bombshell video is the work of conservative filmmaker James O'Keefe and his organization, Project Veritas.

Voters in the Granite State are not required to present identification to vote. O'Keefe's investigators were able to obtain ballots under the names of dead voters at polling locations Tuesday by simply asking for them, he said.

[…]

The investigation worked this way: O'Keefe and his team obtained names of recently deceased New Hampshirites through published obituaries, and used publicly available voter roll information to find dead people still on the voting rolls.

With that information, O'Keefe's investigators went to the polls on Tuesday and requested ballots in the names of the deceased.

"Some of them died a few months ago, some of them died a few weeks ago," he said.

In many cases, ballots were handed over by the poll workers without any skepticism.
So there you go:  we need voter ID laws, right?  We must stop the attack of zombie voters!
But, of course, the issue at hand is not one of potentiality.  I will readily allow that in a state without a voter ID requirement that persons pretending to be the recently deceased might be able to vote for said dead persons since it is likely impossible that the voter registration rolls could be purged of the recently dead.  Of course, as one story from NH underscores, even without an ID (and, in fairness, was noted in the Daily Caller piece), it might not always be easy to vote for a dead person:  Would-be dead man voter stopped at polls.
This all proves that all those calls for voter ID laws are on target, right?
However, the policy question is this:  what is the likelihood that this will happen in a given election, and at what rate?  That is:  is it especially likely that one, let alone a large number, of such ballots might be cast?  From there, one has to assess the cost of preventing such an action.
This is how rational policy ought to be made:  assessing costs and benefits.
The evidence suggests that voter fraud is quite rare (i.e., the benefit of voter ID laws is such that it could prevent an near-nonexistent problem).  So, the benefits are small.
Some numbers:
Existing studies are incomplete but provide some insight. For example, a statewide survey of each of Ohio's eighty-eight county Boards of Elections found only four instances of ineligible persons attempting to vote out of a total of 9,078,728 votes cast in the state's 2002 and 2004 general elections. This is a fraud rate of 0.000044%.' The Carter-Baker Commission's Report noted that since October 2002, federal officials had charged eighty-nine individuals with casting multiple votes, providing false information about their felon status, buying votes, submitting false voter registration information, or voting improperly as a noncitizen. Examined in the context of the 196,139,871 ballots cast between October 2002 and August 2005, this represents a fraud rate of 0.000045% (and note also that not all of the activities charged would have been prevented by a photo- identification requirement) (Overton, 654).
Some more from Indiana:
Even including suspected but unproven reports of fraud, the State and its allies have uncovered remarkably little evidence of any misconduct that Indiana's law could prevent. Out of almost 400 million votes cast in general elections alone since 2000, the briefs cite one attempt at impersonation that was thwarted without a photo ID requirement, and nine unresolved cases where impersonation fraud at the polls was suspected but not proven. Nine possible examples out of hundreds of millions — and these nine cases might just as well have been due to clerical error (Levitt, 1).
These are fairly typical examples of what we find when we look empirically at voter fraud allegations.  There are a host more in the Brennan' Center's report, The Truth about Voter Fraud.
Ok, so what about the cost?  Voter ID laws increase bureaucracy and they increase the time needed to vote.  Worse, and more importantly, we know that a substantial number of poor and/or elderly persons do not have adequate IDs.  This means that to stop an essentially non-existent problem we must increase the costs of the running the election and set up situations in which otherwise eligible voters might be denied the right to vote.
To add some numbers to this notion, there are more people without IDs than is likely assumed by most readers.   To wit:
The 2005 Carter-Baker Commission estimated that 12% of voting- age Americans lack a driver's license, and an analysis of 2003 Census and Federal Highway Administration data estimates that twenty-two million voting-age citizens lack a driver's license. Some 3-4% of voting-age Americans carry a nondriver's photo-identification card issued by a state motor vehicle agency in lieu of a driver's license. Thus, according to the 2001 Carter-Ford Commission, an estimated 6-10% of voting-age Americans (approximately eleven million to twenty million potential voters) do not possess a driver's license or a state-issued nondriver's photo- identification card (Overton 658).
That's a lot of voters who could be disenfranchised—and to stop less than a rounding error's worth of likely voter fraud.  This does not strike me as prudent, or efficacious, public policy.  (It is worth noting that some voter ID rules require something less official than a state-issued ID).
And, not only are there a lot of persons sans ID, they are clustered in particular groups.  For example:
Other studies on demographic disparities in photo identification focus largely on particular areas and localities. According to the Georgia chapter of the American Association of Retired Persons, for example, 36% of Georgians over age seventy-five lack a driver's license. In 1994, the U.S. Department of Justice found that African- Americans in Louisiana were four to five times less likely than white residents to have government-sanctioned photo identification. Of the forty million Americans with disabilities, nearly 10% lack identification issued by the government (Overton 659).
So, as is often noted, voter ID laws will more have the effect of making it difficult for poor, elderly, African-American, and/or disabled persons from voting whilst curbing a non-existent problem.
In short:  voter ID legislation is a solution to a nonexistent problem which ultimately causes new problems.
Philosophically, I have sympathy to the notion of a voter ID requirements.  As a practical matter, however, I am opposed as they are currently constituted (i.e., because we have an ad hoc system of identification in this country that can result in some voters being denied the right to vote).
I have hit a point where I think that what we need is a systematically distributed, free ID card that includes automatic voter registration.  That would both be fair and make the kind of voter fraud that is supposedly a problem impossible to commit.
Of course, there is a cost/benefit analysis needed for such a proposal as well.
Works Cited
Levitt, Justin. "Analysis of Alleged Fraud in Briefs Supporting Crawford Respondents." Published December 31, 2007. http://www.truthaboutfraud.org/pdf/CrawfordAllegations.pdf
Overton, Spencer.  "Voter Identification." Michigan Law Review, Vol. 105, No. 4 (Feb., 2007), pp. 631-681.