Wars and Rumors Of Wars
It's time for another round of speculation about Iran and its nuclear program.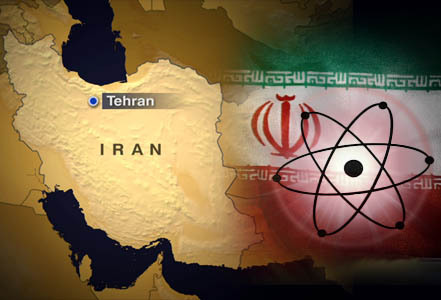 There seems to be a lot of speculation these days about military action against Iran and, depending on who you listen to, it's either Israel, Britain, or the United States who are planning to take action, or perhaps all three together. First, we have a report from Haaretz that Israeli Prime Minister Benjamin Netenyahu is trying to persuade his cabinet to back a pre-emptive strike on Iran:
Prime Minister Benjamin Netanyahu and Defense Minister Ehud Barak are trying to muster a majority in the cabinet in favor of military action against Iran, a senior Israeli official has said. According to the official, there is a "small advantage" in the cabinet for the opponents of such an attack.

Netanyahu and Barak recently persuaded Foreign Minister Avigdor Lieberman, who previously objected to attacking Iran, to support such a move.

Although more than a million Israelis have had to seek shelter during a week of rockets raining down on the south, political leaders have diverted their attention to arguing over a possible war with Iran. Leading ministers were publicly dropping hints on Tuesday that Israeli could attack Iran, although a member of the forum of eight senior ministers said no such decision had been taken.
The Guardian, meanwhile, is reporting that British forces are preparing to assist the United States in strikes on Iran:
Britain's armed forces are stepping up their contingency planning for potential military action against Iran amid mounting concern about Tehran's nuclear enrichment programme, the Guardian has learned.

The Ministry of Defence believes the US may decide to fast-forward plans for targeted missile strikes at some key Iranian facilities. British officials say that if Washington presses ahead it will seek, and receive, UK military help for any mission, despite some deep reservations within the coalition government.

In anticipation of a potential attack, British military planners are examining where best to deploy Royal Navy ships and submarines equipped with Tomahawk cruise missiles over the coming months as part of what would be an air and sea campaign.

They also believe the US would ask permission to launch attacks from Diego Garcia, the British Indian ocean territory, which the Americans have used previously for conflicts in the Middle East.

The Guardian has spoken to a number of Whitehall and defence officials over recent weeks who said Iran was once again becoming the focus of diplomatic concern after the revolution in Libya.

They made clear that Barack Obama, has no wish to embark on a new and provocative military venture before next November's presidential election.

But they warned the calculations could change because of mounting anxiety over intelligence gathered by western agencies, and the more belligerent posture that Iran appears to have been taking.
All of this is happening as we hear reports that the IAEA is about to release another report on Iran's nuclear weapon's program that is likely to conclude that the Islamic Republic is continuing in it's efforts to develop nuclear weapons and the systems for delivering them. Of course, we've heard that story before, as well as the complete opposite. . The United States' National Intelligence Estimate in 2007 stated that Iran had halted it's nuclear weapons program in 2003. In February 2009, though, both the United Nations and the United States issued reports saying that the program was further along than previously believed. Less than a month later, though, the Director of National Intelligence seemed to debunk those February reports.  In August of that year, we were told that Iran was on the verge of becoming a nuclear power.  Last year, we were informed of a CIA report saying "Iran continues to develop a range of capabilities that could be applied to producing nuclear weapons, if a decision is made to do so." Now, we've got this report coming out which is apparently going to ramp of the Iran nuclear fears again, leading people like John Bolton to declare, once again, that we have to strike Iran immediately.
Iran is on course to build nuclear weapons, according to evidence compiled by United Nations inspectors.

Research to be presented by the International Atomic Energy Agency (IAEA) next week will provide details pointing to the military dimension of Iran's nuclear program. …

The atomic watchdog is expected to say that Iran is working on nuclear missile technology, researching the detonation of a nuclear device and dramatically increasing uranium enrichment at a facility buried deep in a mountainside. Its report is likely to take the Middle East a step closer to a nuclear arms race. …

The key part of the IAEA report is expected to say that Iran is dramatically increasing uranium enrichment at a facility in Qom, deep in a mountainside, that could within months be fortified against conventional weaponry.
So, expect the drumbeat of war to begin pounding again from the usual quarters. As far as the Israelis are concerned, there are obvious reasons to be concerned about a nuclear Iran, or a non-nuclear Iran for that matter. The rhetoric coming from Ahmedinejad and Khameni, along with the regime's support for Hamas and Hezbollah, makes them a serious threat to the safety and security of Israeli citizens, and Israeli interests in other parts of the world. At the same time, though, it's fairly clear that an attack on Iran wouldn't be the cakewalk that some on the right seem to think it would be:
Iran's forces may not be up to much but, with the help of Hamas and Hezbollah, they could wreak havoc. British and US troops in Afghanistan would be exposed to even greater danger than they are now – their bases in the Gulf, notably in Qatar and Bahrain, would be easy targets. The Strait of Hormuz, the entrance to the Gulf, the canal through which more than 50% of the world's oil is shipped, would be closed. What would arise from the ashes?

Some may say that is a price worth paying to prevent Iran from acquiring nuclear weapons. The suggestion is that there is a "window" now that would enable Israel on its own to strike Iran's nuclear sites. Next year, the "window" would be left open to the US (and the UK) before Iran's nuclear weapons reached the point of no return.

Such reasoning, if this is what it can be called, is that of the dangerous fool. How crushed and devastated would Iran have to be before it could no longer restart a nuclear programme, even one just involving fissile material as a weapon for terrorists?

(…)

Why attack, or even threaten to attack, a country whose leaders are increasingly worried, more worried, about the state of the economy and internal dissent than any perceived threat from Israel? Iran is a far more sophisticated and divided society than the picture generally painted in the west.
These arguments are all well-placed, and they argue strongly against the kind of pre-emptive war that some in Israel and on the American right seem to favor at this point. We already learned in Iraq what the costs of such a war can be, and there's every reason to believe that things in Iran would be just as difficult, if not more so. Fortunately, it seems unlikely that we'll actually move close to war anytime soon. Barry Rubin and Jeff Dunetz note the many reasons why the reports we're hearing of war by the Israelis are likely much ado about nothing, and I recommend reading their arguments in that regard. As far as the United States, it's pretty clear that, absent some kind of aggressive move by Iran that demands a response, President Obama is not going to launch a pre-emptive war against Iran before the 2012 elections. For one thing, it would likely tick off the left wing of his party even more than things like the intervention in Libya did. For another, it's highly unlikely that action against Iran will be as bloodless as the war in Libya was for the the United States. The last thing a President running for re-election wants are pictures of soldiers being buried from a war he started while he's running for re-election. Finally, with the public overwhelmingly supporting the disengagement from Iraq, and very non-supportive of the war in Afghanistan, it's unlikely that the public has the stomach for another conflict, especially one that seems as unnecessary as this one.
So, expect to hear another round of war fever being whipped up. It'll probably be really popular among most of the Republican candidates for President except Ron Paul and Gary Johnson. In the end, though, I doubt it will amount to anything real.