Was There Really An Imminent Humanitarian Crisis In Libya?
President Obama says he acted in Libya to avert an imminent genocide, but there's no evidence that any such thing was about to occur.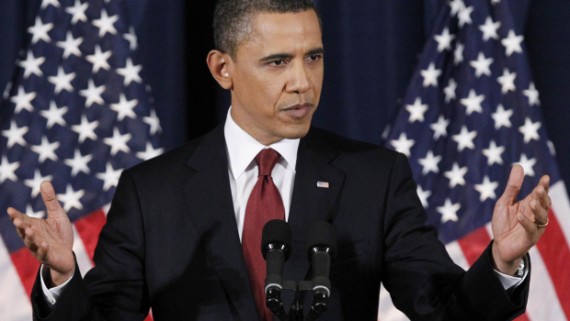 Last Monday in his speech to the nation, President Obama justified the US/UN/NATO intervention in Libya as necessary to prevent an imminent humanitarian crisis:
Ten days ago, having tried to end the violence without using force, the international community offered Gaddafi a final chance to stop his campaign of killing, or face the consequences.  Rather than stand down, his forces continued their advance, bearing down on the city of Benghazi, home to nearly 700,000 men, women and children who sought their freedom from fear.

At this point, the United States and the world faced a choice.  Gaddafi declared he would show "no mercy" to his own people.  He compared them to rats, and threatened to go door to door to inflict punishment.  In the past, we have seen him hang civilians in the streets, and kill over a thousand people in a single day.  Now we saw regime forces on the outskirts of the city.  We knew that if we wanted — if we waited one more day, Benghazi, a city nearly the size of Charlotte, could suffer a massacre that would have reverberated across the region and stained the conscience of the world.

It was not in our national interest to let that happen.  I refused to let that happen.  And so nine days ago, after consulting the bipartisan leadership of Congress, I authorized military action to stop the killing and enforce U.N. Security Council Resolution 1973.
This threat of an imminent humanitarian disaster in Benghazi was the justification for UNSCR 1973 and has also been cited by some Obama supporters as justification for not consulting with Congress prior to taking military action. The only problem is that there is no evidence to suggest that it was ever true:
Alan Kuperman, an associate professor at the University of Texas' Lyndon B. Johnson School of Public Affairs, is among those unconvinced by Obama's case. "Gadhafi," he told me, "did not massacre civilians in any of the other big cities he captured — Zawiya, Misrata, Ajdabiya — which together have a population equal to Benghazi. Yes, civilians were killed in a typical, ham-handed, Third World counterinsurgency. But civilians were not targeted for massacre as in Rwanda, Darfur, Burundi, the Democratic Republic of Congo, Bosnia, or even Kosovo after NATO intervention."

The rebels, however, knew that inflating their peril was their best hope for getting outside help. So, Kuperman says, they concocted the specter of genocide — and Obama believed it, or at least used it to justify intervention.

Another skeptic is Paul Miller, an assistant professor at National Defense University who served on the National Security Council under Bush and Obama. "The Rwandan genocide was targeted against an entire, clearly defined ethnic group," he wrote on the Foreign Policy website. "The Libyan civil war is between a tyrant and his cronies on one side, and a collection of tribes, movements, and ideologists (including Islamists) on the other. …The first is murder, the second is war."

When I contacted Miller, he discounted the talk of vast slaughter. "Benghazi is the second-largest city in the country and he needs the city and its people to continue functioning and producing goods for his impoverished country," he said.

Maybe these analysts are mistaken, but the administration has offered little in the way of rebuttal. Where Bush sent Colin Powell to the United Nations to make the case against Saddam Hussein, Obama has treated the evidence about Gadhafi as too obvious to dispute.

I emailed the White House press office setimes asking for concrete evidence of the danger, based on any information the administration may have. But a spokesman declined to comment.
As the author points out, when George W. Bush was arguing for military action against Iraq he at least had intelligence, albeit faulty intelligence, indicating that Iraq did still possessed WMDs. In fact, this was a belief that was shared by every major intelligence service in the world at the time. It was, however, faulty intelligence, largely because nobody had reliable assets on the ground and Saddam Hussein was, for his own reasons, engaging in what clearly seems in retrospect to have been a disinformation campaign designed to make the world, and especially Iran, think he still had WMDs.
All Obama had with regard to Libya was a theory about what might happen in a war we didn't understand in a country we didn't understand. Much like the Bush Administration took the dubious intelligence about Iraq and combined it with the irrational fears of Saddam Hussein striking Europe and the United States with chemical weapons-laden missiles he didn't have, President Obama related on incomplete information about what was actually going on in Libya, much of which was coming from rebels who had their own motivations for getting the West involved in the war.
Once again, then, it seems we've gotten involved in a conflict in a Muslim nation based, if not on lies, then at least on wild exaggerations of what our President thinks is the truth. Hope and Change!