Wednesday Debt Talks End On Tense Note As Obama Walks Out "Abruptly"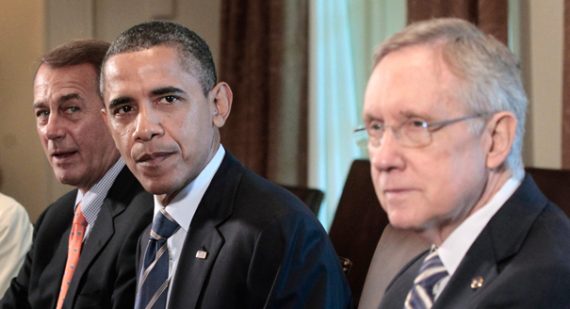 This doesn't sound like a good sign:
President Barack Obama abruptly ended a tense budget meeting on Wednesday with Republican leaders by walking out of the room, a Republican aide familiar with the talks said.

The aide said the session, the fourth in a row, was the most tense of the week as House of Representatives Speaker John Boehner, the top Republican in Congress, dismissed spending cuts offered by the White House as "gimmicks and accounting tricks."
Further details from Politico's Jonathan Allen:
President Barack Obama abruptly walked out of a debt-limit meeting with congressional leaders Wednesday, throwing into serious doubt the already shaky debt limit negotiations, according to House Majority Leader Eric Cantor (R-Va.) and a second GOP source.

Cantor said the president became "agitated" and warned the Virginia Republican not to "call my bluff" when Cantor said he would consider a short-term debt-limit hike. The meeting "ended with the president abruptly walking out of the meeting," Cantor told reporters in the Capitol. "I know why he lost his temper. He's frustrated. We're all frustrated."

Asked if they'd made progress in the lasted of negotiations, House Minority Leader Steny Hoyer said "No."
CNN is reporting that Cantor and Obama's disagreement stemmed from Cantor taking the position that they would need to do more than one debt limit increase vote between now and 2013, thus kind of adopting the McConnell plan from yesterday apparently. Obama said at one point "Don't call my bluff……..I'm going to take this to the American people."
This is like a bunch of schoolkids on the playground trying to prove whose tougher. Sigh.
Update: Further details from The Hill, with a slightly different account from Democratic attendees at the meeting:
Democrats immediately disputed the GOP account, saying Obama had sought to end a meeting when Cantor interrupted him to get a final word. "No. Absolutely not," Minority Leader Nancy Pelosi (D-Calif.) told The Hill when asked about Cantor's description.(…)

Cantor said Obama became "agitated" when the House majority leader said Republicans were now open to holding two votes to increase the debt ceiling between now and the 2012 elections, which the president has rejected.

Obama said he wanted congressional leaders to decide by Friday what approach to take on the debt limit. The Treasury Department has set an Aug. 2 deadline for lifting the $14.3 trillion ceiling, and ratings agencies are warning that they will downgrade U.S. credit if Congress doesn't act, an action that could send markets tumbling.

"We are very far apart right now," Cantor said he told the president. "I don't know if we can get there."

Cantor said he asked Obama if would consider allowing two votes on the debt ceiling to give leaders more time to negotiate additional budget savings while avoiding a calamitous default.

"That's when he got very agitated, seemingly, and said that he had sat there long enough, and that no other president – Ronald Reagan wouldn't sit here like this – and that he's reached the point where something's got to give," Cantor said, describing the president's reaction.

"He said to me, 'Eric, don't call my bluff. I'm going to the American people with this,'" Cantor said. "I was somewhat taken aback," he added with a smile.
Where this goes form here is anyone's guess. My first thought is that Eric Cantor may be in over his head.
Update 2: Dave Weigel passes along this quote from an unnamed source, attributed to Obama during his conversation with Cantor:
I have reached the point where I say enough. Would Ronald Reagan be sitting here? I've reached my limit. This may bring my presidency down, but I will not yield on this.
This is crunch time. Either a deal gets made, or things fall apart and both sides retreat to their respective corners for a couple days.