Weiner Rises In New Poll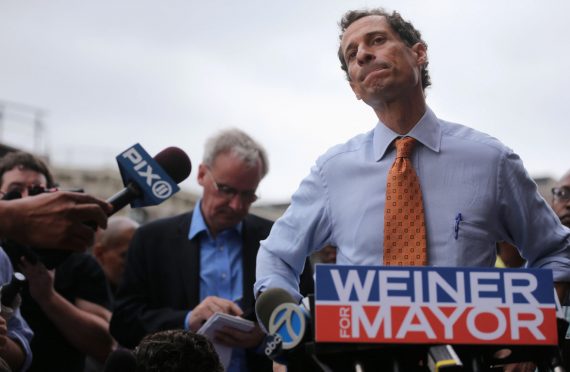 As improbable as it may seem, former Congressman Anthony Weiner is now in the lead in the New York City Mayor's race according to a new poll:
Democratic mayoral candidate Anthony Weiner has surged ahead of his opponents in a new NBC 4 New York/Wall Street Journal poll, transforming himself in just a few weeks from disgraced has-been to mayoral front-runner.

Weiner, who entered the race two years after resigning his congressional seat amid a sexting scandal, now leads City Council Speaker Christine Quinn in the crowded Democratic primary, setting up a new phase in what could end up being a remarkable political comeback.

Weiner leads Quinn 25 percent to 20 percent among registered Democrats, the poll by Marist found. That's a flip-flop from the last survey in May, when Quinn, the longtime front-runner, led Weiner 24 percent to 19 percent.

Just as telling is the number of registered New York voters who said they might vote for Weiner. Forty-nine percent said they'd consider it, up from 40 percent two months ago, before Weiner entered the race. Those who said they wouldn't consider voting for him dropped from 52 percent to 45 percent.

The next closest contender in the Democratic primary is former Comptroller Bill Thompson, with 13 percent of registered Democrats saying they'd vote for him, up 2 percentage points from May. Public Advocate Bill de Blasio follows with 10 percent, who dropped 2 points. Then comes current Comptroller John Liu at 8 percent, Staten Island minister Erick Salgado at 2 percent and former City Councilman Sal Albanese at 1 percent.

With potential votes spread out over so many candidates, and turnout in the Sept. 10 primary expected to be relatively low, the race remains statistically wide open. Many Democrats — 18 percent — remain undecided, and 61 percent who have a choice indicated that they weren't firmly committed to it.
As I've noted before, under New York law, there would have to be a runoff election if nobody manages to get a majority of the vote in the September primary and, quite obviously, there's nobody who's even close to that number right now if this poll is to be believed. Right now, that runoff would be between Weiner and Quinn. However, the poll also shows that the main reason for these results seems too be the fact that Quinn has slipped in her favorability while Weiner and another candidate have seen their numbers rise:
Quinn, who holds the most powerful office of the candidates, has suffered an erosion of support: 57 percent of Democrats polled they had a good impression of her, down from 60 percent in May, the poll shows. Meanwhile, her negative rating has inched upward, from 26 percent in May to 29 percent now.

Mike Morey, a Quinn spokesman, said: "We fully expect the polls to fluctuate throughout the campaign, but we are confident that on Election Day when voters have to decide who they want to lead this city, they will choose someone who has demonstrated the ability to lead and deliver."

Weiner, meanwhile, saw his favorability rating among Democrats jump from 44 percent to 52 percent. His negative rating dropped from 44 percent to 36 percent.

The Weiner campaign said the poll wouldn't "change his focus one bit."

Thompson also enjoyed a favorability boost, jumping from 52 percent to 60 percent.

Miringoff attributed the Weiner-Quinn reversal to the fact that Quinn, as the early front-runner, became the target of her rivals' criticism as she tried to find the right balance of allegiance to — and independence from — outgoing mayor Michael Bloomberg. That drew some negative attention from Weiner.
This being New York City politics, it's hard to say what will happen, but it seems likely that this race will last beyond the September 10th Democratic Primary. If nobody gets a majority of the vote that day, then there will be a runoff between the top two candidates. At this point, that would be Quinn and Weiner. In the past, Quinn has beaten Weiner quite easily in head-to-head matches, but it's unclear whether that will ultimately be the case.
So, don't count Anthony Weiner out just yet.