What Should The U.S. Do About Libya? Most Americans Say Nothing
Calls are coming from both sides of the aisle for the U.S. to do "something" about the situation in Libya. It would be better if we didn't get involved.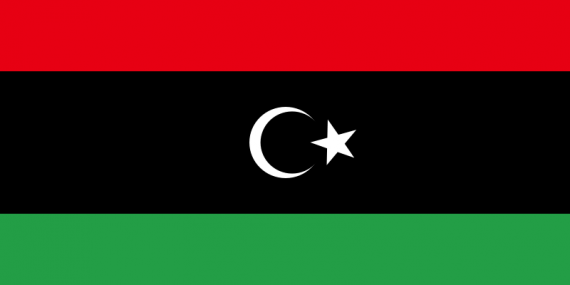 As the crisis continues to unfold in Libya, the voices of those criticizing the Obama Administration for not taking action are getting louder:
(Reuters) – Pressure mounted on the White House on Tuesday to intervene to stop Muammar Gaddafi's bloody crackdown on democracy protests as a lawmaker close to President Barack Obama urged oil firms to halt work in Libya.

The administration faced calls for military actions ranging from bombing Libyan airfields and imposing no-fly-zones, and criticism of Obama's silence on the violence in which hundreds have died.

Senator John Kerry, the influential chairman of the Senate Foreign Relations Committee, called on the Obama administration to consider reimposing tough sanctions on Libya.

"World leaders must together put Colonel Gaddafi on notice that his cowardly actions will have consequences," Kerry said.

Kerry's outspoken Republican counterpart in the House of Representatives, Ileana Ros-Lehtinen, said the United States and other nations should impose economic sanctions, including freezing assets and issuing a travel ban on senior Libyan government officials and their families.
The Washington Post editorialized yesterday that President Obama needs to be more forceful in his denunciations of the Gaddafi refime:
The United States has used its influence to restrain such violence by allied governments, most recently in Bahrain. Now it should join with its allies in demanding that the Gaddafi regime be held accountable for its crimes.

The first way to do that is a public call for regime change. Secretary of State Hillary Rodham Clinton said Monday that it was "time to stop this unacceptable bloodshed" in Libya; European leaders made similar statements. But the regime's actions demand much more forceful action, including an immediate downgrading of relations and the raising of Libya's case before the U.N. Security Council. The United States and the European Union should make clear that if the regime survives through violence, it will be subject to far-reaching sanctions, including on its oil industry.
More concertely, several commentators have echoed the call that Daniel Foster made at National Review for the establishment of a no-fly zone to prevent the Libyan Air Force from attacking civilian targets:
With reports that the Gaddafi regime — or what's left of it — has effected the indiscriminate massacre of Libyan civilians, up to and including air strikes in Tripoli and the planned carpet-bombing of Benghazi, the suggestion that President Obama establish a "no-fly zone" above Libya has begun popping up on social media.

I don't say this lightly, but I think POTUS must so act.
And Foster's argument was repeated by a writer on the other side of the political spectrum at Daily Kos:
Chilling reports coming out over Twitter and hinted at in reporting from AJE – the Libyan airforce will begin aerial bombing of the liberated city of Benghazi.

The time is now for action by the United States. Unlike in Egypt, where the military refused to follow Mubarak's orders to kill their fellow citizens, the Libyan armed forces have for the most part been willing to carry out Gaddafi's orders. The result has been brutal bloodshed unlike anything in recent memory in any Arab autocracy.

The case for action is clear. The USA must enforce an immediate no-fly zone over Libya.
With all the reports that have out about Libyan civilians being attacked from the sky by their own governments, and given Gaddafi's own promise that the protests would be crushed with violence, it sounds like an easy solution to a gastly problem. As Daniel Larison notes, though, it isn't nearly as easy as it sounds when you read it in a blog post:
It was only a matter of time before political upheaval and violent repression in Arab countries led to calls for some form of U.S. military intervention. We can all agree that Gaddafi's attacks on protesters are atrocious, but it is quite a leap from recognizing this and supporting possible military action against the armed forces of a government that has not actually done anything to the United States or our citizens in recent years. Lacking U.N. authorization, such a mission would be another U.S. intervention that it launched on its own authority.

(…)

Not only would the U.S. very directly be taking sides in an internal Libyan conflict to which we are not party, but should enforcing such a no-fly zone could turn into a prolonged commitment that will be one more mission added to the burden of an already overstretched military. No-fly zones are the sort of easy-sounding response to an immediate problem that can turn into an endless policy. If the reason for the no-fly zone is to halt Gaddafi's assault on civilians, it probably won't be long before the no-fly zone evolves into an air war against Gaddafi's ground forces to achieve the same end, and that might escalate into a new war for regime change. Libya's internal conflict is just the sort of situation that Americans should have learned to avoid by now.
Once we take the step of establishing a no-fly zone to "protect" Libyan civilians, and assuming that Gaddafi is still able to hold on to power, it wouldn't be long before we'd have to face the decision of what to do about Libyan ground forces attacking civilians, and that would mean getting directly involved in what could be shaping up to be a Libyan Civil War. That doesn't strike me as something that we either need or should want to do. Yes, it feels good to step in when we see suffering and oppressive goverments, but the primary question for the President should be — what advances America's national interests. In this case, getting involved poses far more risks than it does benefits.
Fortunately, the American people seem to be far more cautious about this idea of adventurism to save the world than some of the punditocracy:
Americans are wary of the current chaotic political situation in several Arab countries including Libya but strongly believe the United States should stay out of the picture.

A new Rasmussen Reports national telephone survey finds that 29% of American Adults think a change of government in any of these Arab countries will be good for the United States, while slightly more (33%) feel such a change will be bad for America. Twelve percent (12%) say it will have no impact, but one-in-four (26%) aren't sure what to expect. (To see survey question wording, click here.)

However, as with the recent turmoil in Egypt, most Americans (67%) say the United States should leave the situation in the Arab countries alone. Just 17% say the United States should get more directly involved in the political situation there, but another 17% are not sure.
There are other reasons to be cautious about getting directly involved in the Libyan revolt. Both The Washington Post and McClatchy have noted, there are hundreds of Americans and other Westerners still trapped in Libya who could become potential hostages in the event we get directly involved. As Ed Morrissey notes, this could be one explanation for why most of the commentary about Libya to date has been coming from the State Department:
The White House has a worst-of-all-possible-worlds scenario unfolding in Libya as it concerns Americans trapped in the country. Until the US can safely get Americans to Malta or anywhere else — even Egypt and Tunisia don't look bad at the moment — Obama can't afford to provoke either side into attacking Americans, at least not if Obama thinks he will get blamed for any violence done to them. The last thing Obama needs is yet another evocation of the Carter presidency with a long, drawn-out hostage crisis in a radical Islamist state.
As with Egypt, there is a legitimate question about why the State Department waited so long to advise Americans to leave the country, but as long as they are there, an action the U.S. takes will be taken with their safety in mind, unless the conflict on Libya starts spilling across its borders.
Moreover, as Ted Galen Carpenter notes at The National Interest, the history of other recent "humanitarian interventions" isn't as great as some would contend:
Bosnia is a corrupt, dysfunctional pretend country that is still deeply divided by intractable ethnic hatreds. The situation in Kosovo is even more sobering. Recent revelations show that the Kosovo Liberation Army, which the United States and NATO installed in power, may be even worse than its long-standing reputation as a collection of terrorists and mafia thugs. Mounting evidence indicates that KLA leaders were involved in the sordid harvesting and sale of body organs from murdered civilians and prisoners of war. We cannot be certain about the ultimate nature of the anti-Gaddafi forces that we would be backing in Libya.

But an even more apt model than the Balkans for what interventionists are proposing for Libya is Iraq. The decision to impose no-fly zones in the north and south of that country during the 1990s escalated tensions with Saddam Hussein's regime. Soon, U.S. planes were bombing air fields and other targets to enforce that diktat. Are proponents of establishing a no-fly zone over Libya prepared to have the United States conduct the same kinds of military action? And where might that lead? In Iraq, it led inexorably to a full-fledged invasion and occupation. We are still dealing with the monstrous headache that our military involvement in that country created.
In the end, there isn't a whole lot that the U.S. can do in this situation. Unlike Egypt, we have no direct influence with the government and no relationship with the leader. More importantly, though, Gaddafi has made clear that when his back against the wall, his instinct is to fight rather than back down, and a substantial portion of the Libyan military seems to be standing behind him for the moment. The people are continuing to resist, and the battle for Libya's future has been joined. This isn't our fight, and we need to stay out of it.
Photo note: The flag depicted above is the Flag of the Kingdom of Libya (1951-1969) which protesters are calling the Independence Flag