What's the Plan, Man?
Another comment on the American presidency and its critics.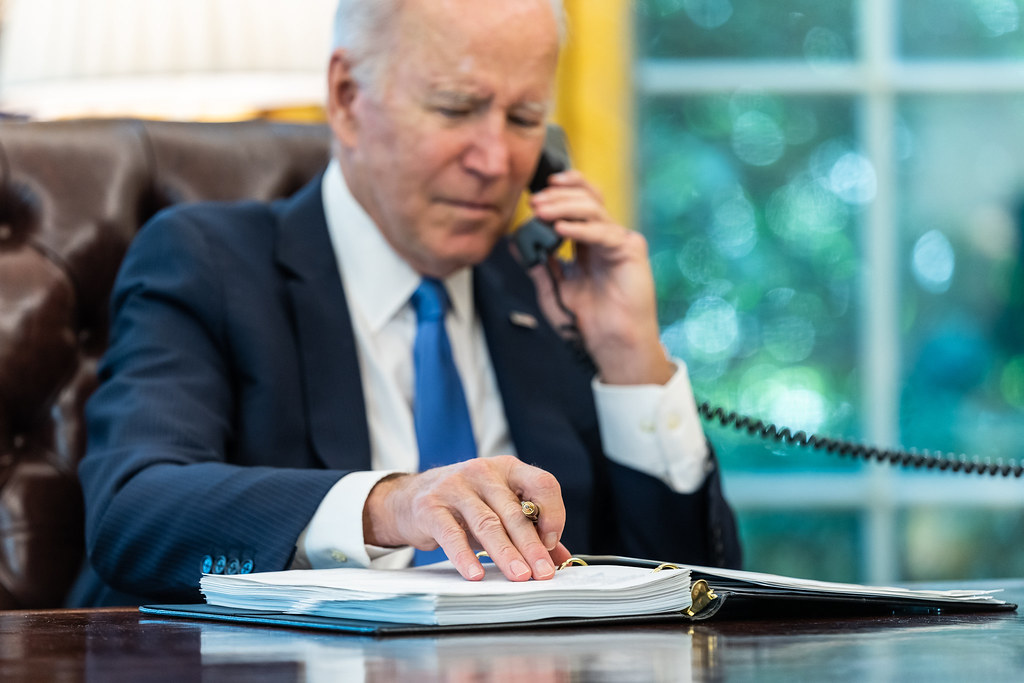 I was a big fan of the rebooted Battlestar Galactica which had a great title sequence. At one point words on the screen noted that the Cylons, the show's antagonist, had a "plan." Now, who could dispute that having a plan is a good idea? But, as I am sure many readers who watched BSG may recall, it ended up that it was pretty clear that the Cylons didn't really have a plan after all. (Or, if they did, it wasn't especially clear to the rest of us).
This whole thing comes to mind because there is always this hope that there is a plan, and that somehow a plan will save us. It is a version of willpower, it seems to me. I mean, if we would just plan hard enough, there would be a way forward (or, like BSG, the endgame may be a bit of a muddle).
The proximate inspiration to this is more reaction to the CNN piece that James Joyner noted yesterday and that I sideways expounded on myself. The reaction is question is Ryan Cooper's piece in The American Prospect: President Biden Is Not Cutting the Mustard. One of the key criticisms is about what the White House did/didn't do, in regards to the issuing of Dobbs:
But the Biden administration was, impossibly, caught flat-footed, about which Democratic Party insiders dished brutal details to CNN recently. Biden's team had no immediate plan—even on the day of the ruling, White House counsel Dana Remus assured staff that it wouldn't be released. Now, two weeks after the Dobbs decision, top aides are still squabbling over what the administration should do. A conference of Democratic governors was arranged last Friday, so late that none could attend in person and some declined to do it at all. Initially, the administration dismissed ending the filibuster to pass a codification of Roe, though Biden did later reverse course.
On the one hand, I get the critique that the administration should have had something bigger to say or do that day, at least from a political theater point of view (although, to be honest, I am not sure what it would have looked like). So, sure, they could have planned a Democratic governor's meeting, but if that meeting had been better planned, the response from Cooper and other critics would have been likely: is that it?
The President can support ending the filibuster all he likes, but that is a decision for the Senate, not the White House. This is where I point out that our parties are not hierarchical, and that while, yes, the Democrats hold a majority of seats in the Senate, Biden, even as nominal head of the Democratic Party, can't order Leader Schumer to make the Senate Democrats act in any particular way. And, moreover, Schumer can't order Manchin and Sinema to vote a particular way (which the piece acknowledges, more or less).
I come here not to defend the Biden administration specifically, but rather to ask what plan do people think is possible here? I have seen a lot of Biden critiques decry the lack of a plan, but I have seen precious little about what such a plan should contain. Like the mythical plan of the Cylons, it sounds good, but it appears to mean very little.
There is zero immediate action that the Biden White House can undertake to reverse a Supreme Court ruling. Pretending otherwise is foolish and just adds to the endless loop of American politics that if we just had a better president, everything would be okay.
Another BSG element comes to mind: "all of this has happened before, and all of this will happen again." In this context, it is the endless repeat of people simply not understanding the presidency is not magical, so instead of trying to work to find long-term solutions, if not serious political reform, we just try to find a better president.
The first paragraph of the Cooper piece notes:
Unlike Trump, Biden's poor numbers are mainly thanks to weak support among his own base. Where Trump commanded virtual lockstep loyalty among Republicans, Biden is staggeringly unpopular among wide swaths of Democrats—particularly young folks. Americans aged 18-29 have gone from +37 approval at the beginning of his term to 11 points net disapproval today.
Look, as I like to say: better is always better, and the Democrats would certainly like a better candidate in 2024 and a better president in 2022. I mean, a better president would have a better plan, right? And better whatever is needed to fix the problem. The problem is, of course, what does "better" actually mean? And, moreover, right now "better" means some imagined improvement, but if Biden was replaced with another candidate, the reality would not be as better as was hoped. (And note, I think it is possible for there to be a better candidate than Biden, but hypothetical betters are a far cry from real people–and the best candidate isn't going to have an immediate fix for what Cooper and others are complaining about).
At the moment, though, the irony of in-fighting for Democrats (should it come to that) is that they potentially face a unified GOP, and somehow I don't think Cooper will think things are better if Trump wins in 2024.
BTW: if people want better politics, they need to start focusing on long-term structural fixes instead of wishing for better politicians to save us. The notion that better people will come in and fix things is as old as political philosophy, but even the ancients understood that finding the best to govern is not so easy. Thinkers from Aristotle to Madison to modern political scientists have understood that the main pathway to better governance is through institutional design, and that is where the energy needs to be focused, not hoping for chimerical plans or better politicians.