When Compromise Is Immoral
150 years ago, President-Elect Abraham Lincoln was presented with a chance to avert Civil War. He passed it up, and we should be glad that he did.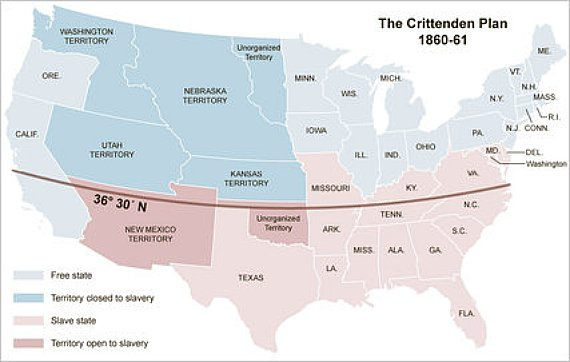 As part of their ongoing coverage of the Sesquicentennial of the Civil War, The New York Times makes note of the Crittenden Compromise, which was the last-ditch effort to avert Civil War and placate the seceding states of the Deep South:
Crittenden hoped to achieve a lasting peace—not just a truce—through a geographical and constitutional "solution" to the slavery crisis. First and foremost, as shown on the map, Crittenden restored the Missouri Compromise line that had been nullified in 1854 by the Kansas-Nebraska Act. By reintroducing this line, and extending it west to the California border, Crittenden hoped to restore the tenuous peace created by a clear geographical distinction between slavery and freedom. Slavery would be permanently prohibited north of this line, thereby reversing the Supreme Court's 1857 ruling that Congress had no right to regulate slavery in the federal territories.

In territories south of this line, however, the federal government would have no say over slavery; instead, the decision to allow or prohibit slavery would be made by those living in the territories themselves. And in a minor phrase that could easily have been overlooked, the compromise ensured that any territory "hereafter acquired" south of this line would be left open to slavery. This, Lincoln was quick to note, opened the possibility of colonizing parts of Mexico or the Caribbean for the extension of plantation slavery.
Abraham Lincoln had been elected President in November 1860, but under the Constitutional provisions in place at the time he would not take office until March 4, 1861 so the job of trying to save the Union fell to lame duck President James Buchanan, who had largely done nothing to stop the increasing fractures between north and south during his time in office. The Crittenden Plan was one of the efforts made during the lame duck period to avert disaster, but it fell apart for many reasons, not the least of them being Lincoln's opposition:
Lincoln was also actively working to end the crisis, though he had his limits. In an exchange of letters with Alexander Stephens of Georgia, a former fellow Whig who had served with him in Congress, Lincoln insisted that Southern slaveholders had nothing to fear from his election, and that he did not want to interfere with slavery where it existed. But he also acknowledged the essential problem: "You think slavery is right and ought to be extended, while we think it is wrong, and ought to be restricted. That, I suppose, is the rub." When North Carolina Unionist John Gilmer asked Lincoln to reassure Southerners that he had no intention of interfering with slavery, Lincoln wrote that his record was clear, and that he did not want to appear as someone apologizing for having won office. And when the Buchanan administration asked him to support the Crittenden Compromise, he refused, for these measures might temporarily ease the crisis, they would not solve the underlying conflict.
It's important to note, of course, that opposition to the expansion of slavery into the western territories was a central tenant of the new Republican Party, and of Lincoln's campaign for the Presidency. Therefore, it isn't at all surprising that he would have opposed a plan that would have extended the reach of the slavocracy to the Pacific Ocean. Nonetheless, Lincoln's role in torpedoing the Crittenden Plan has led some Southern revisionists to charge that the war was his fault, but as Seth Masket points out, this was one situation where compromise was not possible:
It's interesting to imagine, though, what would have happened if it had succeeded and actually prevented war. Lincoln surely would have been pilloried by the abolitionists but praised by whomever the 1860 equivalent of David Broder was. And, no doubt, Lincoln's refusal to compromise was, in some sense, reckless, hastening war. But 150 years later, Lincoln's partisanship and obstinance seem like the proper course; bipartisanship would have been immoral.
Most especially because it would have enshrined slavery in the Constitution even more than it had been in 1787 through a series of Amendments:
Slavery would be prohibited in any territory of the United States "now held, or hereafter acquired," north of latitude 36 degrees, 30 minutes line. In territories south of this line, slavery of the African race was "hereby recognized" and could not be interfered with by Congress. Furthermore, property in African slaves was to be "protected by all the departments of the territorial government during its continuance." States would be admitted to the Union from any territory with or without slavery as their constitutions provided.
Congress was forbidden to abolish slavery in places under its jurisdiction within a slave state such as a military post.
Congress could not abolish slavery in the District of Columbia so long as it existed in the adjoining states of Virginia and Maryland and without the consent of the District's inhabitants. Compensation would be given to owners who refused consent to abolition.
Congress could not prohibit or interfere with the interstate slave trade.
Congress would provide full compensation to owners of rescued fugitive slaves. Congress was empowered to sue the county in which obstruction to the fugitive slave laws took place to recover payment; the county, in turn, could sue "the wrong doers or rescuers" who prevented the return of the fugitive.
No future amendment of the Constitution could change these amendments or authorize or empower Congress to interfere with slavery within any slave state.
In his famous "House Divided" speech in 1858, Lincoln said that America could not exist forever as "half slave and half free." Had the Crittenden Plan been adopted, it would have sent us on a course of being, fully, a slave nation. It was a compromise with evil, and Lincoln was right to reject it even at the cost of 600,000 lives.