Which States Curse The Most?
According to a new study, Ohioans are most likely to need to have their expletives deleted:
Are you f*&!ing serious?

As a native Buckeye who's lived in Washington for eight years, this was my first reaction to the data analysis released today by our Marchex Institute, which found that people in Ohio curse the most in the country.  Washingtonians, by contrast, curse the least. (WTF?)

The data also placed Ohioans in the Top 5 "Least Courteous" category. Apparently, residents there have a harder time saying "please" and "thank you," which were the keywords that Marchex's Call Mining technology scanned for when aggregating data on pleasantries.

It's fascinating stuff. And it coincides with National Etiquette Week, a seven-day 'gentle reminder,' if you will, to be civil and courteous to one another.

The Institute, Marchex's data and research team, examined more than 600,000 phone calls from the past 12 months. The calls were placed by consumers to businesses across 30 industries, including cable and satellite companies, auto dealerships, pest control centers and more.

The Institute scanned for curse words from A to F to S. Analysts then linked the frequency of those words with all 50 states.

Following Washington in the "Goody Two Shoes" category – states where people are least likely to curse – were Massachusetts (2nd place), Arizona (3rd place), Texas (4thplace), Virginia (5th place).

Ranking behind Ohio in the "Sailors" category – states where people are most likely to curse – were: Maryland (2nd place), New Jersey (3rd place), Louisiana (4th place), Illinois (5th place).
The infographic tells the story: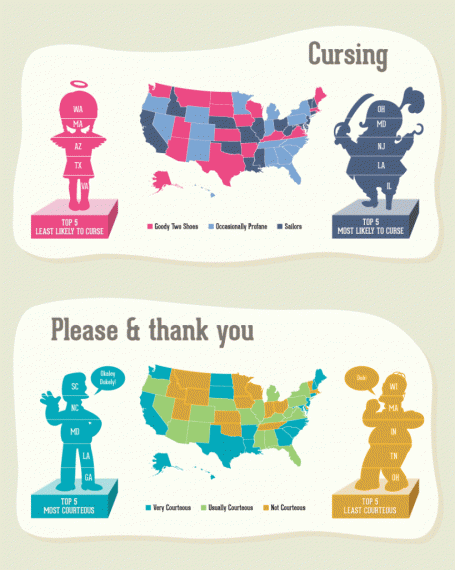 As a native of New Jersey, I must say I find our state's third place showing in the "cursing" category hard to believe. Perhaps they should've monitored the highways instead of just phone calls.