Whistleblowing on the President
A Harvard law professor makes my case better than I did.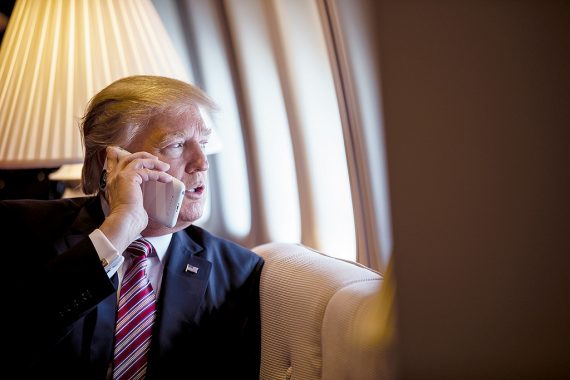 My early-morning post, "Trump Phone Call Triggered Whistleblower Complaint," was decidedly unpopular with the OTB readership for understandable reasons. In it, I seem to be offering a backdoor defense of a President I think is dangerous to the nation for doing something, as yet unspecified, that may well be dangerous to the nation. But what I'm actually doing is arguing that, unless the President is doing something criminal—which I concede is entirely plausible—he has an inherent right to disseminate the nation's secrets and conduct the nation's diplomacy as he sees fit.
Harvard constitutional law expert Jack Goldsmith, writing several hours later, makes essentially the same case via Twitter. His credentials for discussing this matter dwarf mine. And, while he's likewise a historical Republican, he's also very much in the #NeverTrump camp.
I've edited his tweet-storm for readability but haven't otherwise changed anything.
I unfortunately lack the time to weigh in properly on the whistleblower complaint which, says the NYT, "involves a commitment that Mr. Trump made in a communication with another world leader, according to a person familiar with the complaint." So here are too-brief reactions.

Bob Litt notes Clinton's claim (reiterated by Obama) that the Whistleblower statute "does not constrain [the president's] constitutional authority to review and, if appropriate, control disclosure of certain classified information to Congress."

Unpacking the Intelligence Community Whistleblower Complaint House Intelligence Committee Chairman Adam Schiff wrote a blistering letter accusing Acting Director of National Intelligence Maguire of violating the law by withholding a whistleblower's complaint.

As Litt also notes, Obama in a related whistleblower context preserved the right to "not disclose privileged or otherwise confidential law enforcement information." These are standard executive branch positions over many administrations and they should control here.

More generally, it cannot be constitutional for a statute to give an NSA employee monitoring intercepts (or whatever) the authority to disclose to Congress the classified communications of POTUS with a foreign leader.
The president's power to act in confidence is at its absolute height when he has a classified conversation with a foreign leader.

This isn't a defense of Trump, it's a defense of the presidency. Imagine next POTUS is one you like. That POTUS cannot conduct foreign policy if his or her controversial secret foreign policy communications can be disclosed at the determination of an intelligence employee.

Putting it brutally, Article II gives the president the authority to do, and say, and pledge, awful things in the secret conduct of U.S. foreign policy. That is a very dangerous discretion, to be sure, but has long been thought worth it on balance.

Trump has been challenging this principle, in various guises, for almost three years. He has shown time and time again the extent to which our constitutional system assumes and relies on a president with a modicum of national fidelity, and decent judgment, and reasonableness.

So what is to be done? Imagine that Trump engaged in an act of national treachery: he casually blew a source for no good reason (or a venal one), or he betrayed the nation in a Manchurian Candidate sort of way.

I don't think there is a legal avenue to correct such a betrayal of national trust by the Chief Executive and Commander in Chief. That is one of the accommodations the Constitution makes for the benefits of a vigorous presidency who can conduct foreign policy in secret.
I endorse every bit of that. Like Goldsmith, I think this an awful situation. But I don't see how we run our system otherwise. There's simply no way to run the foreign policy of a country, let alone a global superpower, via the legislative branch. It requires a chief executive to, well, execute.
That we've elected the single most untrustworthy chief executive in the history of the Republic is problematic, indeed. But that doesn't justify overturning the entire system.
Goldsmith suggests that, if a government employee feels strongly enough that the President is endangering the Republic, he can break the law and take his case public. That's long been the Break The Glass In Case of Emergency option.
Kori Schake has made the more provocative case that leaks to the press and Congress ought be considered part of the normal give-and-take of forming consensus. I'm skeptical of that argument but am amenable to it, not least because she's making it. And, after all, those of us who work for the government take our oath to the Constitution, not the President.
Regardless, I agree with Goldsmith that, in evaluating these cases, we would do well to do so through the lens of: How would I think about this if the Oval Office were occupied by a President I supported?