Why Ron Paul's Campaign Has No Future Beyond Iowa And New Hampshire
Ron Paul is doing well right now solely because of the unique characteristics of Iowa and New Hampshire.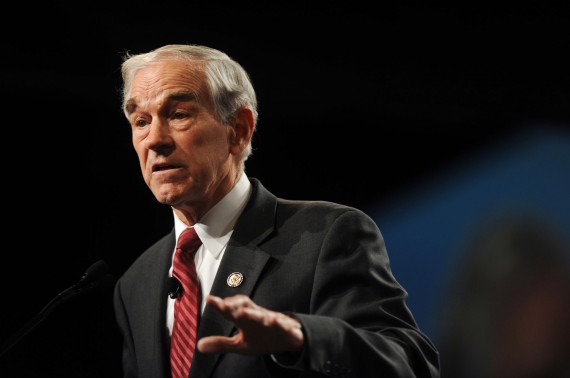 Byron York digs into the some recent polling and finds a pertinent point about Ron Paul's supporters:
In an analysis accompanying his most recent survey in Iowa, pollster Scott Rasmussen noted, "Romney leads, with Gingrich in second, among those who consider themselves Republicans. Paul has a wide lead among non-Republicans who are likely to participate in the caucus."

The same is true in New Hampshire. A poll released Monday by the Boston Globe and the University of New Hampshire shows Paul leading among Democrats and independents who plan to vote in the January 10 primary. But among Republicans, Paul is a distant third — 33 points behind leader Mitt Romney.

In South Carolina, "Paul's support is higher among those who usually don't vote in GOP primary elections," notes David Woodard, who runs the Palmetto Poll at Clemson University.

In a hotly-contested Republican race, it appears that only about half of Paul's supporters are Republicans. In Iowa, according to Rasmussen, just 51 percent of Paul supporters consider themselves Republicans. In New Hampshire, the number is 56 percent, according to Andrew Smith, head of the University of New Hampshire poll.

The same New Hampshire survey found that 87 percent of the people who support Romney consider themselves Republicans. For Newt Gingrich, it's 85 percent.

So who is supporting Paul? In New Hampshire, Paul is the choice of just 13 percent of Republicans, according to the new poll, while he is the favorite of 36 percent of independents and 26 percent of Democrats who intend to vote in the primary. Paul leads in both non-Republican categories.

"Paul is doing the best job of getting those people who aren't really Republicans but say they're going to vote in the Republican primary," explains Smith. Among that group are libertarians, dissatisfied independents and Democrats who are "trying to throw a monkey wrench in the campaign by voting for someone who is more philosophically extreme," says Smith.
This doesn't necessarily hurt Paul in Iowa, where one can participate in the Republican caucuses next Tuesday night merely by showing up, or in New Hampshire, which has both an open primary and a long tradition independent and libertarian-minded voters participating in the Republican (and Democratic) primaries. Once you get beyond there, however, it becomes exceedingly clear that Paul's candidacy simply isn't viable, and that even the suggestion that he could continue to garner 15-20% of the vote through the entire course of the primary process doesn't necessarily hold water. Consider, for example, this from South Carolina:
What's true in New Hampshire is also the case in South Carolina, where Paul is 28 points behind Gingrich in the most recent Palmetto Poll. "The economic positions of libertarians are popular here, but Paul's positions on gay marriage, abortion, illegal immigration, and national defense are all antithetical to South Carolina's conservative culture," says Woodard. "About 13 percent of the GOP primary electorate are military veterans, and they don't want to bring everyone home. We have a strong pro-life network, and it is knit into the Republican Party at its roots, and the amendment declaring marriage to be something between a man and a woman won with over 70 percent of the vote in South Carolina."
South Carolina does have an open primary, and Paul arguably could benefit from independent voters coming out to vote there, but right now he's polling a very,very distant third in the polling in the Palmetto State. Additionally, it doesn't seem likely that there will be all that big of an independent voter turnout there to being with. In 2008, exit polling showed that the Party ID breakdown for the GOP Primary was 80% Republican, 18% Independent, and 2% Democrat. If that's even close to what the turnout in 2012 will be like, then there's simply no way Paul will do well in South Carolina. After South Carolina, we move on to Florida, which has a closed primary. As one might expect, Paul isn't doing well there at all.
This is a pattern that is going to repeat itself as the race goes on. Ron Paul may well win Iowa and come in second place in New Hampshire, but that's going to be his high water mark. The fact that he only appeals to what some conservative bloggers are derisively, and incorrectly I would submit, referring to as "mischief voters" means that when it comes down to races where winning the primary means convincing the Republican base in a race where you have only one or two opponents, Paul has a nearly irresolvable conflict. Either the voters go with the moderate conservative Mitt Romney, or they go with the guy who stands in opposition to cherished conservative positions on national defense, terrorism, and the role of government. Given the choice, I'm fairly certain that even the most conservative Republican will pick Mitt Romney over Ron Paul, just as they picked John McCain over Ron Paul in 2008 (remember, Paul didn't drop out of the race until just before he had to run in the Texas Primary for his House Seat in 2008).
Paul supporters perhaps have a point when they point to his ability to attract support outside the party, but that's not how you win the Republican nomination. You win the nomination by appealing to Republicans, and it's becoming eminently clear that both mainline and conservative Republicans want nothing to do with Ron Paul.