Wisconsin Recall: Republicans Hold 4 of 6, Senate
The second round of the rolling Wisconsin recall elections was held yesterday. The Republicans are still in charge.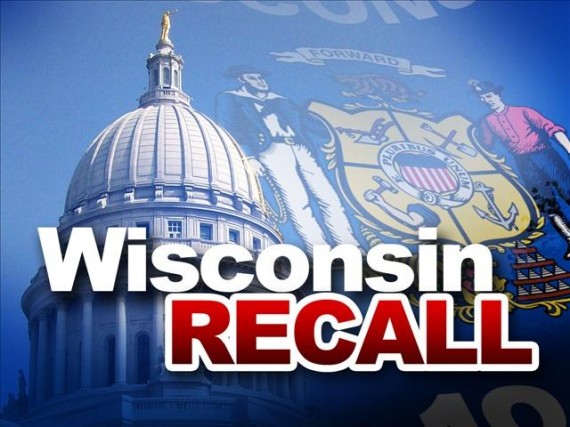 The second round of the rolling Wisconsin recall elections was held yesterday. The Republicans are still in charge.
Milwaukee Journal Sentinel ("Republicans take 4 of 6 in recall elections, hold Senate"):
Democrats won two state Senate seats in Tuesday's historic recall elections, but failed to capture a third seat that would have given them control of the chamber.

By keeping a majority in the Senate, Republicans retained their monopoly on state government because they also hold the Assembly and governor's office. Tuesday's elections narrowed their majority – at least for now – from 19-14 to a razor-thin 17-16.

Republicans may be able to gain back some of the losses next week, when two Democrats face recall elections.
What an idiotic process. So, not only can Wisconsinites petition to recall specific elected officials, they don't even do it in a consolidated manner. Which makes every seat ripe for cherry-picking and intense outside money competition in "elections" that only the most angry and interested voters will show up for. And, as a bonus, partisan outrage gets professionally stoked 24/7/365.
While both sides are naturally claiming victory here, Nate Silver cautioned ahead of the returns against over-reading them.
True, there are also other swing states, like Florida, Ohio and Michigan, in which there areunpopular Republican governors. But to the extent this is a problem for Republicans, the results in Wisconsin on Tuesday night will probably only provide us with a very fuzzy clue about that, in the same way that special elections to the House provide only the vaguest hints about elections fought under other circumstances. And unlike some special House elections, this one is being contested on explicitly local issues.

The one thing it would be safe to say is that, if Democrats have a strong night, Mr. Walker will be in some jeopardy, as he could face his own recall election next year.

If you are going to read into the results, it is probably best to compare them to Mr. Walker's performance in 2010 rather than the margins that the state senators themselves achieved that year. Ordinarily, nobody pays much attention to state senate elections. If some Republican incumbent was re-elected with 70 percent of the vote in 2010, but survives the recall with 55 percent of the vote, it would be dubious to cite that as a sign of progress for Democrats since the elections were contested under substantially different circumstances.
Elections scheduled in other than the standard "Tuesday after the first Monday in November" pattern are generally very low turnout affairs. Presumably, even in these strong Republican precincts, it's easier to organize angry union members and government workers than those who are pleased with their current representation.
With rare exceptions, the American tradition has been for fixed-term elections–usually 2 or 4 years–with removal possible only for criminal malfeasance. Many parliamentary systems, though, have mechanisms for early elections in the event the party or coalition that gained power as a result of the last election can't effectively govern. There are advantages to both systems.
But the recall process, which we were first introduced to nationally with the 2003 election that removed California Governor Gray Davis from office and replaced him with Arnold Schwarzenegger, is hugely problematic. A handful of conservative Republicans, including George Will and yours truly, argued that at the time even though our team stood to benefit. As I wrote less than a month into my blogging "career,"
[T]his movement strikes me as dangerous. It's one thing to recall a politician who has committed a crime or some other serious breach while in office; it's quite another to use it to get a second bite at the apple. Even if unsuccessful, this will cost the state a sizable amount of money and distract the elected officials, especially Davis, from doing the jobs to which they were elected. And, if successful, this will create a dangerous precedent similar to the Senate's defeat of Robert Bork's nomination to the Supreme Court in 1986. From now on, this will be considered a legitimate tactic for one party to attack a weak politician of the other party. Republicans were rightly upset by New Jersey Democrats for flouting the state's election laws by swapping a losing candidate for a winner at the 11th hour; they should oppose this flouting of the spirit of California law just as vigorously.
Now, in fairness, it's not something that's caught on. California hasn't recalled another governor in the ensuing eight years and Wisconsin's is the first that I can recall getting national attention since then. So, maybe this tool–unavailable to voters in most states–will remain reserved only for circumstances when the voters are genuinely outraged rather than one constantly used. But we have a long history of special circumstance measures suddenly becoming routine.
Graphic: WXOW ABC19 News