Starbucks Founder Howard Schultz Considering Presidential Run
Starbucks Founder Howard Schultz is apparently considering running for President.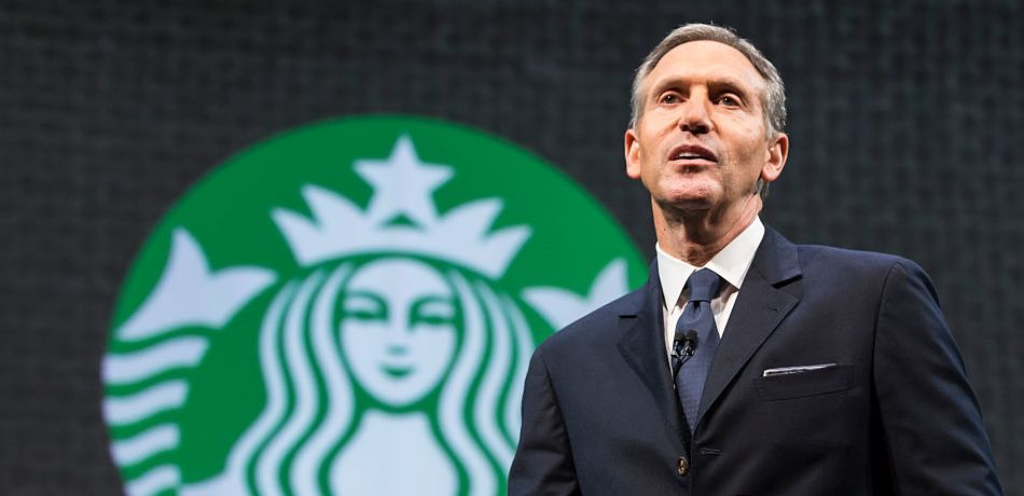 Starbucks founder Howard Schultz is apparently considering running for President:
Former Starbucks Chairman and CEO Howard Schultz is putting together an elite public relations team as he prepares to release a civic-minded new book and considers running for president in 2020.

A key player in Schultz's growing team is Steve Schmidt, a former vice chairman at public relations powerhouse Edelman who managed Republican Sen. John McCain's presidential campaign in 2008.

Schultz is one of the many names widely considered as a possible candidate to take on Trump in two years. In an interview with CNBC earlier this year, Schultz left the door open to a run. With experience mainly in the business world but not the political arena, Schultz would likely need experienced political operators on his side if he were to dive into presidential politics. Schmidt fits that bill.

Schmidt got to know Schultz through Edelman's partnership with Starbucks. The two have kept in touch since Schultz left Starbucks earlier this year, people familiar with the relationship have said. Schmidt has continued to do private consulting work for Schultz on a variety of issues, including guiding him ahead of his upcoming book tour.

"Mr. Schultz has known Mr. Schmidt for a number of years through his work at Edelman," Schultz's spokeswoman told CNBC. "Mr. Schultz values Steve's insights and they have stayed in touch," she added.

Schmidt is a political analyst for MSNBC. He is a strident critic of President Donald Trump, and he left the Republican Party earlier this year.

Schmidt did not return requests for comment.

In October, Schultz hired Cheryl Cook, a longtime executive vice president at Edelman, according to two people with direct knowledge of the matter. She will be representing Schultz up until and throughout his book tour, which is expected to start in February in New York City, these people said. Cook worked at the PR firm for more than a decade and got to know Schultz directly when Starbucks was one of her clients.

A representative from Schultz's office confirmed in a recent email that Cook will help promote the former coffee executive's new book, "From the Ground Up: A Journey to Reimagine the Promise of America," which is described as "part dramatic memoir, part blueprint of the new responsibilities that leaders and citizens share in America today." Cook declined to comment, and an Edelman representative did not return a request for comment.

(…)

Political strategists from both sides of the aisle say that by enlisting the help of this PR team Schultz is clearly signaling he is exploring a run for president.

"I certainly believe in the abstract people coming from the business into politics, particularly a run for president, they need someone around them. They need to have people familiar to them to help them," said Thomas Rath, a New Hampshire Republican operative and a former aide to Republican Ohio Gov. John Kasich when he ran for president in 2016.

Rath explained though that if Schultz wants to be a serious contender for president, he needs to load up his unit with more politically savvy advisors, such as Schmidt.

"Others like Schmidt would be invaluable. Steve has seen so much. He would have a sense as to what the calendar means," Rath added. "He would know how to hunt delegates and a keen sense as to how best to raising money."

Democratic political strategist Hank Sheinkopf said he believes Schultz is putting together a group that could help in a variety of ways if he chooses to run for president.

"He wants to show people he can put together a team quickly and the best presidential campaigns have people from multidisciplinary sectors, from the private sector to those in political work. It's smart. The Clinton's first campaign had film makers. So did Ronald Reagan," Sheinkopf said. "Bringing all different types of people into the operation shows you know what you're doing and its a warning to other candidates."

Still, those close to Schultz say he hasn't traveled to the places presidential hopeful go to before they announce their intention to run for office.

He has yet to make his way up to the early primary states of Iowa and New Hampshire, according to a person with direct knowledge of the matter. It's unclear when or if he will make it his way to these pivotal states.

He also hasn't met with Democratic Party leaders to discuss jumping into the race, although strategists say it's too early for anyone to make such a move.
Presumably, Schultz would run as a Democrat, which in his case would be interesting considering the fact that he has been critical of the party in the past:
Many leaders in the Democratic Party are veering too far left and overpromising government programs that are not fiscally possible, Howard Schultz told CNBC on Tuesday.

Without naming names, Schultz said in a "Squawk Box" interview: "It concerns me that so many voices within the Democratic Party are going so far to the left. I say to myself, 'How are we going to pay for these things,' in terms of things like single payer [and] people espousing the fact that the government is going to give everyone a job. I don't think that's realistic."

"I think we got to get away from these falsehoods and start talking about the truth and not false promises" said Schultz, whose Monday announcement that he's stepping down as executive chairman of Starbucks is driving speculation that he may run for president in the 2020 election.

During the 2016 race for the Democratic presidential nomination against Hillary Clinton, Sen. Bernie Sanders, who described himself as a Democratic socialist, supported a single-payer "Medicare for all" policy on health care and other policies that his critics had said would be impossible to pay for.

"I think the greatest threat domestically to the country is this $21 trillion debt hanging over the cloud of America and future generations," Schultz said. "The only way we're going to get out of that is we've got to grow the economy, in my view, 4 percent or greater. And then we have to go after entitlements."
Schultz has flirted with the idea of running for President in the past but never really gotten close to the idea. Much like fellow billionaire Michael Bloomberg, who is apparently also considering a 2020 run, he has backed away in the past and may well do so this time as well. That being said, Schultz has not shied away from taking political positions and, when he was Starbucks CEO, using his company to promote his political agenda whether it came to gun control, fiscal sanity, marriage equality, or any other number of issues. While he no longer runs the day-to-day operations of the company, Schultz is still well-known to virtually everyone as the Founder of Starbucks and the man primarily responsible for its expansion across the United States and around the world. Whether that translates into being a good candidate for President, though, is another question entirely.