Starbucks CEO: No Guns In Our Stores, Please
Starbucks is kindly asking customers not to bring guns to their stores.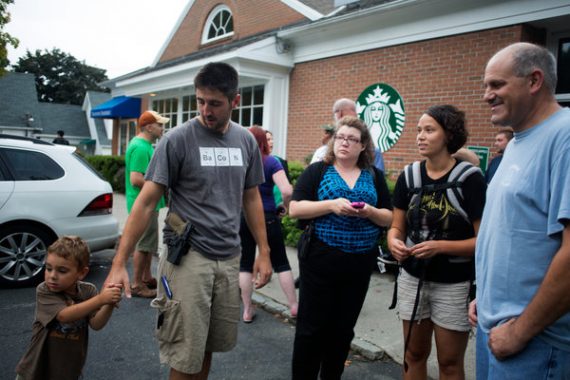 Starbucks CEO Howard Shultz is asking customers not to bring guns into Starbucks stores:
Tired of being thrust onto the front lines of the nation's debate over guns, Starbucks is asking customers to leave firearms behind when they are in its stores and its outdoor seating areas.

The policy change came on the heels of a shooting rampage at the Washington Navy Yard on Monday that left 13 people including the gunman dead, but Starbucks said its decision was not in response to that or to the shooting spree that killed 26 children and adults at the Sandy Hook Elementary School in Newtown, Conn., just days before Christmas last year.

"I've spent a significant amount of personal time on this issue in the last several months and I've seen the emotionally charged nature of this issue and how polarizing it is on both sides," Howard Schultz, the chief executive of Starbucks, said in a telephone interview. "Nevertheless, customers in many stores have been jarred and fairly uncomfortable to see guns in our stores, not understanding the issue and feeling that guns should not be part of the Starbucks experience, especially when small kids are around."

Under the change, baristas and other store employees will not ask customers who come in with guns in holsters, say, to leave or confront them in any way, Mr. Schultz said. No signs explaining the policy will be posted in Starbucks stores, either.

"We are going to serve them as we would serve anyone else," he said. "There are going to be people on both sides who will be disappointed or angry, but we're making a decision we think is in the best interests of our customers, employees and the company." He said store officials would evaluate compliance over time and consider posting signs if necessary.

The majority of company-owned Starbucks stores are in states that allow people to openly carry guns, although restrictions and limitations vary from state to state. The company has had a handful of armed robberies in its stores over the years, as well as two recent incidents where guns carried in women's purses have discharged accidentally, but little other gun violence in its stores.

Under its previous policy, however, Starbucks has been unwillingly co-opted by proponents of "open carry" policies and vilified by those seeking stricter laws on gun ownership. Garry Trudeau devoted six consecutive days of his Doonesbury comic strip in 2010 to mocking the company's stance, which opened with a barista greeting a customer in a plaid flannel shirt and saying, "Welcome to Starbucks, sir, would you be openly carrying a weapon today?"

"Pro-gun activists have used our stores as a political stage for media events misleadingly called 'Starbucks Appreciation Days' that disingenuously portray Starbucks as a champion of open carry," Mr. Schultz wrote in an open letter to be published in ads in major newspapers.

Last month, Starbucks closed a store in Newtown early after gun rights supporters wearing camouflage and Connecticut Citizens Defense League T-shirts held one of the events there.

Similarly, opponents of guns like the group Moms Demand Action for Gun Sense in America, which advocated "Skip Starbucks Sundays," have staged protests outside Starbucks stores and urged consumers to boycott the company.

In 2010, the Brady Campaign to Prevent Gun Violence teamed up with Credo Action, an activist group that uses mobile technology and social media to push change, and attracted more than 40,000 signatures on a petition aimed at changing the company's policy on guns in its stores that was delivered to Starbucks headquarters in Seattle.

"It sounds like Howard Schultz is making a very good business decision," said Brian Malte, director of legislation and mobilization at the Brady Campaign. "Lots of families with children, college students and young people are Starbucks customers, and they want to feel safe."

The company has long followed local laws regarding the ability to carry guns in plain sight. Customers in the 44 states that allow legal gun owners to carry weapons openly have been permitted in its stores there, while those in the six other states – New York, California, South Carolina, Illinois, Florida and Texas – have not, according to the Law Center to Prevent Gun Violence.

"I want to make it very clear that Starbucks is not a policy maker and as a company we are not pro- or anti-gun," Mr. Schultz said. "However, there have been a number of episodes over the course of the last few months that have put us in a position to take a big step back and assess the issue of open carry."
You can read Schultz's letter here.
There is, of course, no 2nd Amendment issue here. As a private business Starbucks has the right to set the policies that customers must abide by while on company property. In that respect, a rule that there should be no guns on the premises (outside of law enforcement, one presumes) is no different from a sign that says "No Shirt, No Shoes, No Service." And, indeed, it's worth noting that Schultz is not saying that he wants to turn company owned stores into "Gun Free Zones." If someone with a concealed carry permit comes into a story with their weapon, nobody will even know they have it and they won't really be violating any policy. Indeed, based on what Schultz wrote it's clear that even someone who's open carrying isn't going to be refused service after today. Instead, what this clearly seems to be is an attempt on his part to separate the company from a deeply contentious political debate in a way that doesn't alienate either side. Some people on both sides of the issue, of course, will be offended in some way. Both strong proponents of "open carry" and those who have been calling on the company to make all stores "gun free" are both likely to be displeased by this latest development but, on the whole, this seems like a common sense way for Schultz to distance his company from an issue that they clearly don't want to be a part of.
Photo via The New York Times