Starbucks Founder Howard Schultz Considering Independent Run For President
Starbucks Founder Howard Schultz is considering an independent run for the Presidency. This would likely be good news for President Trump.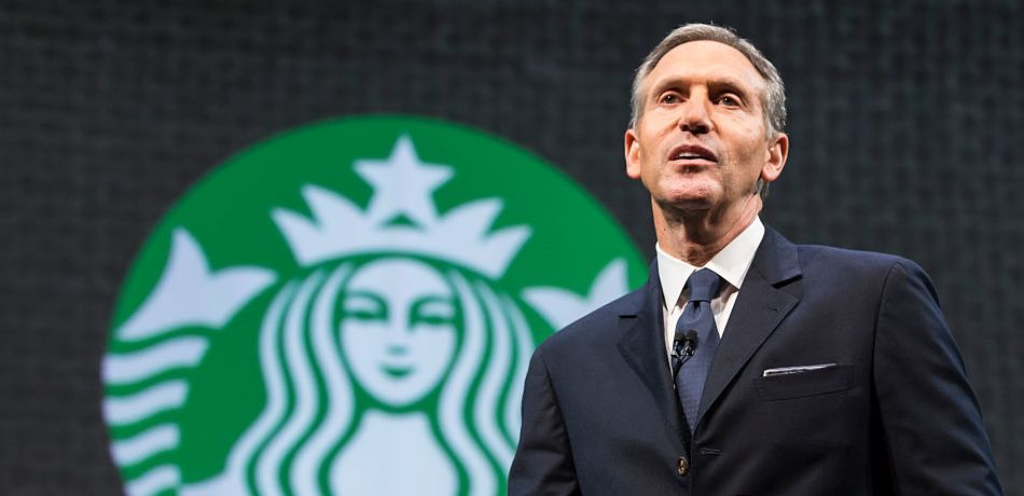 Starbucks founder Howard Schultz is once again talking about running for President, and drawing some attention from the man currently in the White House:
Howard Schultz, the former chief executive of Starbucks and a self-described "lifelong Democrat," said Sunday he was preparing to run for president as an independent and had already begun the groundwork required to be on the ballot in all 50 states.

Mr. Schultz, in an interview with The New York Times, said he planned to crisscross the country for the next three months as part of a book tour before deciding whether to enter the race to challenge President Trump in 2020. A billionaire, Mr. Schultz would face a difficult road despite his considerable wealth: Few independent candidates have mounted successful challenges for the White House.

"We have a broken political system with both parties basically in business to preserve their own ideology without a recognition and responsibility to represent the interests of the American people," Mr. Schultz said in the interview.

"Republicans and Democrats alike — who no longer see themselves as part of the far extreme of the far right and the far left — are looking for a home," he added. "The word 'independent,' for me, is simply a designation on the ballot."

Mr. Schultz was also featured in a segment on "60 Minutes" on Sunday night ahead of the publication of his new book, "From the Ground Up," in which he criticized President Trump as "not qualified to be the president."

Mr. Trump, writing on Twitter Monday morning, said Mr. Schultz didn't have the "guts" to run for president and needled him over their past association. "I only hope that Starbucks is still paying me their rent in Trump Tower!" the president wrote.

The possibility of Mr. Schultz's candidacy as an independent has drawn condemnation from Democrats, who said that an independent run would split the vote on Election Day 2020 and hand Mr. Trump a second term.

"I have two words for Howard Schultz on a potential run for president as an independent: Just don't," Tina Podlodowski, chairwoman of the state Democratic Party of Washington, said last week as speculation mounted about Mr. Schultz's plans.

Neera Tanden, president of the Center for American Progress and a former adviser to Hillary Clinton, said on Twitter, "If he enters the race, I will start a Starbucks boycott because I'm not giving a penny that will end up in the election coffers of a guy who will help Trump win."

Mr. Schultz said he was well aware of the criticism, but said it was misplaced.

"I am certainly prepared for the cynics and the naysayers to come out and say this cannot be done," he said. "I don't agree with them. I think it's un-American to say it can't be done. I'm not doing this to be a spoiler."

Asked if he would consider changing his mind and run as a Democrat, he said, "I feel if I ran as a Democrat I would have to be disingenuous and say things that I don't believe because the party has shifted so far to the left."

"When I hear people espousing free government-paid college, free government-paid health care and a free government job for everyone — on top of a $21 trillion debt — the question is, how are we paying for all this and not bankrupting the country?" Mr. Schultz said.

"It's as big of a false narrative as the wall," he added. "Doesn't someone have to speak the truth about what we can afford while maintaining a deep level of compassion and empathy for the American people?"

Mr. Schultz, who grew up in the public housing projects in the Canarsie section of Brooklyn, became a billionaire by building Starbucks from seven stores in Seattle into a global coffee chain with over 350,000 employees. He was known as a progressive corporate leader, offering full health benefits for full- and part-time employees and their domestic partners, and Starbucks became the first privately owned American company to include part-time workers in its stock-option program.

With an estimated net worth of $3.3 billion, Mr. Schultz, 65, is one of several billionaires who had been mentioned as possible presidential contenders.
Schultz isn't the only billionaire who has openly talked about running for President next year. Tom Steyer, who spent the better part of the last two years fundraising for Democrats and lobbying for President Trump's impeachment at least briefly considered running for President before deciding against it. Additionally, former New York City Mayor Michael Bloomberg is openly considering the idea of running for the Democratic nomination, something that he has apparently been considering far more seriously than he did in the past. The difference between these two men and Schultz, though, is that Schultz is apparently committed to the idea of running as an independent, apparently convinced despite all the available evidence to the contrary that this would somehow be a viable path to the Presidency.
In reality, even assuming Schultz was determined to use his fortune to finance a campaign and that he was able to mount some kind of Perot-style campaign next year, the most likely outcome would be that the best he could do would be to shift the anti-Trump vote away from Democrats in sufficient number to allow the President to once again win an election in the Electoral College even though he would likely lose the electoral college vote to whomever the Democratic nominee. While Schultz has every right to run however he pleases, he ought to consider the impact that his candidacy would have if he truly believes, as he seems to imply, that the current President is a danger to our political system. I've endorsed and voted for, third-party candidates in the past, but as I explained in my post the day before the 2016 election, in the end, there will only be two choices for President. Indeed, if one takes the three states that gave the President his Electoral College victory — Wisconsin, Michigan, and Pennsylvania — the 132,476 that Green Party candidate Jill Stein received from those three states alone was nearly double the 77,741 votes that separated the President and Hillary Clinton in those three states. Libertarian Party nominee Gary Johnson, meanwhile received 425,525 votes in those three states, although it's likely that many of the people who voted for Johnson were disaffected Republicans and conservatives who would not have been inclined to vote for any Democrat, least of all Clinton. Nonetheless, the vote totals for these two candidates comprised nearly one-fifth of the total votes cast in all three states combined. Had Clinton won those states alone, she would have eked out a narrow (278-260) win in the Electoral College. If the same thing happens again, then Schultz could go down along with Stein, H. Ross Perot, and Ralph Nader, as third-party candidates who did little but cause trouble for one party while having no realistic chance of winning the election.