Anyone But Trump
Even if you're not sure who you should vote for, it's obvious who you shouldn't vote for.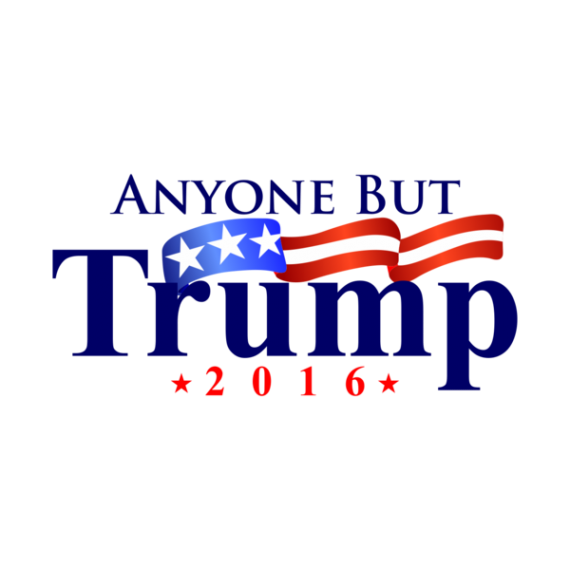 As I made clear last week, after forty-some years of following elections, working on campaigns, and thinking and learning about politics, nothing has burned me out more than the 2016 Presidential election. Those who know me might say I've been cynical about politics for quite a long time, and they'd be largely correct. In addition to the fact that I was raised in a largely Republican household, I spent most of  my adult years considering myself to at least nominally be 'Republican' because it was the GOP that, at least rhetorically, was closest to the things I believe in such as limited government, individual liberty, and economic policies that allow the free market to work the way it's supposed to, for the benefit of everyone rather than just the benefit of the politically connected and politically favored. I also drifted into the Republican camp when I started voting because it seemed clear to me that the Democratic Party of the 1970s and 1980s was naive when it came to how to deal with the threat posed by the Soviet Union and the dangers of nuclear war. At times, it seemed as though many Democrats considered an American President, Ronald Reagan, to be more of a threat to world peace than the leaders of the Soviet Union which, even as late as 1979 was making clear that it was willing to violate the sovereignty of nations like Afghanistan to expand its influence. Yes, it was true that the United States made its own mistakes in connection with the Cold War, and our largely bipartisan Cold War foreign policy was often far too willing to back authoritarian leaders in the name of fighting keeping the Soviets in check. On balance, though, it seemed clear to me who the good guys and the bad guys were during the Cold War and Democrats seemed to be far too willing to give the bad guys the benefit of the doubt, whether we're talking about so-called revolutionaries like Fidel Castro, Che Guevara, Ho Chi Minh, Mao Tse Tung, and Daniel Ortega or outright terrorists like Yassir Arafat. Even as the Cold War spun to a close, the contrasts between the GOP and Democrats in this area was apparent enough to me as a first-time voter in 1986 and 1988 that voting Republican (with one notable exception that I'll get to momentarily) seemed like an easy choice.
Even as this was happening, though, the seeds of my eventual disdain for what the Republican Party has become were being planted. On the recommendation of a friend  I'd met while volunteering on a local race, I started reading National Review, which for the first time exposed me to thinking of politics as a set of ideas rather than just a quadrennial or biennial spectator sport. While I quickly found that the brand of religious conservatism that Bill Buckley and most of his writers believed in didn't appeal to me, largely because this was also the point in my life when I started moving away from religion or the belief in any supernatural entity, there were others who wrote about policy that I found particularly appealing. Milton Friedman, Thomas Sowell, Walter Williams and others like them were writing mostly about economics and principles and ideas that I found myself agreeing to gradually drew me away from 'conservativism' per se toward what I soon learned was called libertarianism. More importantly, it started drawing me away from the Republican Party because it made clear just how short the GOP was falling from its rhetoric about favoring a smaller and more restrained government, fiscal sanity, and a sane foreign policy. The more I looked, the clearer it became that the GOP was not the party that it claimed to be. I started reading more in this area and, thanks in no small part to my frustration with George H.W. Bush's campaign for President that I ended up casting my first protest vote, for the nominee of the Libertarian Party, which happened to be a Texas Congressman named Ron Paul. It was the beginning of the process that eventually pulled me away from the GOP nearly completely.
Despite this, I largely remained nominally Republican at least throughout most of the 90s even though it became harder and harder as the Clinton years went on due to the fact that the GOP seemed to be drawn into a fever swamp of conspiracy theories and vitriol that was become more irrational by the day. The obsession with conspiracy theories about the Clinton's, the endless investigations, the government shutdown, and finally the move to impeach President Clinton all struck me as overreaching on the part of Republicans acting not in the legitimate defense of the nation but out of resentment and hatred for a President that made even the worst of what Democrats said about President Reagan seem tame by comparison. Additionally, the end of the Cold War brought with it the hope that America could turn its attention to fixing its own problems rather than worrying about the fate of the world. Instead, it seemed as though we just went out in search of new enemies, whether they were in the Middle East or in the Balkans, and when those forces started attacking us there was little examination of the possibility that our own policies were responsible for what was happening.  The September 11th attacks, of course, changed all that and it was clear from that moment that we had entered a different world, but it was nonetheless the Bush Administration that confirmed that little had actually changed. Instead of concentrating American foreign policy on dealing with radical Islamist terrorism, President Bush led us into a foolish war in Iraq while at the same time pursuing a domestic policy that included increased spending on the social safety net and tax cuts, all of which seemed destined to lead to economic disaster.
Throughout all of this, my political cynicism continued to grow, as did my sense that there was little substantive difference between the Republican and Democratic Parties. They may have stood for radically different ideas, but when the time came to govern the actual differences were minimal at best and the only people who seemed to benefit from their policies were the people who were politically connected, such as big business, or the people who were politically favored. The vast majority of Americans not only weren't benefiting from the policies of the Federal Government, they were actually falling behind. Hence, the sense that there was no real difference between the two major parties was born, and it has guided my voting decisions for several of the most recent Presidential elections.
2016 is different, though, because there is a real difference between the major party candidates.
On the one hand, we have Hillary Clinton, a woman who I've described, often to the frustration of her supporters, as 'ethically challenged' and 'of limited accomplishment.' It's a description that a feel to be largely accurate, though. Whether it's the way that she set up a private email server that she had sole control over to use while serving in one of the most important positions in the Federal Government, the manner in which the Foundation that bears the name of her husband and daughter along with her own solicited donations from foreign governments and companies even as she was serving in that position, and the seemingly endless examples of flawed judgment on her part that make it seem as though she was far more concerned with protecting herself than she was with important ideas like transparency and accountability. As for her accomplishments, while I'll admit that her resume is impressive it's hard to disagree with the idea that she wouldn't have become a Senator, Secretary of State, or contender for President of the United States if it weren't for the fact that she was married to Bill Clinton. Beyond that, it's rather clear that I would have serious policy disagreements with a President Hillary Clinton on economic and foreign policy and that I'd probably have many criticisms about her selections for Federal Judgeships and the Supreme Court. On the domestic side, she advocates more of the same spend, spend, spend, tax, tax, tax ideas that we've seen from Democrats for years, and which have utterly failed to either produce acceptable economic growth or fix any of the real structural problems with the American economy and Federal Budget. In foreign policy, the fact that she supported the Iraq War and the incursion into Libya, and supported the seemingly foolish idea of arming Syrian rebels that clearly cannot be trusted seemingly guarantees four to eight more years of what is increasingly becoming an endless war in the Middle East that threatens to spread across the globe. As with President Obama, there will be some areas where I probably end up agreeing with her, but on balance I expect that a second Clinton Presidency will be as disappointing as her two immediate predecessors.
For all her flaws, though, Clinton is head and shoulders above the Republican nominee for President, who is perhaps the worst nominee of a major party in American history. From the time that he entered the race for President, I have documented the extent to which Donald Trump has pushed the boundaries of decency and sanity in American politics. From the start of his campaign to the end, he has insulted Mexicans, women, Muslims, disabled people, the news media, and anyone who criticizes him. He has advocated policy ideas that are either ridiculously foolish, such as a wall at the Mexican border that the Mexican government will pay for, an ill-conceived proposal to ban Muslims from coming to the United States, reduced American commitment to NATO at a time when Russia is actively threatening our allies in Eastern Europe, and an attitude toward nuclear weapons that can only be described as shockingly blase. He has drawn to his side supporters representing many of the worst aspects of the American polity, including racists, xenophobes, anti-immigrant activists, and he has lent credibility to a movement of racists that threatens to bring into the mainstream of American politics forces that have, fortunately, been largely relegated to the fringe for decades. All of this has happened right under the nose of the Republican Party, which largely cowered in fear as he rose in the polls in the months before the primaries and reacted far too late to try to stop him when it became apparent that he was likely to win the nomination and that those of us who had been pointing out his flaws from the beginning were right. At that point, it was, I will admit, quite nice to be able to say 'I told you so,' but the fact that the GOP has largely lined up behind Trump even after expressing shock every time he said has just caused my frustration with the GOP to grow. The one redeeming fact has been the rise of the "Never Trump" movement, which has largely remained consistent in its opposition to Trump's poison. As James Joyner pointed out the other day, though, this movement has largely consisted of Republican and conservative insiders, pundits, bloggers, and intellectuals. The GOP base and nearly every Republican elected official decided to sell their soul to support Trump despite everything he's said and done. What all of this means, of course, is that there is not only a chance that Donald Trump could become President, but that in doing so he would give political credibility to a movement that poses a real threat to individual liberty, equality, and much of what America has stood for since the end of the Civil War.
All of this has made clear that the priority for 2016 must be to ensure that Donald Trump is not elected President of the United States. The consequences of handing a victory to this man should be apparent to anyone who has been paying attention for the past year and a half, or to Donald Trump's flirtation with the media over the past three decades. Allowing Trump into power means giving a blessing to bigotry, demagoguery, and hatred. It means giving the power of the most powerful office in the world to a man who has made clear that he thinks little of limitations on his power and that he would barely feel restrained by things such as the Constitution or the fact that, as President, his power should be restrained by an active and aggressive Congress. It means handing power over to a man who knows seemingly little about some of the most important issues that a President ought know who also makes it clear that he doesn't really intend on listening to advisers. It means handing over the power to go to war to a man who is inclined to stay up until 3am engaging in Twitter wars with members of the media or Rosie O'Donnell while simultaneously sharing material from obviously racist sources. And, it means giving legitimacy to a political movement based on bigotry, hatred, and xenophobia, including outright racists such as David Duke who have acknowledged that they see in Trump the prospect of their ideas being a part of the mainstream of American politics. It would be the dreams of Father Coughlin, Huey Long, and George Wallace come true,  with a little bit of Joseph McCarthy thrown in for good measure all embodied in a man who is clearly the most psychologically unfit person to serve as President since Richard Nixon roamed the White House talking to the portraits of long-dead Presidents.
The natural question, then, is who one should vote for if not for Trump. It's rare for me to actually endorse a candidate, and I'm not going to do that now, but I wll say that you should most assuredly vote for someone other than Donald Trump even if you are the slightest bit inclined to vote Republican this year, at least when it comes to voting for President. It doesn't matter to me if you vote for Evan McMullin, Jill Stein, Gary Johnson, Hillary Clinton, or nobody, just don't vote for Trump, because our country simply cannot afford to have that man in the Oval Office.
Regular readers of OTB, of course, will want to know who I'm supporting now that we've reached the do-or-die point of the election. I'm inclined not to say either way because, well, it's really nobody's business but my own. In a year like this, though, it feels like it's more important than ever to take a stand, and to perhaps lead by example. Off the bat, I will say that I can't bring myself to support either Evan McMullin or Jill Stein. Some of what McMullin says appeals to me, but he is clearly not running a serious campaign for President and the fact that he isn't even on enough ballots to account for 270 Electoral Votes means that, except perhaps as a spoiler in Utah where he could up-end Trump's entire campaign, he will have no real impact on the race at all. Stein is the nominee of a party that advocates ridiculous ideas that shouldn't be taken seriously outside of a college campus and she personally supports ideas such as discredited theories about vaccines causing autism. Regular readers and friends know that I have spent the better part of the year supporting former New Mexico Governor Gary Johnson, the nominee of the Libertarian Party. I voted for Johnson in 2012 and was a strong supporter of his running again due to the fact that he was the most qualified candidate the LP had ever run and because he was, and by and large remains, the most effective spokesperson for the party's ideas that I have seen in a long time. His selection of Bill Weld, a candidate that Libertarians have been trying to recruit since the 1980s, was simply icing on the cake and created what is arguably the most qualified Presidential ticket of any third-party in recent memory. That being said, Johnson has had his embarrassing moments during the campaign. I cringed, for example, at the "What Is Aleppo?" moment, which I saw unfold live on television. If someone is running for President of the United States, they ought to be sufficiently familiar with what's going on in the world.The refugee crisis in Syria is one of the most serious problems in the world today and it will have an impact on us regardless of who the President is. The fact that Johnson got stumped the way that he did was embarrassing, and at the very least a sign that the campaign staff was not preparing the candidate sufficiently for the type of things he'd be asked about during the course of the campaign. Johnson will do far better than an LP candidate ever has, and better than any 3rd party candidate since Ross Perot, but in the end, I doubt he will end up with more than 5% of the nationwide popular vote, and if current polls are right he'll be lucky to get that. Despite that, I continued to support Johnson as the best option in a bad field. Finally, there's the idea of voting for Hillary Clinton, a possibility I have openly rejected on multiple occasions for many of the reasons I related above regarding her character and qualifications. As the election has drawn to a close, though, and the polls have closed I've found myself realizing that the comfort I used to take in the idea that Donald Trump would not win the White House was perhaps a bit premature.
The polls are closing, and the possibility that Trump could pull off a narrow victory, while still unlikely, is becoming just a little more likely. The more I reflect on it, the clearer it is that waking up on November 9th to a President-Elect Hillary Clinton wouldn't be nearly as bad as waking up to the reality of a President-Elect Donald Trump and a Republican Party dominated by the 'alt, right.' Additionally, I must say that I found James Joyner's argument in his post yesterday regarding why he's voting for Hillary Clinton to be compelling and thought-provoking in a way I was not expecting. So, while I still support Governor Johnson and wish him well, I find it necessary to support, for the first time at the Presidential level, a Democrat and get behind Hillary Clinton. My Republican friends will question me, of course, and my libertarian friends will likely be surprised. Clinton is a crook? Isn't she? Well, even if I believed that my response to them would be simple — Vote for the Crook. It's important. Last night we set our clocks back an hour. If Trump wins on Tuesday we'll be setting our calendars back eighty years and moving to something resembling pre-war Central Europe. I advise my fellow Americans to proceed accordingly. If you live in a state where it's clear that one of the two major party candidates will win no matter how you vote, feel free to vote your conscience, but if you live in a state that is in the least bit considered a battleground, though, a vote for anyone other than Clinton is risking the possibility that Trump will win the state, and that simply can't be allowed to happen. To the end, remember, "Never Trump" is the objective.