Meh Hillary
It has become necessary to destroy the party in order to save it.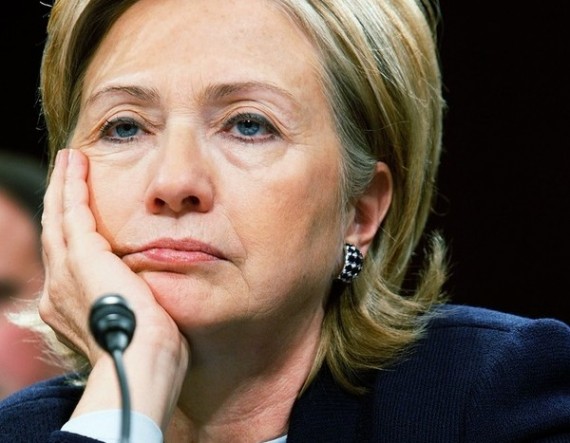 As regular readers know, I've voted Republican in every presidential race in which I've been eligible to cast a ballot, going back to 1984. I made it known very early in this cycle that, should Donald Trump become the party's nominee, I would break from that tradition. At the same time, because of my longstanding antipathy towards the Clintons, I've viewed voting for Hillary Clinton so anathema that it could only be justified under the most exigent circumstances. After considerable reflection, I believe we are there.
My position these last several months has been that, while I marginally preferred a Clinton presidency to a Trump presidency, voting for her was tantamount to approval for a lifetime pushing the envelope of political corruption. Therefore, unless Virginia's electoral votes were in serious doubt, I would either cast a protest vote for Gary Johnson or sit the election out.  Those options no longer best signal my preferences.
While the race is shockingly tight given Trump's unmitigated awfulness, Clinton remains the prohibitive favorite. Although she's down to very narrow 1.8 point lead in the RealClearPolitics average (2.3 points in the four-way), that includes a few dubious polls that are skewed in his direction. More importantly, given how we actually elect presidents, they have her as a lock to win 216 electoral votes, compared to only 164 solidly in his column. That goes up to 264 to 173 when we throw in the "lean" states, most of which have very strong tendencies. Her paths to 270, in other words, are many and his all but impossible. Nate Silver's 538 has her down to a 64.7 percent chance of winning to his 35.3. In Virginia, they have her at 80.8 percent.
The chances, then, that my vote will affect the outcome of the race are virtually non-existent.
Regardless, two developments have changed my mind.
First, Johnson has proven himself unfit for the presidency. I didn't know much about him at the outset of the race but had the impression that he was a reasonably centrist, competent executive. He'd been a successful Republican governor of a moderately blue state, New Mexico. His selection of Bill Weld, another moderate Republican governor of another blue state, Massachusetts, was a strong signal of seriousness, as was standing up for the need to actually govern, to the boos of the Libertarian Party delegates.
Alas, he's demonstrated time and again throughout the campaign that he's not a serious candidate for the highest office in the land. While I can easily dismiss the "What's Aleppo?" gaffe that has defined him—remote appearances can be disorienting, one doesn't expect Mike Barnacle to ask about foreign policy, and referring to a specific city as the opening to a conversation about Syria's civil war is rather odd—he has had numerous similar incidents. I don't necessarily expect a state governor to come into the race fully conversant on national, much less international, policy. But he simply hasn't bothered to study up on the multitude of policy issues that a president needs to have command of.  His foreign policy vision is perhaps even more cartoonish that Trump's (although it's at least an ideologically consistent one). More importantly, he doesn't even understand the broad outlines of fundamental issues like Social Security and health policy, talking about them with the level of insight one would expect of a sophomore at a late-night College Libertarians bong party.
Jill Stein combines many of the worst flaws of Trump and Johnson. She's nuttier than a fruitcake and a complete policy ignoramus.
Evan McMullin is on the ballot in Virginia and seems like an intelligent man and decent enough sort. But he's a 40-year-old low-level bureaucrat who first emerged on the national stage three months ago. There's simply no reason to think he's prepared for the job.
That leaves Clinton as not only the lesser of evils but my preferred candidate among the options available on my ballot. Do I feel good about voting for her? No. But there are no feel-good alternatives.
After skipping the conventions, I watched the debates hoping Clinton could persuade me that the things I distrust about her are somehow in the past and give me a reason to vote for her other than the fact that she's not Trump. She did not. My instinct, until the last couple of days, had been simply to sit this one out.
What has become clear, however, is how badly the national political scene needs a reboot. And the only obvious path to do that is to not only keep Trump out of office but repudiate Trump's brand of politics. So long as the national leadership of the Republican Party remains in fear of not only Trump but the people who put him in that position, there is no hope for a return to sane governance.
The #NeverTrump movement, while it may well be enough to keep Trump out of the White House, is nonetheless a fringe. It consists mainly of opinion writers, Republican politicians who have retired from politics, and the national security establishment. And the very existence of the movement will be seen as evidence that the reason Trump failed to get elected was the RINOs, not a political movement that's out of step with modern America.
House Speaker Paul Ryan has demonstrated what passes for political courage these days in making clear that he disdains Trump and what he stands for. Yet, in order to do his job, he's tried to hedge with a non-endorsement-endorsement. Senate Leader Mitch McConnell, by contrast, has gone full-on Trump with pledges to make the already unconscionable refusal to vote for President Obama's Supreme Court nominee a permanent policy so long as Democrats control the presidency. Even John McCain, who's generally speaking been a moderate on everything but foreign policy, was on board that bandwagon before jumping off. Meanwhile, Republican politicians across the land who had finally found the courage to denounce Trump after the release of that vile conversation with Billy Bush, have mostly walked back their denunciation. Hell, Ted Cruz—whose father Trump has accused, on multiple occasions, of being part of the assassination of John Kennedy!—has felt compelled to endorse him.
Even worse, the party is falling in line with Trump in repudiating the basic rules of the game. I'm not absolutely sure they will respect the outcome of the election. Even if they do, they've made it clear that they plan to investigate Clinton throughout her presidency. There's even talk of impeaching her, despite it being impossible for her to have yet committed any crimes as president.
The party is without adult leadership at the moment, leaving the inmates running the asylum. If that's to be reversed any time soon, the party must suffer an electoral defeat so decisive that there are no mixed messages.
Because of the vagaries of Virginia's horrendous electoral system—in which state and local races take place in odd-numbered years—my ability to signal this cycle is limited. The only offices on my ballot are the presidency and the US House, District 8. First-term incumbent Don Beyer, a Democrat, is heavily favored to win the latter over two essentially unknown and unfunded candidates. I'll vote for both Clinton and Beyer but they'll both take my precinct handily.
I would urge other disaffected Republicans who can't countenance Trump to vote their conscience but to also be strategic. If you live in a swing state, voting Clinton is necessary this cycle; we simply can't risk a Trump presidency. In Red or Blue states, where the outcome is not in doubt, I can see the value in a vote for McMullin to signal that you'd prefer what until recently would have been a "mainstream" Republican; again, however, he's not truly qualified for the job. Down ballot, at least in terms of U.S. House and Senate races, I would urge a vote against any but the staunchest and most consistent anti-Trump Republican. I haven't paid sufficient attention to any of the state-level contests to have a strong opinion as to how you should vote there. Still, repudiation of Trump types even at that level is essential; they're the breeding ground for tomorrow's House and Senate candidates.
It may be too late to save the Republican Party, although systemic advantages make its survival in some form likely. It's not even clear at this juncture what a reformed GOP should look like on the other side of this crisis. It's possible that a John Kasich type emerges out of the ashes but it would require building a new coalition.
Regardless, we have to get off this treadmill of the criminalization and delegitimation of American politics. We can't have four more years of Congressional Republicans thinking that, despite having lost the popular vote in all but one election since  Bush the Elder's 1988 landslide, they're the voice of a Real America that they must save at all costs against illegitimate, un-American Democrats.