Former Trump Campaign Staffer Files Lawsuit Alleging Assault By Trump
A 2016 Trump Campaign staffer has filed a lawsuit against the President alleging that she was assaulted by Trump during the campaign.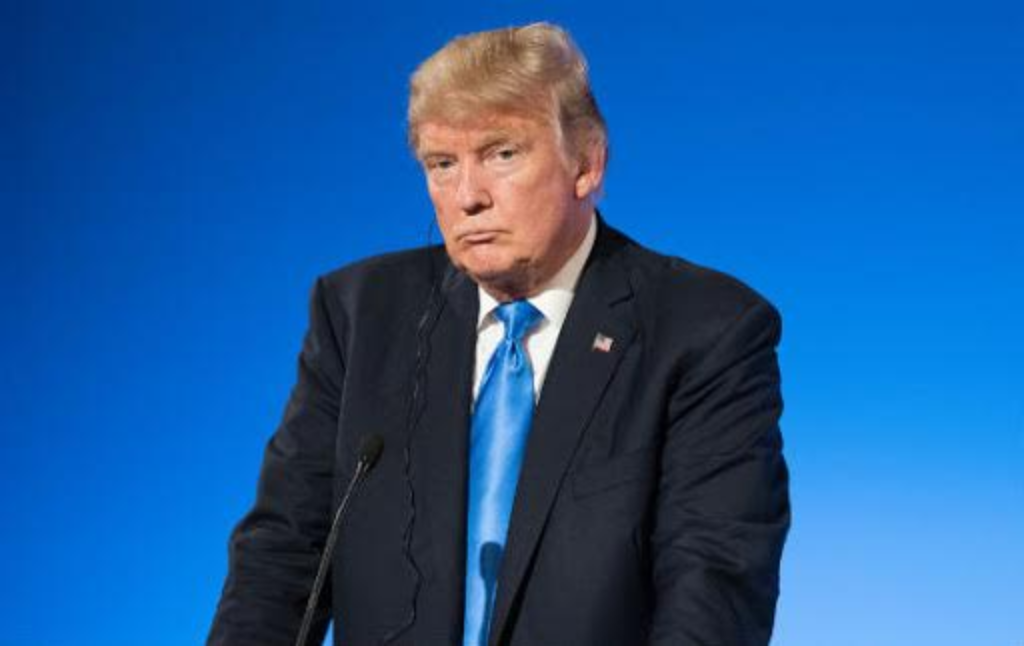 A former Trump campaign staffer has filed a lawsuit alleging that, in an incident that occurred prior to his becoming President, Donald Trump forced himself on her in a sexual manner:
A staffer on Donald Trump's 2016 presidential campaign says he kissed her without her consent at a small gathering of supporters before a Florida rally, an interaction that she alleges in a new lawsuit still causes her anguish.

In interviews and in the lawsuit, Alva Johnson said Trump grabbed her hand and leaned in to kiss her on the lips as he exited an RV outside the rally in Tampa on Aug. 24, 2016. Johnson said she turned her head and the unwanted kiss landed on the side of her mouth.

In a statement, White House press secretary Sarah Sanders dismissed Johnson's allegation as "absurd on its face."

"This never happened and is directly contradicted by multiple highly credible eye witness accounts," she wrote.

Two Trump supporters that Johnson identified as witnesses — a campaign official and Pam Bondi, then the Florida attorney general — denied seeing the alleged kiss in interviews with The Washington Post.

As recently as May 2017, Johnson spoke glowingly of Trump in a radio interview.

"He is more incredible in person than I think you would even think as you see him on TV," she told the Alabama-based program "Politics and Moore." "He's just the nicest guy . . . He treats everyone as if they are a part of his family."

She also said she expected to be given a job as the "second-in-command" at the U.S. Embassy in Lisbon. "I will at some point be heading over to Portugal to work in the embassy," she said.

The Post found the recording of the show after the first version of this story was published.

One of Johnson's lawyers, Hassan Zavareei, said that at the time of the radio interview, she was bound by a nondisclosure agreement and was "saying what she thought Trump and his supporters wanted."

"She was under an oppressive NDA that prevents her from saying anything negative about the president," he said. "She was also trying to move on with her life and had an application for a job with the embassy in Portugal pending."

Johnson said she told her boyfriend, mother and stepfather about the alleged kiss on the day that it occurred, an account all three confirmed to The Post. Two months later, Johnson consulted a Florida attorney; he gave The Post text messages showing that he considered her "credible" but did not take her case for business reasons. The attorney gave Johnson the name of a therapist, whose notes, which The Post reviewed, reference an unspecified event during the campaign that had left her distraught.

(…)

Johnson said she told her boyfriend, mother and stepfather about the alleged kiss on the day that it occurred, an account all three confirmed to The Post. Two months later, Johnson consulted a Florida attorney; he gave The Post text messages showing that he considered her "credible" but did not take her case for business reasons. The attorney gave Johnson the name of a therapist, whose notes, which The Post reviewed, reference an unspecified event during the campaign that had left her distraught.
The Complaint, which is embedded below, goes into some detail about the alleged incident:
For the three months before the general election, Johnson was assigned to Florida. Her main responsibility was managing the recreational vehicles that traversed the state as mobile campaign offices. It was inside one, on a rainy afternoon in Tampa, where Johnson said the candidate pressed his lips against hers.

Wearing a dark suit and red tie, carrying an umbrella, Trump walked up to the RV as Johnson stood back and took video. "Good job, boss," she said as he greeted supporters, according to footage she provided to The Post.

Johnson brought volunteers into the RV to take pictures with Trump. She noticed that Trump was attempting to make eye contact with her, she said in the interviews and lawsuit. When it was time for the rally, Johnson said Trump passed her as he exited the RV.

"I've been on the road for you since March, away from my family," she told him, according to the lawsuit. "You're doing an awesome job. Go in there and kick ass."

Trump grasped her hand, thanked her for her work and leaned in, she said.

"Oh, my God, I think he's going to kiss me," she said in an interview, describing the moment. "He's coming straight for my lips. So I turn my head, and he kisses me right on corner of my mouth, still holding my hand the entire time. Then he walks on out."

She said she stood there, feeling humiliated, and Bondi gave her a smile as she walked out of the RV. Karen Giorno, director of the Florida campaign, grabbed Johnson's elbow and gave it a tug, Johnson said in the interviews and lawsuit.

Bondi and Giorno said they do not recall seeing Trump kiss Johnson. They denied reacting the way Johnson described.

"Do I recall seeing anything inappropriate? One hundred percent no," Bondi said in an interview. "I'm a prosecutor, and if I saw something inappropriate, I would have said something."

Giorno dismissed the allegation as "ridiculous," saying "that absolutely did not happen."
This isn't the first time that Trump has been accused of improper sexual contact by a woman, of course. Shortly after the release of the Access Hollywood tape, a number of women came forward to accuse Trump of sexual harassment of varying degrees of seriousness. To date, some twenty-three women have come forward with accusations against the President. One of those women, Summer Zervos, a former contestant on The Apprentice, filed a defamation suit against Trump after he made comments about her and her accusations against him. In a ruling last March , the New York State Judge presiding over the case denied the President's motion to dismiss the case and later ruled that the case can go forward to discovery. In addition to these charges, we've also learned over the past year that Trump had affairs with at least two women, porn star Stormy Daniels and Playboy model Karen McDougal, while his wife was pregnant with their son and that he later conspired with attorney Michael Cohen and others to pay those two women to remain silent during the final weeks of the 2016 campaign. While this doesn't prove that the current allegations are true, it does establish a pattern of behavior by the President that certainly makes the charges seem credible.
The most interesting thing about the latest lawsuit is that it is the latest challenge to Trump's long-standing practice of demanding that employees sign non-disclosure agreements, something that appears to have carried over into the campaign:
The most legally significant aspect of Johnson's suit may ultimately be something the complaint does not explicitly address: the pervasive use of nondisclosure agreements by Trump during his campaign and in his Administration. Johnson's suit is at least the sixth legal case in which Trump campaign or Administration employees have defied their nondisclosure agreements. Three of those actions, including Johnson's, were filed this month. Johnson, who was the campaign's administrative field-operations director in Florida, signed a nondisclosure agreement that bars her from revealing any information "in any way detrimental to the Company, Mr. Trump, any Family Member, any Trump Company or any Family Member company." Johnson's attorney, Hassan Zavareei, said, "We expect that Trump will try to use the unconscionable N.D.A. and forced arbitration agreement to silence Ms. Johnson. We will fight this strong-arm tactic."

The White House referred questions about the nondisclosure agreements to Michael Glassner, the chief operating officer of Trump's reëlection campaign. He said in a statement, "The campaign takes our NDA agreements very seriously, and will enforce them aggressively if they are breached." Johnson said that she considers the issues raised by her suit important enough to merit breaching the contract. "I am suing because my work holds the same value as the work of my white male counterparts," Johnson said, in an interview. "I am suing because this predatory behavior should not be minimized, especially when committed by the most powerful man in the world."

Nondisclosure agreements are routinely employed in the business world, but experts say that there is little comprehensive data on how they are used by Presidential campaigns. Hillary Clinton's 2016 campaign reportedly required paid staff to sign such agreements, but Trump's campaign seemed to use the agreements more widely, and even required unpaid volunteers to sign them. The practice has carried over to the Trump White House. The Washington Post reported last year that dozens of White House aides had signed N.D.A.s, a break in tradition from previous Administrations, which used the contracts more sparingly. White House interns have also reportedly been asked to sign the agreements as part of their mandatory "ethics training."

(…)

Trump's efforts to enforce the contracts have extended to the White House, despite the fact that many legal experts believe that public servants are exempt from sweeping nondisclosure agreements. Last week, Cliff Sims, a former Trump White House staffer, filed a lawsuit arguing that Trump's use of nondisclosure agreements violates the First Amendment. Trump's campaign organization had filed an arbitration claim against Sims in response to an unflattering book that he wrote about his time in the Administration. Mark Zaid, an attorney whose firm currently represents Sims, said that the Trump Administration was applying private-sector tactics to the government in an unprecedented way.

Trump's attorneys are also engaged in an ongoing arbitration process with Omarosa Manigault Newman, a former White House staffer and a former contestant on "The Apprentice," which they initiated after she published a book that accused the Administration of racism and misogyny. "They're using N.D.A.s to suppress speech, to avoid accountability, and thus to avoid setting legal precedent," Manigault Newman's attorney, John Phillips, told me. He said that enforcement efforts as extensive as Trump's had "never happened before in the government sector."

Legal experts said that Johnson's case, and the broader pattern of high-profile legal skirmishes over Trump's use of nondisclosure agreements, could produce significant legal rulings and affect the President's ability to enforce the contracts. "We now have the President of the United States trying to enforce nondisclosure agreements that are so over-broad they would keep secret illegal actions or keep information that's in the public interest from the public," Mark Fenster, a professor at the University of Florida Law School who specializes in government transparency, said. "This is a moment of reckoning for excessiveN.D.A.s."
From a legal point of view, it seems clear that any non-disclosure agreement signed by a White House employee is likely to be found to be null and void. In the end, these individuals are employees of the Federal Government, not employees of Donald Trump or any of his business or political operations. As a result, a court presented with such an agreement in the case of a White House employee alleged to have violated the terms of the N.D.A. would most likely find it to be unenforceable due to the fact that the public interest in knowing what is going inside the White House outweighs whatever damages the President may suffer personally. Generally speaking, the only time a former government employee can be prevented from speaking is if they would be revealing classified information. Beyond that, though, any effort by Trump to stop former White House employees from speaking out would be doomed to fail.
The issue is murkier with respect to NDA's covering other situations, such as someone who worked for the campaign of for Trump in a private capacity as part of his business operations. In those situations, the NDA is usually easier to enforce, but even there Courts have ruled that there must be a reasonable basis for the restrictions placed on the former employee's ability to speak out and that there are instances when the public interest will outweigh the interest in enforcing the NDA. Arguably, given the fact that these are allegations about something that happened on a Presidential campaign and are being made against a sitting officeholder, this is one of those situations. In any event, this will be yet another proceeding against the President worth keeping an eye on.
Here's the Complaint:
Alva Johnson v. Trump Et Al by on Scribd