Trump Required White House Staff To Sign Confidentiality Agreements, Report Claims
A report in The Washington Post says that White House Staff under President Trump have been required to sign non-disclosure agreements.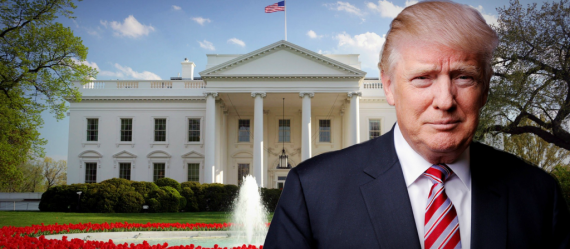 The Washington Post's Ruth Marcus is reporting that White House employees were made to sign non-disclosure agreements before being allowed to work at the White House:
In the early months of the administration, at the behest of now-President Trump, who was furious over leaks from within the White House, senior White House staff members were asked to, and did, sign nondisclosure agreements vowing not to reveal confidential information and exposing them to damages for any violation. Some balked at first but, pressed by then-Chief of Staff Reince Priebus and the White House Counsel's Office, ultimately complied, concluding that the agreements would likely not be enforceable in any event.

The nondisclosure agreements, said a person who signed the document, "were meant to be very similar to the ones that some of us signed during the campaign and during the transition. I remember the president saying, 'Has everybody signed a confidentiality agreement like they did during the campaign or we had at Trump Tower?' "

At that time, in February or March of 2017, the source said, "There was lots of leaking, things that just weren't true, and a lot of things that were true and should have remained confidential. The president's point was that they [staff] would think twice about that if they were on the hook for some serious damages."

Moreover, said the source, this confidentiality pledge would extend not only after an aide's White House service but also beyond the Trump presidency. "It's not meant to be constrained by the four years or eight years he's president — or the four months or eight months somebody works there. It is meant to survive that."

This is extraordinary. Every president inveighs against leakers and bemoans the kiss-and-tell books; no president, to my knowledge, has attempted to impose such a pledge. And while White House staffers have various confidentiality obligations — maintaining the secrecy of classified information or attorney-client privilege, for instance — the notion of imposing a side agreement, supposedly enforceable even after the president leaves office, is not only oppressive but constitutionally repugnant.

Unlike employees of private enterprises such as the Trump Organization or Trump campaign, White House aides have First Amendment rights when it comes to their employer, the federal government. If you have a leaker on your staff, the cure is firing, not suing.

"This is crazy," said attorney Debra Katz, who has represented numerous government whistleblowers and negotiated nondisclosure agreements. "The idea of having some kind of economic penalty is an outrageous effort to limit and chill speech. Once again, this president believes employees owe him a personal duty of loyalty, when their duty of loyalty is to the institution."
Marcus describes what was in the agreement that initial White House employees were required to sign:
I haven't been able to lay hands on the final agreement, but I do have a copy of a draft, and it is a doozy. It would expose violators to penalties of $10 million, payable to the federal government, for each and any unauthorized revelation of "confidential" information, defined as "all nonpublic information I learn of or gain access to in the course of my official duties in the service of the United States Government on White House staff," including "communications . . . with members of the press" and "with employees of federal, state, and local governments." The $10 million figure, I suspect, was watered down in the final version, because the people to whom I have spoken do not remember that jaw-dropping sum.

It would prohibit revelation of this confidential information in any form — including, get this, "the publication of works of fiction that contain any mention of the operations of the White House, federal agencies, foreign governments, or other entities interacting with the United States Government that is based on confidential information."

As outlined in the document, this restriction would cover Trump aides not only during their White House service but also "at all times thereafter."

The document: "I understand that the United States Government or, upon completion of the term(s) of Mr. Donald J. Trump, an authorized representative of Mr. Trump, may seek any remedy available to enforce this Agreement including, but not limited to, application for a court order prohibiting disclosure of information in breach of this Agreement."

This is so ridiculously excessive, so laughably unconstitutional, that I doubted, when it first came my way, that anything like it was ever implemented — only to do some reporting and learn otherwise.

Ordinarily I would insert a response from the White House, but this is no ordinary White House: It dealt with my numerous requests for comment, to the press office and the counsel's office, with complete silence.
So far, there hasn't been any official statement from the White House regarding this report, and no denial that the report itself is untrue. This appears to suggest that senior members of the President's staff were indeed required to sign non-disclosure agreements and that the practice may still be ongoing. Whatever that response is, though, it seems fairly clear that this is something demanding investigation by the appropriate committees on Capitol Hill. Those committees need to require the Administration to provide copies of any non-disclosure agreements that White House Staff were required to sign, to agree that any such agreements will not be enforced, and to immediately stop requiring them if it hasn't done so already. On top of that, Congress should consider legislation making it explicitly clear that no future President can require members of his staff, Cabinet officials, or anyone else to sign confidentiality agreements beyond those agreements necessary to ensure the secrecy of classified information.  Failure to act in the face of such reports would be an unconscionable breach of Congressional obligations under the Constitution.
In any case, it seems fairly clear that any such agreement would be entirely unenforceable. While confidentiality agreements are common in the private business world, and not entirely unknown for people who work on political campaigns, they are generally not applicable to government workers at the Federal, state, or local level and would most likely be held to be unconstitutional if any effort was made to enforce such an agreement. Unlike workers in the private sector, government workers have First Amendment rights with respect to their employer and cannot be punished for speaking out regarding their experiences on the job unless some valid exception applies. One notable exception, of course, exists in the case of classified information, which people with the proper security clearances are required to keep confidential even after they leave government service. There may also be some restrictions when it comes to information that would be protected by the so-called "Executive Privilege" or some other testimonial privilege. Even those restrictions, though, apply only to certain information or certain confirmation and are not nearly as broad as the agreement that Marcus makes note of in her report. From the established law, it seems entirely clear that the kind of agreement that Marcus is describing would be unenforceable and that any effort to do so would be a clear violation of the First Amendment.
It's worth noting, of course, that the existence of these agreements has done absolutely nothing to prevent the Trump Administration from leaking like a sieve over the course of the past fourteen months. To an extent far greater than I think we've seen in any other recent Administration, there have been reports that have appeared in The New York Times, The Washington Post, and other publications and news outlets that clearly could only have been coming from people close to the Oval Office. Based on the fact that these leaks have continued even after the departure of White House personnel such as Sean Spicer, Reince Priebus, Steve Bannon, and others suggests that there are multiple leakers inside the West Wing and that there are several people close to the President worried enough about how this President is acting that they are willing to contact reporters with information that clearly puts the Administration in general and the President in particular in a bad light.
Whether or not the agreements have been effective or not is, of course, entirely irrelevant. The mere fact that this Administration apparently thought it was acceptable to demand that White House employees sign agreements like this demonstrates just what kind of person we're dealing with when it comes to Donald Trump. Even if the agreement is unenforceable, it's clearly meant to intimidate people who work in the White House into keeping silent since they would have to consider the fact that if they did speak out they would be required to at the very least bear the cost of hiring an attorney to defend them if the Administration tried to enforce the agreement, and that they could end up being liable under a liquidated damages clause that would impose damages far beyond what they could ever afford to pay out. That alone is potentially enough to keep them quiet no matter how much they might want to speak out about their time in the Trump White House.