One Of Herman Cain's Accusers Wants To Talk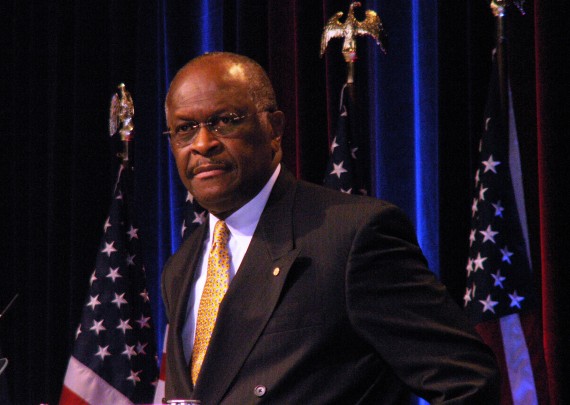 The Washington Post reports that at least one of the women who accused Herman Cain of sexual harassment some 20 years ago is now seeking to be released from her Confidentiality Agreement so she can talk about the matter:
One of the women who accused GOP presidential candidate Herman Cain of sexual harassment wants to tell her side of the story but is barred by a confidentiality agreement, her attorney in Washington said Tuesday.

Lawyer Joel P. Bennett called on the National Restaurant Association, where the woman and Cain worked in the late 1990s, to release the woman from her written promise not to talk about the allegations or disparage the trade group.

"It is just frustrating that Herman Cain is going around bad-mouthing the two complainants, and my client is blocked by a confidentiality agreement," Bennett said. "The National Restaurant Association ought to release them and allow them to respond. "

The association, which Cain headed from 1996 to 1999, has remained mum since the story broke in Politico on Sunday evening, citing a long-standing policy not to comment on personnel issues. Cain denied the sexual harassment allegations, saying they were "totally baseless and totally false."

Bennett represents one of the two women, who attended an Ivy League school and now works for the federal government. She has avoided the limelight since the allegations were aired, and she is staying with relatives while the media stakes out her home in suburban Maryland, Bennett said.

If she is released from the confidentiality ban, "then it is whole new ballgame," Bennett said.

"If we didn't have a written settlement agreement that says confidential and no disparagement, I think she'd be very comfortable coming forward," the attorney told The Post on Tuesday. "Not because she would be so hellbent on doing something to Herman Cain — I don't know that.
Bennett acknowledges that he represented this woman when her charges were made back in the 1990s and apparently negotiated the settlement, or whatever one wants to call it, on her behalf. Earlier today, Bennett raised the possibility that Cain himself had already violated the agreement and effectively released his client from confidentiality:
The lawyer for a woman who settled a sexual harassment complaint against Republican presidential candidate Herman Cain in the late 1990s says that Cain may have violated the confidentiality terms of the agreement by commenting on its specifics over the past 24 hours.

"Herman Cain and others have already disclosed that there was a confidential settlement," says Joel P. Bennett, a Washington-based attorney specializing in employment law, who also represented the woman when she negotiated her settlement.

Two women, including Bennett's client, settled sexual harassment complaints against Cain when they worked for him during his late-1990s tenure as head of the National Restaurant Association.

The revelations were first contained in a story in Politico; Bennett declined to confirm the identity of his client.

"I don't know if she'll ever go public," he said Tuesday.

Cain may have waived the confidentiality requirements by talking publicly about the settlement, including disclosing details of the agreement, Bennett told NPR. That could potentially free up his client, as well as a second woman who settled a similar complaint, to speak publicly.

(…)

Bennett says his client's settlement also contains a non-disparagement clause.

Bennett declined to comment more specifically on the settlement terms because he no longer has a copy of the 12-year-old agreement, and is relying on details provided to him by his client. He expects to receive a copy of the agreement from her Tuesday or Wednesday.

Without having the agreement in hand, Bennett says he doesn't know what it specifically says about Cain's obligations under the non-disparagement and confidentiality clauses.

"I haven't seen the agreement" in a dozen years, he said. "I haven't seen whether it goes both ways."

But even if it doesn't, Bennett says, "If an employer makes a confidential agreement, and then discloses it, there's a reasonable assumption that the employer has waived the confidentiality part of the agreement."
That would depend on the language of the agreement, whether Cain is even bound by a duty of confidentiality, and whether what Cain and others have said actually constitutes a breach of the agreement. Typically, a person bound by a confidentiality agreement is permitted to say that there was a dispute, that it was settled, and that the terms are confidential. Cain went a little bit beyond that last night when he said that he recalled the settlement being equivalent to three to six months salary. He also gave a description of what he recalled the allegations of inappropriate behavior being. Whether this is enough to constitute a breach is unclear and, even if it is, there wouldn't be a definitive answer until the matter was ruled on by a court.
That's why Bennett is asking the National Restaurant Association for a release. Whether they'd be inclined to give it is another question. Quite honestly, they'd probably just prefer to keep this matter quiet and that would mean not granting a release. However, this is part of a Presidential campaign now for better or worse. It's not going to go away until someone uncovers more details. The NRA is a trade association that would probably prefer not to ruffle any partisan feathers, though, so this may be a tough choice for them.