Debbie Wasserman Schultz Out As DNC Chair After Leaked Emails Lead To DNC Chaos
Florida Congresswoman Debbie Wasserman-Schultz is out as head of the Democratic National Committee after the release of a trove of embarrassing emails.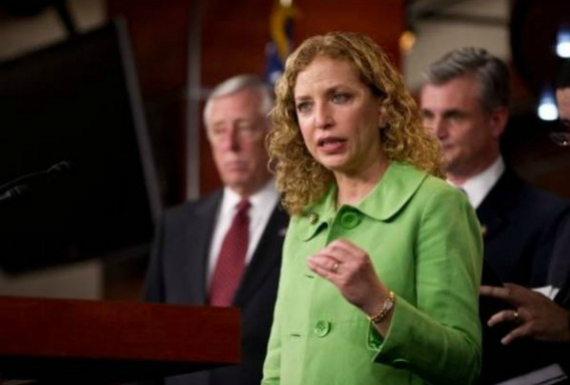 After a treasure trove of leaked emails showed that Democratic National Committee members were supporting Hillary Clinton's campaign behind the scenes and openly mocking the campaign of Vermont Senator Bernie Sanders, D.N.C. Chairwoman Debbie Wasserman Schultz announced that she would drastically limit her role at this week's convention and resign her position effective with the end of the convention on Thursday night:
PHILADELPHIA — Democrats arrived at their nominating convention on Sunday under a cloud of discord as Debbie Wasserman Schultz, the chairwoman of the Democratic National Committee, abruptly said she was resigning after a trove of leaked emails showed party officials conspiring to sabotage the campaign of Senator Bernie Sanders of Vermont.

The revelation, along with sizable pro-Sanders protests here in the streets to greet arriving delegates, threatened to undermine the delicate healing process that followed the contentious fight between Mr. Sanders and Hillary Clinton. And it raised the prospect that a convention that was intended to showcase the Democratic Party's optimism and unity, in contrast to the Republicans, could be marred by dissension and disorder.

The day also veered extraordinarily into allegations, not easily dismissed, that Russia had a hand in the leaks that helped bring down the head of an American political party.

Despite those concerns, Democrats are hoping that focusing on Donald J. Trump, the Republican nominee, will galvanize the party to rally around Mrs. Clinton, and on Sunday those efforts received a major boost when Michael R. Bloomberg, the former Republican and independent mayor of New York, said he would endorse her.

In her resignation statement, Ms. Wasserman Schultz, a representative from Florida, said she would continue to fight for Mrs. Clinton from the sidelines.

"I know that electing Hillary Clinton as our next president is critical for America's future," Ms. Wasserman Schultz said in a statement. "I look forward to serving as a surrogate for her campaign in Florida and across the country to ensure her victory."

She added, "Going forward, the best way for me to accomplish those goals is to step down as party chair at the end of this convention."

Donna Brazile, a vice chairwoman of the Democratic National Committee, will be the interim chairwoman through the election, the committee said.

Ms. Wasserman Schultz has faced a flurry of negative stories during her five-year tenure as the committee's chairwoman, with critics charging that she was more focused on promoting her career than on the party, but she had resisted calls to quit.

Ms. Wasserman Schultz announced her resignation after a private meeting with advisers and senior aides to Mrs. Clinton at a hotel here a day before the party's convention was set to begin. She had faced growing calls for her resignation over the weekend.

"In politics, you need to not only know when to draw your sword, but also when to fall on it," said James Carville, a longtime friend and adviser to the Clintons.

The breach of the Democratic committee's emails, made public on Friday by WikiLeaks, offered undeniable evidence of what Mr. Sanders's supporters had complained about for much of the senator's contentious primary contest with Mrs. Clinton: that the party was effectively an arm of Mrs. Clinton's campaign. The messages showed members of the committee's communications team musing about pushing the narrative that the Sanders campaign was inept and trying to raise questions publicly about whether he was an atheist.

Mr. Sanders said the situation was an "outrage" on Sunday before the resignation was announced, and called for Ms. Wasserman Schultz to step down. Afterward, he said it was the right decision.

"The party leadership must also always remain impartial in the presidential nominating process, something which did not occur in the 2016 race," he said in a statement.
The charge that the DNC has been biased in favor of the Clinton campaign is not a new one, of course, but was part of a constant theme on Sanders' part throughout his campaign. Among Sanders complaints was the fact that the committee seemed to be limiting the number of candidate debates, and scheduling them at times when they would seem designed to get the lowest possible viewership, in order to both protect Clinton and to prevent an opponent, whether it be Sanders or anyone else from having the opportunity to take Clinton on in a free-media setting before a national audience, There were also complaints that the committee was restricting the Sanders campaign's access to shared voter data in order to make its campaign more difficult. That particular issue took national prominence when the Sanders campaign was cut off from using an important shared DNC database for nearly a week after it allegedly breached firewalls between the campaigns that didn't seem to be designed very well to begin with. For many Sanders supporters, though, the final straw was the fact that Wasserman-Schultz, who has been a long time Clinton supporter, maintained her role as the head of the committee notwithstanding the fact that there were suspicions that she was supporting Clinton all along. Ideally, she should have stepped aside once it was clear that Clinton was going to have a contest, but the fact that she didn't, and the fact that the DNC appeared to be plainly acting in a manner meant to favor Clinton only increased the resentment against her.
The problems for the DNC only became worse when the emails were released:
Top officials at the Democratic National Committee criticized and mocked Senator Bernie Sanders of Vermont during the primary campaign, even though the organization publicly insisted that it was neutral in the race, according to committee emails made public on Friday by WikiLeaks.

WikiLeaks posted almost 20,000 emails sent or received by a handful of top committee officials and provided an online tool to search through them. While WikiLeaks did not reveal the source of the leak, the committee said last month that Russian hackers had penetrated its computer system.

Among the emails released on Friday were several embarrassing messages that suggest the committee's chairwoman, Representative Debbie Wasserman Schultz of Florida, and other officials favored Hillary Clinton over Mr. Sanders — a claim the senator made repeatedly during the primaries.

In one of the emails, dated May 21, Mark Paustenbach, a committee communications official, wrote to a colleague about the possibility of urging reporters to write that Mr. Sanders's campaign was "a mess" after a glitch on the committee's servers gave it access to Clinton voter data.

"Wondering if there's a good Bernie narrative for a story, which is that Bernie never ever had his act together, that his campaign was a mess," Mr. Paustenbach wrote to Luis Miranda, the communications director for the committee.

In another email exchange, Mr. Miranda asked Ms. Wasserman Schultz whether they should call CNN to complain about a segment the network aired in which Mr. Sanders said he would oust the chairwoman if he were elected.

"Do you all think it's worth highlighting for CNN that her term ends the day after the inauguration, when a new D.N.C. Chair is elected anyway?" Mr. Miranda asked. Ms. Wasserman Schultz responded by dismissing the senator's chances. "This is a silly story," she wrote. "He isn't going to be president."

The emails appear to bolster Mr. Sanders's claims that the committee, and in particular Ms. Wasserman Schultz, did not treat him fairly. His campaign accused the committee of scheduling debates on weekends so fewer people would see them. And in May, Jeff Weaver, Mr. Sanders's campaign manager, said on CNN that "we could have a long conversation just about Debbie Wasserman Schultz and how she's been throwing shade at the Sanders campaign since the very beginning."

In an email exchange that month, another committee official wrote to both Mr. Paustenbach and Amy Dacey, the committee's chief executive, to suggest finding a way to bring attention to the religious beliefs of an unnamed person, apparently Mr. Sanders.

"It might may no difference, but for KY and WVA can we get someone to ask his belief. Does he believe in a God," wrote Brad Marshall, the chief financial officer of the committee. "He had skated on saying he has a Jewish heritage. I think I read he is an atheist. This could make several points difference with my peeps."

Mr. Marshall added in a second email: "It's these Jesus thing." Ms. Dacey wrote back, in capital letters: "AMEN."

Mr. Marshall did not respond on Friday to an email asking for comment. But The Intercept, a news website, quoted Mr. Marshall as saying: "I do not recall this. I can say it would not have been Sanders. It would probably be about a surrogate."
On top of all of the allegations made during the course of the primary campaign, these emails were effectively the last straw, and it's not surprising that Wasserman-Schultz announced her resignation so quickly yesterday. No doubt, both President Clinton and the Clinton campaign were pressuring her to move aside prior to the start of the convention and likely would have used their combined influence inside the DNC to force her out if she had not acted on her own. As it stands, though, I suspect it's going to take a little more to satisfy Sanders and his supporters that she has been punished sufficiently for what they plainly see as rigging the process in favor of her preferred candidate. Right now, for example, Wasserman-Schultz is scheduled to speak at the beginning and end of the conventions this week but, based on her reception at a breakfast meeting of her home state's Democratic delegation, which didn't exactly go as planned, one suspects that those plans will be abandoned so that the convention doesn't begin on such as negative note as the Chairwoman of the DNC getting booed from the floor of the convention. In the end, though, Wasserman-Schultz has nobody but herself to blame for this. The extent to which she put her thumb on the scale for Hillary Clinton was laughably apparent, and the fact that she and others in the DNC got away with it for so long is only going to reinforce the arguments that people like Sanders, Senator Elizabeth Warren, and, yes even Donald Trump, have been making for the better part of a year about the system being rigged.
I doubt that this story is going to matter very much to the outcome of the election. Most people have no idea who Debbie Wasserman-Schultz is, and many of the likely don't care. It is nonetheless important for the Clinton campaign to get this story behind them as soon as possible, both to limit the negative news coverage going forward and to push back against the idea of a lack of unity heading into November. In the end, though, I tend to think this story will matter as little in November as Ted Cruz's convention speech will. For most voters, issues such as the economy and national security are going to matter far more than the actions of Debbie Wasserman-Schultz.