Bernie Sanders Continues To Wage War Against The Party He Claims To Support
Even as it becomes more and more apparent that he cannot win the Democratic nomination for President, Bernie Sanders is not letting up on his rhetoric against the leadership of the party he claims he'll support in November.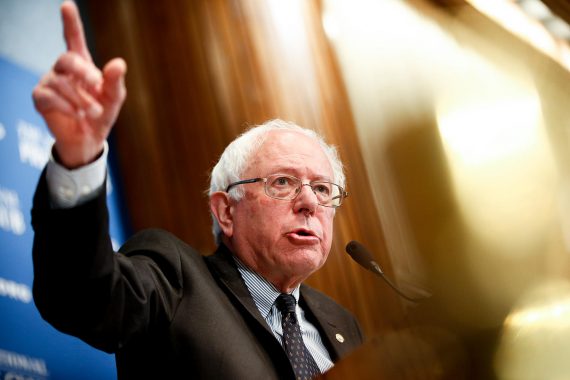 Even as the race for the Democratic nomination dies down and Hillary Clinton prepares to shift her attention to the race against Donald Trump in the fall, Vermont Senator Bernie Sanders is continuing his war against the leadership of the Democratic Party over what he contends has been an 'unfair' primary process:
Doubling down on his feud with the Democratic Party leadership, SenatorBernie Sanders said that if elected president, he will not reappoint Democratic National Committee chairwoman, Representative Debbie Wasserman Schultz of Florida.

He made the comments during an interview with CNN's Jake Tapper that is set to air on Sunday. Mr. Sanders also said he was supporting Tim Canova, a law professor who has begun an insurgent campaign against Ms. Wasserman Schultz for her South Florida congressional seat. They will face off in a primary this summer.

"Well, clearly, I favor her opponent," Mr. Sanders told Mr. Tapper. "His views are much closer to mine."

For months, Mr. Sanders has accused the party of favoring Hillary Clinton, often calling her the "anointed candidate."

He has criticized the party for a debate schedule that his campaign says favors Mrs. Clinton; an arrangement under which Mrs. Clinton raises money for the party; and the appointment of Clinton supporters as leaders of important convention committees.

Most recently, he and the party have sparred over what happened at the Nevada Democratic convention a week ago. There, Sanders supporters disrupted the proceedings in a fight over delegates and the state party chairwoman was later threatened. After the party rebuked Mr. Sanders for not clearly condemning what had occurred, his campaign manager, Jeff Weaver, accused Ms. Wasserman Schultz of "throwing shade on the Sanders campaign from the very beginning.

This week, Ms. Wasserman Schultz pushed back against the Sanders campaign in an interview with CNN. "We've had the same rules in place that elected Barack Obama," she told the network. "These rules were adopted for state parties all across the country in 2014."

In a statement on Saturday, she said that "even though Senator Sanders has endorsed my opponent, I remain, as I have been from the beginning, neutral in the presidential Democratic primary."

As president, Mr. Sanders would have the ability to appoint the committee chair, though it is not likely he will get that chance, as Mrs. Clinton is close to clinching the nomination. Nevertheless, he can try to draw a little blood from Ms. Wasserman Schultz with his endorsement of her primary opponent, Mr. Canova, the underdog in the race.
Sanders has also not let up on his attacks on Hillary Clinton even as she inches closer to the Democratic nomination:
American voters should not be forced to pick between "the lesser of two evils" this November, Vermont Sen. Bernie Sanders says.

Asked in an interview airing Sunday on ABC's "This Week" if that's how he'd describe a possible match-up between Democratic presidential front-runner Hillary Clinton and presumptive Republican presidential nominee Donald Trump, Sanders said it was not him making the characterization.

"That's what the American people are saying," he said. "If you look at the favorability ratings of Donald Trump and Hillary Clinton, both of them have very, very high unfavorables."

A recent CNN/ORC polls showed 57 percent of voters nationally viewed Trump unfavorably, while 49 percent viewed Clinton that way.

Sanders continued to emphasize that he'll stay in the race for the Democratic presidential nomination, though he acknowledged the delegate math provides for "a very steep uphill climb." He also appealed to so-called super delegates, who are not bound to any candidate at the Democratic National Convention, to consider switching their support from Clinton to him over issues of electability.

"If you look at virtually all of the polls done in the last six, seven weeks, in every one of them, nationally polls and statewide polls, we defeat Trump by larger margins — in some cases, significantly larger margins — than does Secretary Clinton," Sanders said.
One thing that Sanders, and his supporters, don't seem to be considering when they point to these polls that show him doing better against Donald Trump than Hillary Clinton at the moment is that they are largely ignoring the main reason that this is the case. It isn't because the public is massively in favor of the redistributionist economic policies that Sanders favors, it's because he isn't Donald Trump or Hillary Clinton. In many respects, this years election is going to be unique in recent American history in that it will feature two non-incumbents who have been well known to the American public for the better part of two decades. As a result of that familiarity, public opinion about both candidates is already pretty much baked into the cake and unlikely to change between now and November. Sanders, on the other hand, is something new on the political scene for most Americans and most Democrats. As such, it's not surprising that potential voters might view him more positively than they view Clinton or Trump. Despite that positive view, though, Sanders has not been able to achieve widespread political appeal and it's likely that if he did get more widespread national exposure his positive numbers would sink rather fast as voters realize just how far out of step with even the mainstream of his own party Senator Sanders actually is.
Leaving aside the polls, though, and the fact that Sanders is insisting on continuing a fight against Hillary Clinton that is quickly moving from quixotic to silly, the fact that Senator Sanders is continuing to attack Clinton, but also continuing to stir up his supporters with claims about how he can win the nomination, something which is all but mathematically impossible at this point, and attacks on the leadership of the party he has pledged to support in the General Election leads one to wonder just what his intentions are for the Democratic National Convention and how sincere he is when he says he's dedicated to making sure Donald Trump isn't elected President. If that were the case then it seems clear that he ought to be thinking about finding a way to help reconcile his supporters to the idea of Hillary Clinton as the Democratic nominee the way that Hillary Clinton helped reconcile her supporters to the idea of Barack Obama as their party's nominee. There are signs in the polls that this won't be as difficult as some headlines make it seem, but, nonetheless, Sanders' insistence on continuing to run a campaign that makes it appear that he believes that anything other than a Sanders victory in Philadelphia would constitute a stolen election makes one wonder just how committed he is to unity in the Democratic Party.