Russia Our "Number One Foe"?
Mitt Romney called Russia our "number one geopolitical foe." Is he right?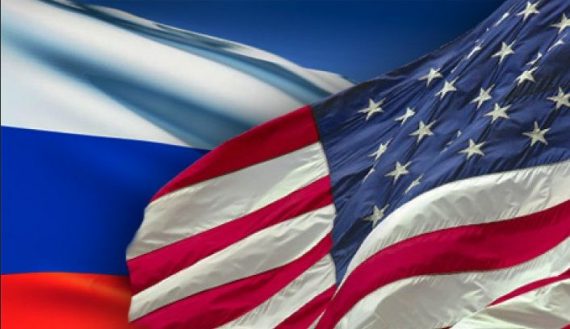 Appearing on CNN yesterday afternoon in response to President Obama's open mic moment with Russian President Dimitri Medvedev, Mitt Romney claimed that Russia is a chief geopolitical foe:
Romney said he was "very concerned" about the president's remarks, especially because they were made to a Russian leader.

"Russia is not a friendly character on the world stage and for this president to be looking for greater flexibility where he doesn't have to answer to the American people in his relations with Russia is very, very troubling, very alarming," he said. "I am very, very concerned.

"This is to Russia," Romney said. "This is without question our number one geopolitical foe.

"They fight every cause for the world's worst actors. The idea that he has more flexibility in mind for Russia is very, very troubling indeed," he said.

When pressed by Blitzer as to whether he truly believed Russia was a bigger foe than Iran or China, Romney sought to clarify his remarks, but did not back away from his argument.

"I'm saying in terms of a geopolitical opponent, the nation that lines up with the world's worst actors, of course the greatest threat that the world faces is a nuclear Iran, and nuclear North Korea is already troubling enough, but when these terrible actors pursue their course in the world and we go to the United Nations looking for ways to stop them, when [Syrian President] Assad, for instance, is murdering his own people, we go to the United Nations and who is it that always stands up for the world's worst actors?" Romney asked.

"It is always Russia, typically with China alongside, and so in terms of a geopolitical foe, a nation that's on the Security Council, that has the heft of the Security Council, and is of course a massive security power — Russia is the geopolitical foe and the idea that our president is planning on doing something with them that he's not willing to tell the American people before the election is something that I find very, very alarming," he said.
Here's the video:
It seems like an odd comment when you consider the fact that the Russia of 2012 is, in many ways, a pale reflection of the Soviet Union of the Cold War era. Yes, they still have nuclear weapons and a strong military but they don't have nearly the amount of influence in the world that they used to and, were it not for their natural resources, their economy wouldn't be nearly as strong as it is . Yes, it's true that of late Russia has become rather adept at using its international influence, and its UN veto, to block international action in places like Syria but does that really make them our "number one geopolitical foe"? In the specific case of Syria, should we be mad a Russia for blocking the UN from getting involved, or grateful that, for their own selfish reasons, they are preventing us from doing something really stupid?
Daniel Larison sees Romney's comments as reflective of a general antipathy towards Russia that still exists in the GOP:
This seems to reflect the bizarre, outdated hostility towards Russia that his earlier policy statements have conveyed. Sometimes the U.S. and Russia have divergent interests, and sometimes these interests may conflict, but that's true of the U.S. and any other major power. His description of Russia as "our number one geopolitical foe" suggests that Romney has a very warped, anachronistic view of the threats to the United States. It's a good bet that "our number one geopolitical foe" wouldn't be permitting the resupply of our military in Central Asia through their territory and airspace. For some reason, Romney wants us to think that his Russia policy would be defined by Cold War-era paranoia.
There certainly does seem to be some of this paranoia still active on the right, if not among actual working International Relations experts, then at least among the pundits and talking heads that the public typically hears from. And it becomes a great "red meat" talking point for politicians to use with the crowds. In Romney's specific case, this is a theme he's been hitting on for awhile now, as this excerpt from an interview in 2011 demonstrates:
I began by asking him about Russian "reset." He is, as on most topics, highly critical of President Obama. "You have to go back, " he begins, "to when we pulled our missile defense sites out of eastern Europe. I wouldn't have done it. But if we were going to do it, he should have gotten something of huge foreign policy significance. He didn't."

He's under no illusions about Vladi­mir Putin. He is convinced that Putin dreams of "rebuilding the Russian empire." He says, "That includes annexing populations as they did in Georgia and using gas and oil resources" to throw their weight around in Europe. He maintains that the START treaty was tilted toward Russia. "It has to end," he says emphatically about "reset." "We have to show strength." I ask him about WTO, which has been much in the news as Putin blusters and demands entry into the trade organization. Romney is again definitive. "Letting people into WTO who intend to cheat is obviously a mistake."
So this latest comment isn't really a change of position from Romney, although there is an open question about how much it represents a position he'd actually take were he elected President and how much it represents a method by which to attack the President. Frankly, I think that's mostly what this is. If Romney did become President, there would be no value in pursuing a confrontational policy with Russia in an era when we need their cooperation in a wide variety of areas. Perhaps the behind-closed-doors talk will be more pointed but the public face is going to be pretty much the same, because it has to be.
But back to the main question. Is Russia our "number one geopolitical foe"? In an era where the rising power in the world is China, and the major threats to world peace are in North Korea and Iran, this strikes me as a fundamentally silly idea. Yes Russia is a regional power with its own national interests, interests which sometimes (but not always) conflict with ours. However, to say it's in anyway or chief foe in the world is to ignore reality. Mitt Romney should feel like a fool for even uttering the words.
Update: Russian President Dimitri Medvedev has responded to Romney's remarks:
"As to ideological cliches, I have already spoken on the subject. I always get very cautious when I see a country resort to phrasings such as "number one enemy." It is very reminiscent of Hollywood and certain period of history. I would advise two things to all US presidential candidates, including the person you just mentioned. My first advice is to listen to reason when they formulate their positions. Reason never harmed a presidential candidate. My other advice is to check their clocks from time to time: it is 2012, not the mid-1970s. No matter what party a candidate represents, he has to take the current state of affairs into account. That is the only he could count on winning."
Of course it is worth noting that Medvedev won't be President much longer, and his successor is a different animal entirely.