Even After Big Speech, Romney's Foreign Policy Remains Vague
Mitt Romney's speech at VMI today was billed as a major foreign policy address, but it was incredibly light on substance.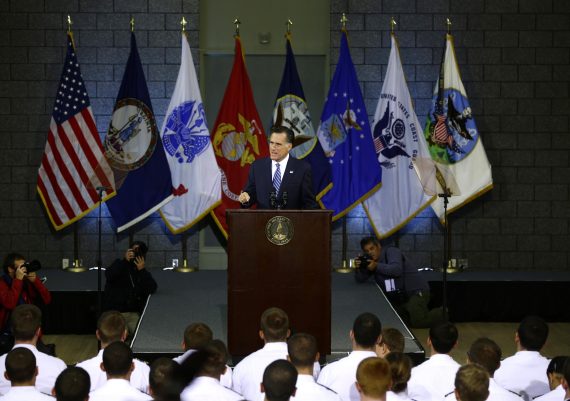 For weeks now, we've been hearing rumors that Mitt Romney would be giving a major speech on foreign policy and national security. At the time it was apparently seen by many of his advisers as a way to reboot a campaign that was in danger of slipping too far behind the President to have a realistic chance of catching up. While that's apparently no longer the case, at least for the moment, conservatives also believe that foreign policy is an area where the President remains vulnerable, especially in the wake of the attack in Benghazi and the riots in several other Muslim nations. The problem for Mitt Romney, though, is that, even after Benghazi, the President continues to get high marks in the poll on foreign policy issues, and most of the talking points that Romney has used in this area are things that generally only appeal to his conservative base. Indeed, James Joyner noted just a few weeks ago that Romney's foreign policy positions suffer from the same problem as his domestic policy positions:
[I]t's not at all clear what Romney proposes to do differently than his opponent.  He wants to decrease Europe's energy reliance on Russia by supporting Nabucco and other pipeline projects. So do I. But so does Obama. Beyond that, he talks in vague platitudes about building stronger relations with Central Asian countries and supporting civil society in Russia. But those are longstanding, bipartisan goals of U.S. foreign policy.

The Romney campaign's  foreign policy approach ultimately suffers the same basic flaw as its domestic policy approach: in trying to be all things to all people, it ultimately satisfies no one. Those of us in the increasingly marginalized Realist foreign policy camp are left clinging to the hope that the appointment of seasoned hands like Bob Zoellich to the team signals that Romney will be the serious pragmatist that he was as governor of Massachusetts. But the empty saber rattling and cozing up to Netanyahu and John Bolton are attempts to satisfy the neoconservative wing that Mitt's one of them.

The net result is that no one really knows what a Romney foreign policy would look like. Increasingly, I'm not sure that even Romney knows.
That's one reason, no doubt, that the American Enterprise Institute's Danielle Pletka took to the Op-Ed page of The New York Times yesterday to give the Republican nominee some advice:
Criticisms of Mr. Obama's national security policies have degenerated into a set of clichés about apologies, Israel, Iran and military spending. To be sure, there is more than a germ of truth in many of these accusations. But these are complaints, not alternatives. Worse yet, they betray the same robotic antipathy that animated Bush-haters. "I will not apologize for America" is no more a clarion call than "let's nation-build at home."

Mr. Romney must put flesh on the bones of his calls for a renewed American greatness. With a vision for American power, strategically and judiciously applied, we can continue to do great things with fewer resources. The nation's greatest strength is not its military power or fantastic productivity. It's the American commitment to our founding principles of political and economic freedom. If Mr. Romney can outline to voters how he will use American power to advance those principles, he will go a long way in persuading them he deserves the job of commander in chief.
Unfortunately for Ms. Plekta, and I suppose for the candidate himself, when Mitt Romney took the stage at Virginia Military Institute today, he ended up just giving us the same old platitudes:
WASHINGTON — Mitt Romney intensified his efforts Monday to draw a sharp contrast with President Obama on national security in the presidential campaign's closing stages, portraying Mr. Obama as having mishandled the tumult in the Arab world and having left the nation exposed to a terrorist attack in Libya.

In a speech he gave at the Virginia Military Institute, Mr. Romney declared that "hope is not a strategy" for dealing with the rise of Islamist governments in the Middle East or an Iran racing toward the capability to build a nuclear weapon, according to excerpts released by his campaign.

The essence of Mr. Romney's argument is that he would take the United States back to an earlier era, one that would result, as his young foreign policy director, Alex Wong, told reporters on Sunday, in "the restoration of a strategy that served us well for 70 years."

But beyond his critique of Mr. Obama as failing to project American strength abroad, Mr. Romney has yet to fill in many of the details of how he would conduct policy toward the rest of the world, or to resolve deep ideological rifts within the Republican Party and his own foreign policy team. It is a disparate and politely fractious team of advisers that includes warring tribes of neoconservatives, traditional strong-defense conservatives and a band of self-described "realists" who believe there are limits to the degree the United States can impose its will.

Each group is vying to shape Mr. Romney's views, usually through policy papers that many of the advisers wonder if he is reading. Indeed, in a campaign that has been so intensely focused on economic issues, some of these advisers, in interviews over the past two weeks in which most insisted on anonymity, say they have engaged with him so little on issues of national security that they are uncertain what camp he would fall into, and are uncertain themselves about how he would govern.

"Would he take the lead in bombing Iran if the mullahs were getting too close to a bomb, or just back up the Israelis?" one of his senior advisers asked last week. "Would he push for peace with the Palestinians, or just live with the status quo? He's left himself a lot of wiggle room."

In his remarks, Mr. Romney addressed the Palestinian issue, saying, "I will recommit America to the goal of a democratic, prosperous Palestinian state living side by side in peace and security with the Jewish state of Israel." And he faulted Mr. Obama for failing to deliver on that front.

But while the theme Mr. Romney hit the hardest in his speech at V.M.I. — that the Obama era has been one marked by "weakness" and the abandonment of allies — has political appeal, the specific descriptions of what Mr. Romney would do, on issues like drawing red lines for Iran's nuclear program and threatening to cut off military aid to difficult allies like Pakistan or Egypt if they veer away from American interests, sound at times quite close to Mr. Obama's approach.

And the speech appeared to glide past positions Mr. Romney himself took more than a year ago, when he voiced opposition to expanding the intervention in Libya to hunt down Col. Muammar el-Qaddafi with what he termed insufficient resources. He called it "mission creep and mission muddle," though within months Mr. Qaddafi was gone. And last spring, Mr. Romney was caught on tape telling donors he believed there was "just no way" a two-state solution to the Israeli-Palestinian conflict could work.

Mr. Romney's Monday speech called vaguely for support of Libya's "efforts to forge a lasting government" and to pursue the "terrorists who attacked our consulate in Benghazi and killed Americans." And he said he would "recommit America to the goal of a democratic, prosperous Palestinian state living side by side in peace and security" with Israel. But he did not say what resources he would devote to those tasks.
Now, of course, one shouldn't expect a Presidential candidate to give precise details about how he would deal with the myriad number of global issues that will be face by whomever becomes President on January 20, 2013. At the same time, though, a candidate for President, especially one who's challenging an incumbent President, has some responsibility to explain to voters where they differ from their opponent, and where they might agree.
For example, Governor Romney has consistently criticized the President for supposed inaction with respect to the civil war in Syria, an ironic position when one considers that, in 2011, he was criticizing the President for even considering intervening in the civil war in Libya (although to be fair, Romney seems to have had at least three distinct positions on Libya over the course of a year.) What Romney hasn't said, though, is what he'd do differently in Syria from the President. Our ability to act within a coalition there is hampered by the fact that nobody else seems very eager to intervene in what is clearly a more complicated situation than Libya ever was, for example, and we are even more unsure of the true nature of the Syrian rebels than we were of their counterparts in Libya. In today's speech, though, Governor Romney didn't say specifically where he stood on arming the Syrian rebels, or indeed intervening. Instead, he said this:
In Syria I'll work with our partners to identify and organize those members of the opposition who share our values and then ensure they obtain the arms they need to defeat Assad's tanks helicopters and fighter jets. Iran is sending arms to Assad because they know his downfall would be a strategic defeat for them. We should be working no less vigorously through our international partners to support the many Syrians who would deliver that defeat to Iran, rather than sitting on the sidelines. It's essential that we develop influence with those forces in Syria that will one day lead a country that sits at the heart of the Middle East.
How exactly is that different from the Obama Administration's current policy? We've been working with the Saudis and other Gulf States to arm Syrian rebels, and we've known since at least June that there are CIA agents on the ground at the Turkish-Syrian border assisting in army in the rebels and "helping allies decide which Syrian opposition fighters across the border will receive arms to fight the Syrian government." So, essentially Governor Romney is endorsing the policy that the Obama Administration has laid out while at the same time falsely accusing the President of doing nothing in Syria.
On Iran and its nuclear weapons program, Romney said this:
I will put the leaders of Iran on notice that the United States and our friends and allies will prevent them from acquiring nuclear weapons capability. I will not hesitate to impose new sanctions on Iran and will — and will tighten the sanctions we currently have. I will restore the permanent presence of aircraft carrier task forces in both the Eastern Mediterranean and the Gulf. And I'll work with Israel to increase our military assistance and coordination. For the sake of peace, we must make clear to Iran through actions, not just words, that their nuclear pursuit will not be tolerated.
Again, isn't this what the President has been doing for the last three years? We've imposed several new rounds of sanctions on the Iranian regime, including currency restrictions which have apparently led to severe economic conditions in the country after the Iranian Rial lost more than 40% of its value in a very short period of time. We've made clear to the Iranians that developing a nuclear weapon would be unacceptable and, in apparent coordination with the Israelis, we unleashed the Stuxnet virus, which had a significant impact on the Iranian centerfuge program. There have also been reports of other covert activities inside Iran likely conducted by us, the Israelis, or other Western power either acting in conjunction or at least with some knowledge of what we're doing. Nothing Romney said in his speech indicates that he'd do anything differently.
Wired's Spencer Ackerman notes that, based on this speech, it's fairly clear that Romney's foreign policy would effectively be the continuation of what the Obama Administration has been doing for the past three years:
The differences Romney outlines from Obama tend to shrink under scrutiny. To confront Iran, Romney will pledge to "restore the permanent presence of aircraft carrier task forces in both the Eastern Mediterranean and the Gulf." But Obama has kept two carrier strike groups off Iran's shores for at least a year, an increase from the Bush administration, along with an additional naval surge of minesweepers, gunboats and commandos. On Syria, Romney says he'll "entify and organize those members of the opposition who share our values and ensure they obtain the arms they need." But the CIA is on the Turkey-Syrian border trying to sort out which Syrian rebels are worth funneling foreign weapons to — a difficult proposition at best — and, as the New York Times' David Sanger points out, Romney stops short of promising American weapons to the rebels. Romney doesn't like Obama's 2014 timetable for ending U.S. combat in Afghanistan (a "politically timed retreat," Romney calls it), but, again, he'll say he'll stick to it while "evaluat[ing] conditions on the ground," something less than a pledge to stay longer. But sinceObama isn't leaving Afghanistan after 2014, either, finding distinctions on Afghanistan is like counting angels on the head of a pin.
On other issues that Romney did not address in his speech, I doubt we'll see any change in our nation's disastrous and counter-productive drone strategy were Mitt Romney to become President. Indeed, that's probably one area where Romney would probably increase activity from the level that its been at under Obama and expand it into other parts of the world like Northern Africa. Beyond that, most of the differences between Romney and Obama on foreign policy are purely rhetorical, and that rhetoric is mostly Romney's and mostly meant for domestic consumption.  When it comes to implementation and actual policy, the differences between what Romney says he wants the United States to do in the world and what the President is actually doing are infinitesimal.
Indeed, in order to come up with an effective criticism of the President in this area, Romney and his surrogates are required to come up with a version of the President's foreign policy that simply doesn't comport with reality. He's weakened America, they claim, even as our military stands so far ahead of our nearest rivals that any comparisons are rather absurd. To pick just one example, the United States has eleven active aircraft carriers. The Chinese just finished retrofitting one they had acquired from the Russians years ago, but they still can't land planes on it and they Chinese Navy doesn't have the support capacity that would allow the carrier to sail far beyond Chinese waters in the manner that America's carriers have been doing for some 60 years now. Republicans claim that the President has gone around the world "apologizing for America," despite the fact that this is a completely untrue statement. And, they portray the President as weak in the War on Terror while ignoring the fact that it was under his Administration that Osama bin Laden was brought to the justice he deserved. It's only by creating this absurd caricature that they are able to look even half way credible in criticizing the President in this area, while at the same time advocating policies that, in the end, aren't very different from what the President has actually done.
Romney is attacking on foreign policy now for a simple reason. After the Benghazi attacks, the campaign believes that the President is vulnerable on this issue. I agree that the Administration's response to the murder of Ambassador Stevens and three others on the 11th anniversary of the September 11th attacks has been bungled and ham-handed. Additionally, there are still serious questions that need to be answered about the security situation on the ground in Libya before the attacks and whether or not the State Department ignored pleas from people on the ground to send additional protection to the outposts in both Benghazi and Tripoli. However, I'm not seeing any evidence that any of this is hurting the President in the polls. Mostly, it's just getting conservatives really mad, but they were already mad at the President anyway.
All of this will come to a head at the foreign policy debate on October 22nd, of course. In some sense, then, I wonder why the Romney campaign chose to play their cards here so early since this will given the Obama campaign two weeks to come up with responses to everything that was raised in the speech. Perhaps the most important criticism, though, is that, just like Mitt Romney won't give us any details about his tax plan, he's not giving us any details on his foreign policy views. Of course, that assumes he knows what they actually are.
Here's video of the speech:
Visit NBCNews.com for breaking news, world news, and news about the economy
Photo via Richmond Times-Dispatch