Turkey, Syria, And Russia Win, U.S. Loses As Syrian Crisis Widens
Turkish forces advance, American forces retreat, the Kurds seek new allies, and Syria and Russia come out the winners.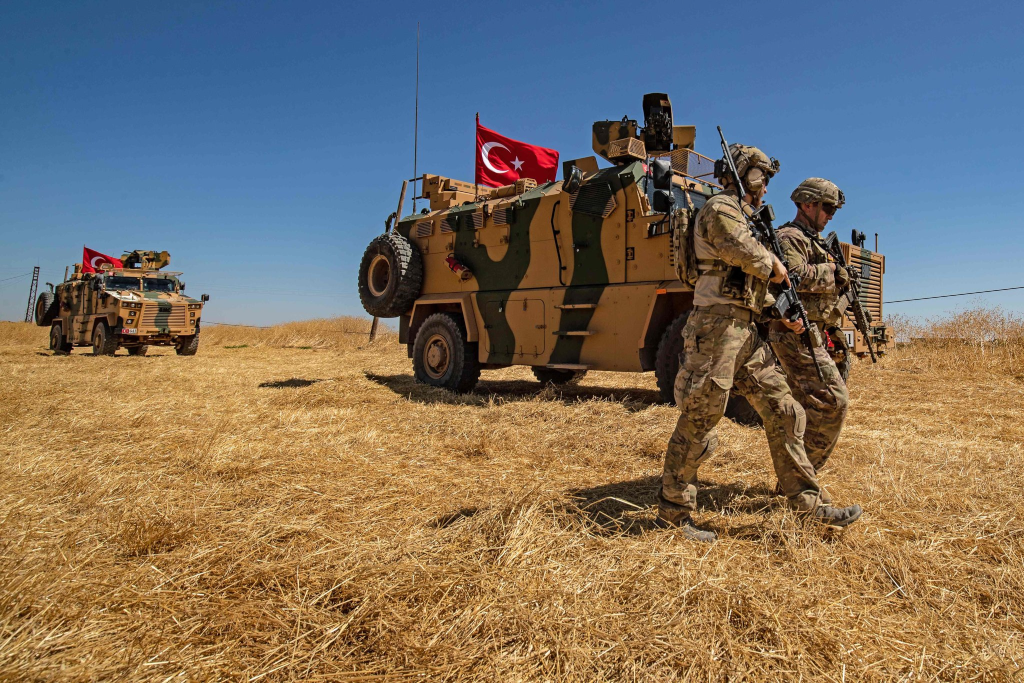 As Turkish forces continue their advances in northern Syria, the Kurds who were formerly allied with the United States in fightings ISIS have turned to a new ally for protection against what would otherwise undoubtedly be a massacre:
Syrian government troops began moving toward towns near the Turkish border Sunday night under a deal struck with Syrian Kurds, following a chaotic day that saw the unraveling of the U.S. mission in northeastern Syria.

Hundreds of Islamic State family members escaped a detention camp after Turkish shellfire hit the area, U.S. troops pulled out from another base and Turkish-backed forces consolidated their hold over a vital highway, cutting the main U.S. supply route into Syria.

By the time Defense Secretary Mark T. Esper appeared on CBS's "Face the Nation" to announce that President Trump had ordered the final withdrawal of the 1,000 U.S. troops in northeastern Syria, it was already clear that the U.S. presence had become unsustainable, U.S. officials said.

The announcement by the Syrian Democratic Forces (SDF) that they had reached an agreement with the Iranian- and Russian-backed government of President Bashar al-Assad further undermined the prospect of any continued U.S. presence in the country. The deal will bring forces loyal to Assad back into towns and cities that have been under Kurdish control for seven years.

"An agreement has been reached with the Syrian government — whose duty it is to protect the country's borders and preserve Syrian sovereignty — for the Syrian Army to enter and deploy along the Syrian-Turkish border to help the SDF stop this aggression" by Turkey, the SDF said in a statement.

It was unclear where and when the Syrian troops would deploy or whether U.S. forces were already pulling out of areas where they are based. U.S. officials declined to confirm local media reports that troops had pulled out of the towns of Manbij and Kobane, where local officials confirmed they had agreed to allow Syrian troops to deploy.

Witnesses said celebratory gunfire erupted in parts of the town of Qamishli as Syrian troop reinforcements flew into the local airport, according to a Kurdish security official, who spoke on the condition of anonymity out of safety concerns. He said local Kurdish forces had been ordered not to confront Syrian troops, who arrived to bolster a small contingent of government forces that had remained in the city after Kurdish forces took it over in 2012.

The deal followed three days of negotiations brokered by Russia between the Syrian government and the SDF, which had reached the conclusion that it could no longer count on the United States, its chief ally for the past five years in the fight against the Islamic State, according to a Kurdish intelligence official who spoke on the condition of anonymity because he is not authorized to speak to the news media.
This agreement appears to have caught the Administration by surprise and resulted in a quick and seemingly panicked decision to withdraw the remaining American troops in northern Syria:
President Trump's decision to withdraw U.S. troops from northern Syria, where they had long kept an uneasy peace among competing forces, left the region in upheaval Sunday and the administration scrambling to respond to fast-moving events.

In urgent meetings and telephone conferences, top national security officials studied often-conflicting accounts of what was happening on the ground. In public appearances, Cabinet secretaries denied that the United States had "abandoned" its Syrian Kurdish allies to invading Turkish forces and threatened severe sanctions against Ankara.

"This is total chaos," a senior administration official said at midday, speaking on the condition of anonymity about the confusing situation in Syria.

Although "the Turks gave guarantees to us" that U.S. forces would not be harmed, the official said, Syrian militias allied with them "are running up and down roads, ambushing and attacking vehicles," putting American ­forces — as well as civilians — in danger even as they withdraw. The militias, known as the Free Syrian Army, "are crazy and not reliable."

At the same time, the official said, the Islamic State is active in the area, and there are reports that Russian and Syrian forces are moving in as well. "We obviously could not continue," said the official, who called the situation "a total s—storm."

Amid reports of Islamic State militants escaping prisons in the area, a U.S. official confirmed that the American forces had been unable to carry out plans to move several dozen high-value detainees to more secure locations, as first reported by the New York Times. One official said that multiple Kurdish-run detention facilities were now unguarded and that the U.S. military believed hundreds of detainees had escaped.

Trump decided late Saturday to remove all of about 1,000 U.S. troops from the area within weeks, as a Turkish invasion targeting U.S.-allied Syrian Kurdish fighters against the Islamic State expanded deep into Syrian territory, cutting U.S. supply lines and endangering American forces.

(…)

While relatively few in number, U.S. troops in northern and eastern Syria, along with smaller French and British contingents, have aided and directed the Kurdish-led ground fight against the Islamic State for several years and provided a symbolic bulwark against interference by the Syrian government and outside forces.

With their departure, the many players in Syria's overlapping conflicts scrambled for an advantage as civilians fled the fighting and an unknown number of Islamic State prisoners reportedly escaped.

Russia- and Iran-aided Syrian government forces, long held in abeyance by informal lines of control bordering Kurdish-held and U.S.-supervised areas in Syria, quickly seized the opportunity. The Kurdish fighters, outmanned and outgunned by the Turks and their Syrian militia allies, announced late Sunday that they had invited Syrian government forces into towns and cities that have been under their control for years.
These developments come after a weekend of reports that made it clear that the Turks intended on being relentless in what is now obviously designed to be an operation against the Kurdish forces in Syria rather than an effort to carve out a "safe zone" for refugees as the Turks originally claimed. Reports on the ground from American and other reporters told tales of Turkish artillery hitting civilian areas in Kurdish areas and Turkish soldiers engaging in brutal attacks against Kurdish fighters and apparently civilians as well. It also came amid the aforementioned reports that areas where ISIS fighters, including Europeans who had come to Syria to train and fight with ISIS, had been held under Kurdish guard were emptying out rapidly and nobody seems to know where those people had gone. The same is likely to be true for other areas where these prisoners are held as Kurdish forces, bolstered by their new allies in Damascus, rush to defend their land from the advancing Turks.
The biggest winners in all this mess so far, then, are rather obvious. It would be none other than Syrian leader Bashar Assad and his ally in Russia Vladimir Putin. Thanks to the American betrayal, the Kurds had no real choice other than to turn to Damascus for help, of course, and in doing so they relieved Assad of one of the main forces that bad been fighting against his regime in northern Syria. This in turn, obviously benefits Russia who will see its one ally in the Middle East is strengthened and the relationship between Turkey and NATO and Turkey and the United States is weakened. And you can thank Donald Trump and his inept foreign policy for all of it.