Target To Customers: No Guns In Our Stores, Please
Target is the latest business to ask customers to leave the guns at home when they go shopping.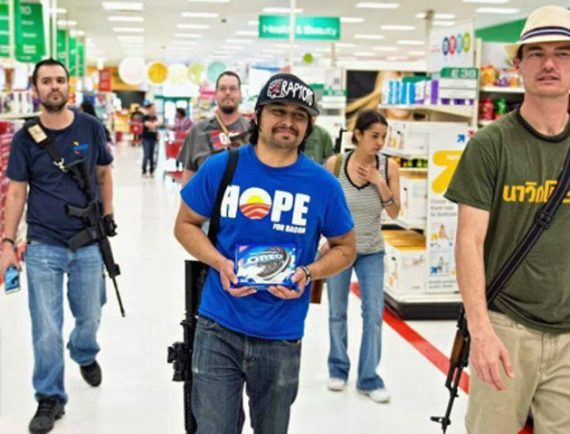 Target is asking customers to stop bringing guns in its stores, although it is stopping short of adopting a policy of formally barring them:
Target Corp. on Wednesday said it would ask customers to no longer carry guns in its stores, bowing to a month-long pressure campaign.

The retailer said it would "respectfully request" that customers not bring guns into its stores, "even in communities where it is permitted by law."

"This is a complicated issue, but it boils down to a simple belief: Bringing firearms to Target creates an environment that is at odds with the family-friendly shopping and work experience we strive to create," Target's interim CEO, John Mulligan, wrote in a memo posted on the chain's website.

Target's move comes after Texas gun-rights groups posted photographs of their members carrying rifles through the aisles of stores near Dallas.

In response, a second group, Moms Demand Action for Gun Sense in America, a gun-control organization funded by former New York Mayor Michael Bloomberg, launched a campaign to pressure the retailer to forbid guns.

The group's founder, Shannon Watts, led an online and social media campaign to boycott Target.
This decision by Target is the latest statement by a major national retail business in response to complaints from groups like Mom's Demand and the actions of certain "gun rights activists" who have often engaged in actions like the one depicted in the photo above, which involved a group of such people openly carrying not just pistols but semi-automatic weapons in a Target store. Last year, for example, Starbucks made a similar request of its customers to not bring guns into the company's stores but also stopped short of barring such weapons. The decision not to formally ban weapons makes sense. If such a ban were in place, then employees would theoretically be charged with confronting people who are open carrying (in states where that is legal) and reminding them of the store's policy, and likely asking them to either leave or store the weapon in their car while they shop. The risk that an incident could result in a confrontation between the employee is real and apparent, so Target and Starbucks would be taking a real risk by adopting a policy that, ironically, could make violence more likely. Additionally, when it comes to concealed carry, again in states where that is permitted, there's really no way for the store to enforce the policy, and employees confronting people who they think might be carrying weapons is likely to cause more problems than it solves.
That being said, while I consider myself a strong supporter of the Second Amendment, I really do have to wonder about people who feel the need to carry a weapon during the course of what are otherwise normal every day activities are thinking sometimes. If you ask them, they will tell you that the weapon is for self-defense and, indeed, there have been plenty of instances of people who were armed thwarting a robbery or a shooting over the years. Additionally, there have been very few, if any, reports of someone who was legally carrying — ether concealed or open — committing an unlawful act. That said, I do find it odd, especially when it comes to openly carrying, which just seems to me to be a way for a gun owner to get in the face of people who might disagree with them.
Paul Waldman comments on the phenomenon:
Gun advocates often speak of their cultural attachment to firearms, and what we have here is certainly a clash of cultures. Target would probably never have taken this step were it not for the efforts of Open Carry Texas, a group of gun owners who get a charge out of walking into a grocery store or a coffee shop with AR-15s slung over their shoulders so that they can see the terrified looks on people's faces. Target's request comes in the wake of similar moves from Chipotleand Starbucks, and in each case it followed the same pattern: Open-carry advocates brought their assault rifles into the stores, customers and staff freaked out, and the corporation decided to make a request of its customers to leave their guns at home.

It's important to understand that there are lots of gun owners who think groups like Open Carry Texas are nuts, and even plenty of gun advocates who think they're doing serious damage to the cause. But groups like theirs have performed a service by reminding us that just as there's a culture of guns, and cultures where guns are plentiful, there are also tens of millions of Americans for whom an absence of guns is a cultural value. It's part of how they define places, whether it's their communities or the stores they shop in, as safe and pleasant. People who grew up around a lot of guns may not blink an eye when they go to the hardware store and see a pistol peeking out of some dude's sweatpants, but many people find that a troubling sight. We're not all going to share the same culture, but being an honorable member of society means being aware of how some parts of your particular culture may make other people uncomfortable or afraid, and trying to act respectfully in response.
Obviously, there is no Second Amendment issue here. Target, Starbucks, and other retailers are free to set policies like this as they wish, and consumers are free to act accordingly. As happened with the Starbucks announcement, I have seen some comments from people on the gun rights side of the debate who say that they aren't going to patronize Target because of this announcement. That is their right, of course, but something tells me that Target isn't going to suffer much in their bottom line from this decision, Indeed, they may end up gaining customers because of it.
Photo via Mother Jones