A Comparative Note on Prisoner Voting
Sanders' suggestion is not as outside democratic norms as one might think.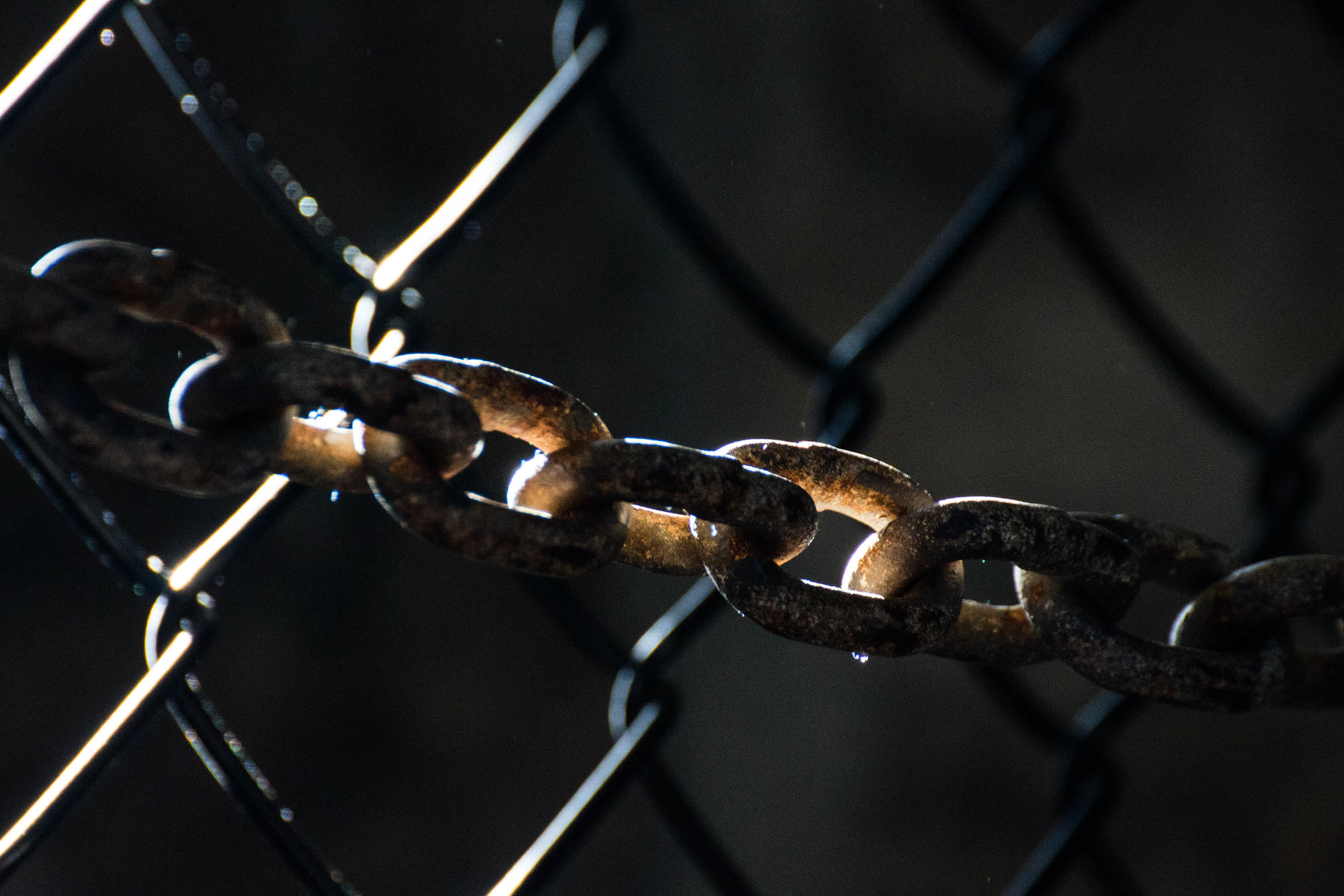 As James Joyner noted earlier today, Bernie Sanders is arguing for the enfranchisement of incarcerated prisoners. This is, as James suggests, outside the mainstream of American political thought on the subject, especially given the fact that in many cases these individuals do not have their voting rights restored once they have served their time in prison.
Note the quote from Sanders in the article that James cited:
"In my state, what we do is separate. You're paying a price, you committed a crime, you're in jail. That's bad," he said. "But you're still living in American society and you have a right to vote. I believe in that, yes, I do."
Sanders is referring to the fact prisoner in Vermont (and in Maine) already have the right to vote from behind bars. As such, he is less proposing some wild new notion, as much as he is arguing for the expansion of a policy that already exists in the United States, albeit on a limited basis.
The National Conference of State Legislatures breaks down felon voting rights as follows:
*In Maine and Vermont, felons never lose their right to vote, even while they are incarcerated.

*In 14 states and the District of Columbia, felons lose their voting rights only while incarcerated, and receive automatic restoration upon release.

*In 22 states, felons lose their voting rights during incarceration, and for a period of time after, typically while on parole and/or probation. Voting rights are automatically restored after this time period. Former felons may also have to pay any outstanding fines, fees or restitution before their rights are restored as well.

*In 12 states felons lose their voting rights indefinitely for some crimes, or require a governor's pardon in order for voting rights to be restored, or face an additional waiting period after completion of sentence (including parole and probation) before voting rights can be restored.

NCLS: Felon Voting Rights
We can further go international: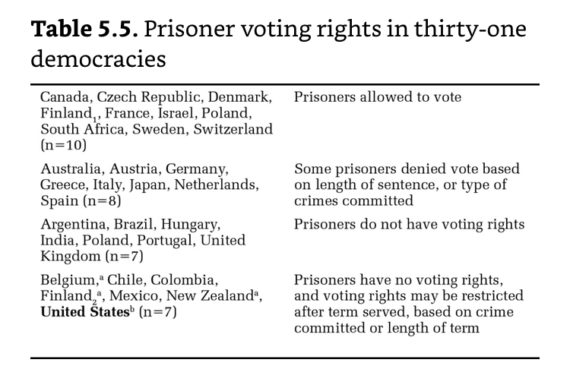 So, it really isn't unusual, in the grand scheme of democratic governance, for prisoners to be allowed to vote. Ten well established democracies allow it fully, and eight additional cases allow some voting rights. By the same token 14 cases deny prisoners the right to vote, with half of those having some post-prisoner strictures being possible. Most of those deny voting rights to those convicted of voting-related crimes (and even then, it is only temporary). The US is the only case wherein it is possible to have one's right to vote permanently taken away.
The topic of prisoners voting is not one I have an especially strong opinion regarding, insofar as I can see the argument for cessation of a large swath of civil rights as a result of incarceration. Obviously, one is curtailed in one's right to association in prisoner. Likewise free speech is curtails, and so forth. As such, stating that one cannot vote is not outside the general parameters of a prisoner sentence. (I do, however, strongly believe that prisoners should have voting rights automatically restored once a sentence is served).
Still, I can see the argument that elections will have consequences for prisoners, and that they are still citizens, even if curtailed ones. Indeed, one could easily connect my post yesterday on democratic responsiveness, as well as James' post on the condition of Alabama prisons from last week and reach the not unreasonable conclusion that letting prisoners have some small voice might help at least draw attention to people who are otherwise forgotten about. The question of felons voting is very much connected to a broader question of what the purpose of a prison sentence is. We often talk the language of rehabilitation, but the objective reality is that we see it as punishment (and the way society often cavalierly jokes about things like prison rape underscores this fact). If we really want prisoners to emerge from prison and start acting like real citizens, it might not be a bad idea to give them some connections to broader society while in prison.
A related note to this is the degree to which our prison system is linked to racial issues. We know, for example, that African-Americans make up a disproportionate number of felons. According the Federal Bureau of Prisons, 37.8% of federal inmates are African-American as opposed to making up only 13% of the broader population. This certainly matters in terms of post-imprisonment, especially when felons are not automatically enfranchised again once their prison term is over.
We know that laws about felon disenfranchisement were linked to race. For an overview, see the Brennan Center report: "Racism & Felony Disenfranchisement: An Intertwined History." Further, there was the practice of using arrest and imprisonment of African-Americans to press them into servitude from the late 19th into the early 20th centuries. See this review of Slavery by Another Name for the basics.
Fundamentally we have not come to gripes with the racial elements of prisons, let alone that of prisoner voting. Still, it is worth keeping in mind that Sanders' proposal is not as radical as it sounds to most Americans if one looks at the global context and, further, we have to be aware of exactly how exceptional we are in this arena (and why).