A (Partial) Solution To The Student Loan Problem?
A change to the Bankruptcy Code could go a long way toward alleviating the burden of student loan debt that seems to be motivating some in the "Occupy Wall Street" movement.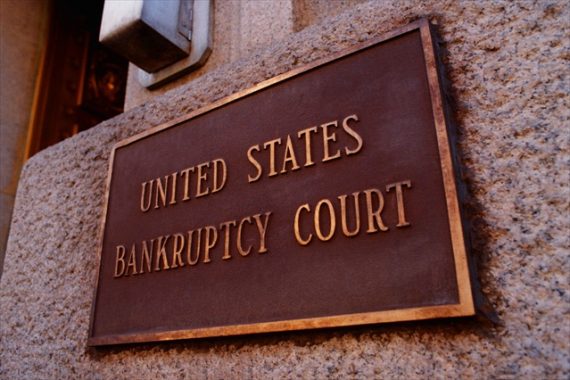 Chicago Boyz contributor Lexington Green offers this idea via Twitter: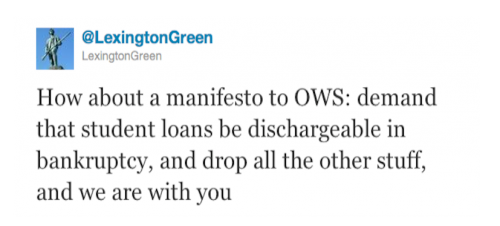 This isn't the first time that I've seen this suggested since the "Occupy Wall Street" protests, highlighted by the "We Are The 99%" stories, became a big part of the news cycle last week. Megan McArdle put forward the same idea just a few days ago:
Let me propose a modification that might at least alleviate some of the problems experienced by the 99%: allow students to discharge their student loans in bankruptcy (at least the ones guaranteed by the government, and private loans made before the rules were changed to make private loans un-bankruptable).  There is really very little excuse for completely exempting student loan debt from bankruptcy.  Bankruptcy is supposed to be the recognition that a person does not and will not have the resources to pay their debts–so why shouldn't the government have to stand in line along with all the other creditors?
This is been a question that has puzzled me ever since I was doing bankruptcy work on a more regular basis back in the 1990s (the 2005 changes to the Bankruptcy Code have made it cost prohibitive for many solo practitioners to accept the dozen or so cases that they used to in the past, but that's another issues).
The basic rationale is two-fold. For one thing, most student loan debt is either owed to, guaranteed by, or has been acquired by an agency of the Federal Government and, as a general rule, debts to government agencies are not dischargeable under a Chapter 7 Bankruptcy proceeding, and must be treated as a Priority Debt, and generally repaid in full, in a Chapter 13 Bankruptcy. The second rationale is that the high default rate for student loan debt requires that it be treated as non-dischargeable so as not to create a moral hazard problem. There are some provisions for relief from these rules, but the standards are incredibly hard to meet.
On their face, neither of these arguments make all that much sense to me. The only reason government debt is nondischargeable is because the government writes the Bankruptcy Code. There may be some forms of debt to government — tax debts and fines imposed by a court come to mind — that should never be dischargeable, but I don't see any logical reason why this should be extended to student loans merely because of the government being involved in the transaction. In fact, with the government now having pretty well taken over the entire student loan industry by fiat, any student who takes out a loan to go to college is automatically agreeing that the debt can never be forgiven no matter how precarious their financial situation becomes.
Of course, there are some downside risks to a proposal like this, as McArdle points out:
I am fully aware of what this would mean: government lending costs would go up, the program might well become unaffordable, and if private loans were included (as they should be, at least for new loans), the private loan market might well disappear altogether for all but the most lucrative specialties.  The reason that the bankruptcy exception was written in the first place was that the loans used to have an extraordinarily high default rate.

But I'm not sure this would be a bad thing.  By allowing students to shift forward the additional income that their degree will earn them, student loans have allowed universities to capture a huge portion of that future income stream–which really hurts those for whom that stream doesn't materialize.  Moreover, it allows students to make the sort of stupid choices that most 19-year-olds will make if they're allowed.  I don't have a lot of patience for university administrators claiming that they just can't possibly charge less than $25,000 for 15 hours a week worth of classes, but they do have one point:  they build expensive new facilities and load on the services because students demand them, and threaten to go elsewhere if they can't get them.  Colleges look ever-more like four year resorts with a sideline in academic research.
I tend to agree with Megan here that these aren't necessarily bad costs. In fact, introducing some sanity into the student loan process might just cause prospective students to look more realistically at what kind of education can afford, or whether they'd be better off taking more than four years to get a degree because they had to work to pay tuition. It might also go a long way toward slowing down the insanely high growth in tuition rates, a topic that has been written about here at OTB several times in the past.
More importantly, though, could making these changes really make things any worse than they are now? I frankly don't see how.
The entire purpose of Bankruptcy is to give people a fresh start. As much as some of my friends on the right might object to the idea, it's worth noting that creating a Bankruptcy Code was one of the powers granted to Congress in the Constitution because, even then, the Founders realized that it was necessary and beneficial. Have the bankruptcy laws been abused in the past? Perhaps they have, although quite frankly I didn't see very much of the kind of abuse that the credit card industry was complaining about when it spend the better part of the late 90s and 2000s when I was spending my time in the Bankruptcy Courts. More often than not, you're talking about people who got incredibly down on their luck and were saddled with debts that they were never going to be able to repay. That seems to be the situation that some of the young 99ers are dealing with right now. Wouldn't it be a good idea to change the law and help them out a little?
So here's what I'm suggesting. Make student loan debt fully dischargeable in bankruptcy, and allow it to be treated the same as any other unsecured debt in a Chapter 13 repayment plan, meaning that the debtor would not be obligated to repay the entire debt in full if the plan doesn't allow for it. Sound like a deal?