Higher Education Bubble: Another Brick in the Wall?
An increasing number of bright observers are questioning the notion that everyone needs to go to college.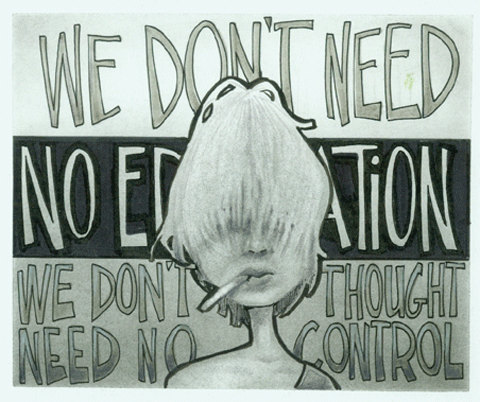 Instapundit and Tennessee lawprof Glenn Reynolds has being sounding the alert for a higher education bubble for quite some time now. Now, PayPal founder Peter Thiel is getting on the bandwagon.
"A true bubble is when something is overvalued and intensely believed," he says. "Education may be the only thing people still believe in in the United States. To question education is really dangerous. It is the absolute taboo. It's like telling the world there's no Santa Claus."

Like the housing bubble, the education bubble is about security and insurance against the future. Both whisper a seductive promise into the ears of worried Americans: Do this and you will be safe. The excesses of both were always excused by a core national belief that no matter what happens in the world, these were the best investments you could make. Housing prices would always go up, and you will always make more money if you are college educated.

Like any good bubble, this belief- while rooted in truth- gets pushed to unhealthy levels. Thiel talks about consumption masquerading as investment during the housing bubble, as people would take out speculative interest-only loans to get a bigger house with a pool and tell themselves they were being frugal and saving for retirement. Similarly, the idea that attending Harvard is all about learning? Yeah. No one pays a quarter of a million dollars just to read Chaucer. The implicit promise is that you work hard to get there, and then you are set for life.  It can lead to an unhealthy sense of entitlement. "It's what you've been told all your life, and it's how schools rationalize a quarter of a million dollars in debt," Thiel says.

[…]

But Thiel's issues with education run even deeper. He thinks it's fundamentally wrong for a society to pin people's best hope for a better life on  something that is by definition exclusionary. "If Harvard were really the best education, if it makes that much of a difference, why not franchise it so more people can attend? Why not create 100 Harvard affiliates?" he says. "It's something about the scarcity and the status. In education your value depends on other people failing. Whenever Darwinism is invoked it's usually a justification for doing something mean. It's a way to ignore that people are falling through the cracks, because you pretend that if they could just go to Harvard, they'd be fine. Maybe that's not true."
Regular commenter John Personna sent the link along, having the misimpression that I'd disagree.
In our back-and-forth, he  pointed me to this Public Radio interview with "Professor X," author of In the Basemen of the Ivory Tower: Confessions of an Accidental Academic.  Audio is at the link. Here's the show synopsis:
America's system of higher education has long been thought of as comprising some of the most prestigious educational institutions in the world. The common perception is that colleges and universities in the United States are made of ivory towers with hallowed halls. However, in Professor X's book, In the Basement of the Ivory Tower, he contends that the reality of the situation is starkly different. Concealing his true identity, he provides a first-person account of America's academic peril from his experiences working as an adjunct professor at two different institutions: one a small private college, and the other a local community college. Forced into teaching due to financial duress from his mortgage, Professor X was met with great frustration as he noted the massive debt students carried after graduation, and the colleges' focus on capitalism and finances over quality of life and education for their students. Eventually, this into-the-fire job led Professor X to personal enlightenment and, ultimately, salvation. How bad are America's colleges and universities? Is academia as we know it doomed?
I haven't read Professor X's book, so can't comment on the specifics of his argument. [UPDATE: A commenter points me to the June 2008 Atlantic article on which the book was presumably based. Every bit of it rings true, bringing back memories of my teaching days.]  But, having experience at a large number of institutions of higher learning, I'd say that they're mostly quite good and in some cases outstanding–at doing what they're designed to do. Even mediocre colleges attract very bright professors, most of whom have a legitimate passion for and expertise in their subject matter. And they do a reasonably good job of engaging their students in the subject matter at hand.
The problem is that we've taken a fairly narrow ideal of Socratic education and tried to mass produce it for an industrial age that no longer exists.
While I'm a believer in education for its own sake, I've long preached the fact that we vastly over-provide undergraduate education. It was obvious to me even as a 20-year-old that most of the people around me didn't belong in a university.  Further, while I'm a PhD who's taught college, the notion that PhDs without practical business experience are supposed to be training people for the job market always struck me as absurd. Education isn't training and vice versa.
My late father dropped out of high school to help the family make ends meet, having stayed in school years longer than either his mother or father, neither of whom had completed grade school. He got his GED and his associate's degree while in the Army.
After retiring as a chief instructor at the Military Police school at Fort McClellan, he was told he was unqualified for a civil service instructor position there because he didn't have a four-year degree. (Instead, they were hiring spectacularly unqualified 23-year-olds with Education degrees.)  So, he dutifully went back for his bachelor's but found the process insulting, given that he'd gotten along 40-odd years and been successful in his chosen career without it.
His only son was eight months ahead of him at the same school, freshly minted as a second lieutenant and a semester away from his master's degree.
For me, money was a huge factor in deciding where to go to school. After West Point didn't work out, I wound up at a Podunk regional college where I got a perfectly good education from very competent professors who loved what they did. But 85% of my fellow students lacked either the aptitude or interest for college and were likely wasting their time. And I've taught at the junior college and Podunk levels, as well as at pretty good schools. Way too many kids go to college because "they're supposed to" and not only suck at it but resent the experience.
I think we need well educated people in society and that higher education can be extremely useful for people in knowledge industries. But there's no obvious reason why someone managing the local Wal-Mart needs to study English Literature or Political Philosophy. Don't misunderstand: You need to be bright to be a good manager of people and budgets; you just don't need a classical education. Maybe a few business classes–which I consider training rather than education–but not four year's worth of lectures and research papers.