A Return to the Treason Conversation
At a minimum, Trump is betraying his oath of office. That is one hell of a minimum.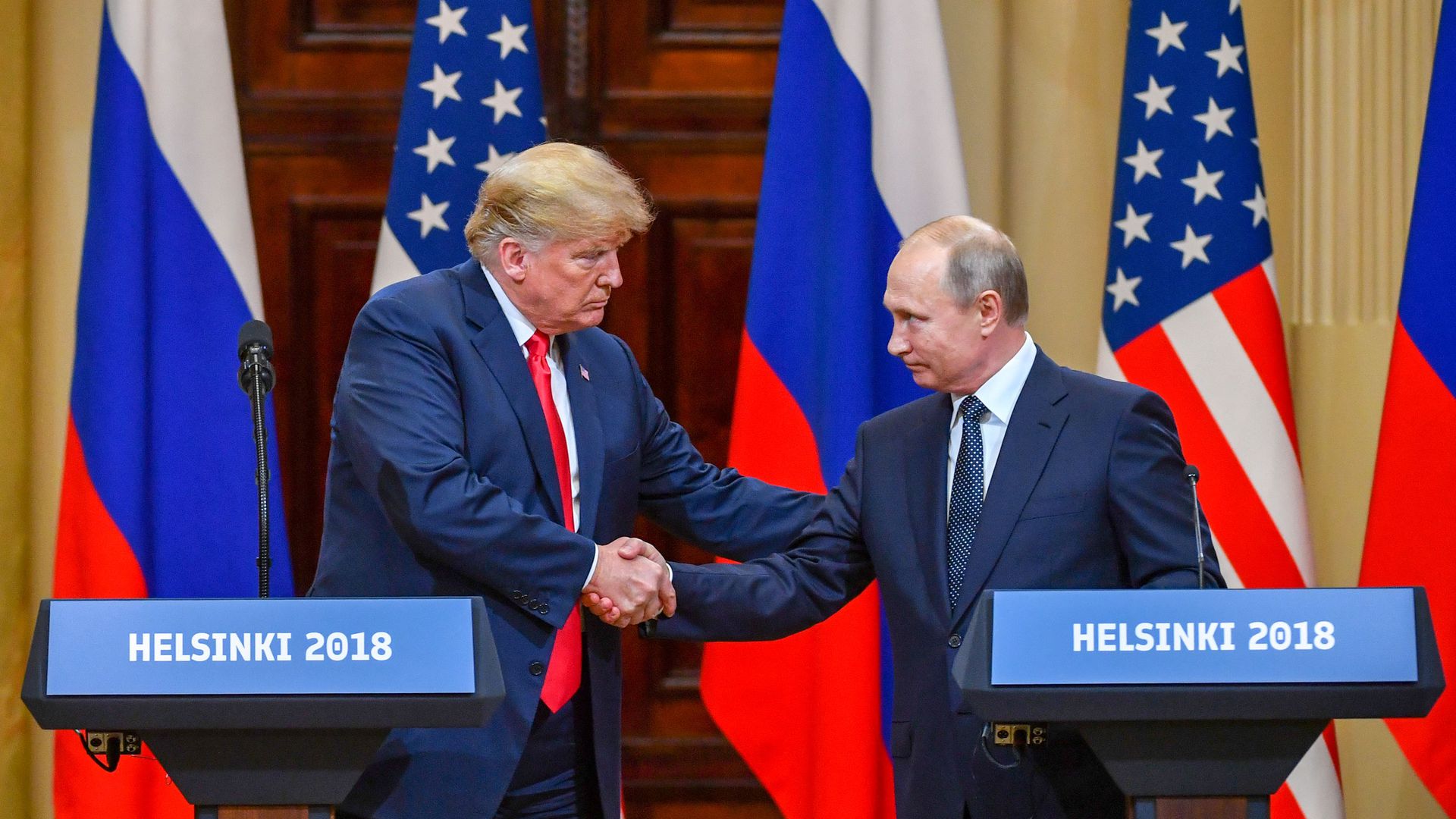 As befits my vocation, I can be a bit stubborn (see, e.g., a gazillion and counting posts about republics and democracies).  But, as also befit my vocation I can change my mind.  I find myself in the process of reevaluating my position on the usage of "treason" in the context of President Trump's ongoing treatment of the allegations of Russian hacking.
So, even if I if am still somewhat reticent about calling these actions treasonous, it is hard to say what a better word is. As a friend put it last night it all at least reeks of "the spirit of treason."
At a minimum, Dan Drezner is right to note the following:
Based on the actions of the Trump administration this week, reasonable people can disagree over whether treason is being committed. Let me repeat that: Reasonable people can disagree over whether treason is being committed by this White House.

I do not want to be writing those words. Much as I may have disagreed with previous administrations in my lifetime, I never doubted that the people in those administrations were trying to advance the national interest the best way they thought possible. After this past week, can that case be made with Trump and his national security team?

At some point, Trump will no longer be president. It will be tempting for whomever succeeds him to turn the page on history, declare bygones and move forward. Not me. The behavior of the Trump administration this week has been suspect. It demands a reckoning. A former CIA chief of Russian operations tweeted, "From a counterintelligence perspective, something is going on behind the scenes. Before Helsinki I was less sure; post Helsinki, I feel sick."

I feel sick typing these words. But the words and actions of this president, his administration, and his loyalists sickens me even more.
I will echo the sentiment that Trump's consideration of arranging a meeting between Ambassador McFaul and the Russian government gave me a bit of pit in my stomach because that is kind of request that should be met with a simple no.
Let me also underscore, as our own conservation here indicated:  reasonable people can, indeed, disagree over whether the president is committing treason. That is a remarkable, frightening, and disheartening fact.  Put another way:  there currently exists, whether one agrees with it or not, a plausible argument that the president is committing treason, if anything in pursuit of his own self-interest.  While probably all presidents have, at one time or another, been accused of treason by an intemperate critic, I cannot think of one who could credibly have been accused of the act.  Nixon's actions, for example, had nothing to do with a foreign power's attacks on the US.
As my previous post should make clear, and I hope my writings in general demonstrate, accuracy in language is important to me and I even have a tendency to understatement, as has been pointed out to me over the years in the comment section of this blog.  As such, the decision to deploy inflammatory language is one I take cautiously.
At the moment, I would easily character Trump's overall approach to the Russian hacking allegations to be a betrayal of his oath of office:
Before he enter on the Execution of his Office, he shall take the following Oath or Affirmation:—"I do solemnly swear (or affirm) that I will faithfully execute the Office of President of the United States, and will to the best of my Ability, preserve, protect and defend the Constitution of the United States."
Such a betrayal should be an impeachable offense.
There is copious, direct evidence that actors in the Russian government sought to influence electoral outcomes in the United States.  There is copious, direct evidence that actors in the Russian government attacked computer systems belonging to a major US political party.  There is copious, direct evidence that actors in the Russian government have sought to damage US democracy by increasing polarization and citizen in-fighting.  There is copious, direct evidence of attempts by actors linked to the Russian government to infiltrate any influence major interest groups in the United States.
The president has done precious little to deal with this very serious evidence. It is his job to do something about such evidence.
The explanations of his actions fall, I think, into these possibilities:
He has a clever plan for bringing better relations with Russia that will lead to world prosperity and the pay off is so huge that requires him to put on an act.
Along the same lines as #2, Trump actually has a grand vision of the world built on economic nationalism, and he sees Russia as part of that plan and hence is downplaying the evidence.  But, rest assured, there is a coherent explanation based on policy preferences.
The evidence is all crap and he knows it.  He just isn't doing a good job of explaining this special knowledge to the rest of us.
He really doesn't believe the evidence before him, which suggests serious mental deficiency or intellectual incapacity.  Skepticism is one thing, but denial of strong evidence in the face of significant corroborative information is another. (Given his lack of interest in actual information, an alternative version of this is that he is refusing to even address the evidence in any substantive way).
He is too lazy to engage in this complicated issue.
He has an unhealthy respect for autocrats that leads him to behave this way.
He is so easily manipulated by people like Putin that he continues to allow it to happen. As I tweeted yesterday: "If @realDonaldTrump can be manipulated by Russia right in front of our eyes in the context of an investigation and intense scrutiny, what are the odds he was manipulated in private during the campaign?"  Seriously, the man is being played, live on TV in front of a global audience.  Are we to believe worse hasn't happened behind closed doors?
He is so insecure about his 2016 victory that he cannot bear any possible scenario in which it is called into question even an iota.  Any suggestion that Russian hacking helped him cannot be allowed to be believed.  All that matters are his ratings (e.g., electoral votes and crowd size). He is so petty that he would betray his oath.
He is actively downplaying the investigation because he knows his campaign got played during the campaign and he is now using his office to actively obstruct justice.
He is actively conspiring with the Russians, maybe because he owes them money and/or because they have other kompromat.
He was a Manchurian candidate.
Now, I actually think that 1, 2, 3, and 11 are all absurd possibilities. (And 1, 2, and 3, if they were real, would at least take this conversation into the realm of policy disagreement, but does anyone credibly think any of those three options are serious possibilities? If so, hard evidence please).
Number 4-11, are all betrayals of his oath.  Number 4 is also grounds for a 25th Amendment removal from office.
The likelihood is that we are dealing with some combination of 5-9. My best bet at the moment is really is 8 plus 9.  10 would not shock me. 5 is his general governing style, and 6 is just the way he rolls (see, also, North Korea, the Philippines, and Turkey).
One thing is for certain:  he is not taking seriously an attack on the United States.  That is a betrayal of his oath, plain and simple. This would be easier to see and explain if the attack has been physical.  But the truth is that attacks that we have experienced, and are likely to continue to experience have had, and will continue to have, far more devastating effects on our polity than any terrorist attack since 9/11.
So, back to treason:  in common parlance, what is the word we use for a betrayer?  We tend to say "traitor."
As such, I take the point.
I remain cautious about the term, as I keep mentally returning to the legal definition, its history as a term used my monarchs and authoritarians to squelch dissent, and the fact that over-use of dramatic words dulls their significance. I also would reiterate points I made in the comments of my previous post:  the language of treason leads to the language of war.  That linguistic escalation has its own consequences that are not insignificant (see, e.g, the post-9/11 world and how overwrought language leads to terrible policy decisions.  Indeed, our fear of terrorists is part of what has given the current immigration debacle).
But in terms of a basic, direct description of the failure of the President of the United States to take seriously an attack on this country coupled with the clear appearance that he is obstructing the investigation, I am not sure what other singular word is appropriate (as many commenters noted in the discussion of my previous post).  Even if his motives are purely personal we are in the realm of serious betrayal.
So, again, I take the point.