Airlines Make Profit!
The airline industry turned a record profit for the 2nd quarter. Don't expect it to last.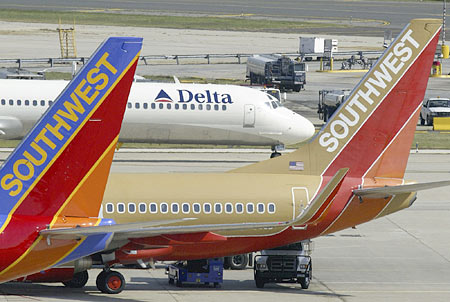 Among the "overlooked" stories covered by The Blaze on its first day in action is "Airlines Return to Profits," a story which otherwise would only have been seen by those with access to the Associated Press wire.
The International Air Transport Association says 47 major carriers it monitors to assess the industry's financial health reported a net profit of $3.9 billion in the second quarter.

The results contrast with the $881 million net loss posted by carriers a year earlier.

IATA says airlines in North America and the Asia-Pacific region performed best.

The Geneva-based association says European carriers' results were boosted by a $1.3 billion asset sale in the second quarter, without which they would have posted further losses.

IATA said Monday that airlines benefited from stable fuel prices and slowly improving demand over the past months.
The path to the recent profitability has been the steady destruction of carriers, whether through bankruptcy or merger, and the paring of flight schedules to ensure that most planes are packed to the brim.    By getting supply nearly to the level of demand, the airlines can charge enough to actually make money on most flights.
Additionally, the carriers have over time leveraged the decaying state of their business to get pilot and maintenance crew salaries down to sustainable levels.
Don't expect this to last.  We've had commercial aviation for nearly a century now and nobody has managed to make a sustained go of it yet.   As the business starts to look profitable, we'll inevitably see more entrants into the competition, driving down price, and demands from labor for their fair share, driving up costs.