Glenn Beck Launches Blaze, HuffPo Style Magazine
Capitalizing on the buzz from his weekend rally, talk host Glenn Beck launched a new online magazine called The Blaze overnight.
Capitalizing on the buzz from his weekend rally, talk host Glenn Beck launched a new online magazine called The Blaze overnight.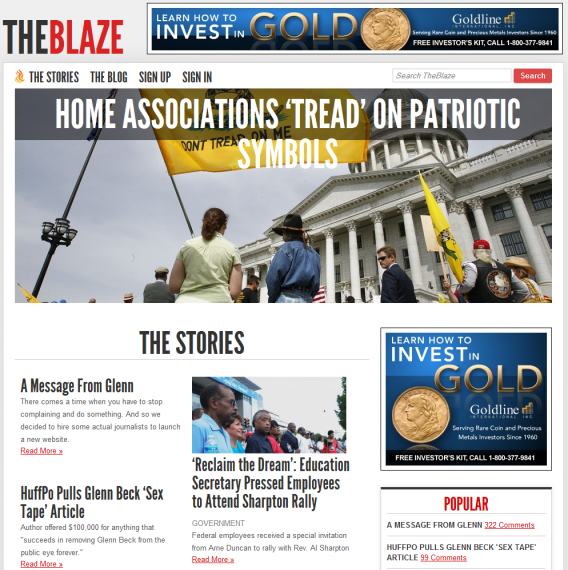 His rationale:
If you are like me, watching the news or reading the paper can be an exercise in exasperation. It's so hard to find a place that helps me make sense of the world I see.

Too many important stories are overlooked. And too many times we see mainstream media outlets distorting facts to fit rigid agendas. Not that you've ever heard me complain about the media before. Okay, maybe once or twice.

But there comes a time when you have to stop complaining and do something. And so we decided to hire some actual journalists to launch a new website — The Blaze. And we moved fast. We built the team and the site in just two months.

We want this to be a place where you can find breaking news, original reporting, insightful opinions and engaging videos about the stories that matter most.

The Blaze will be about current news — and more. It's not just politics and policy. It's looking for insight wherever we find it. We'll examine our culture, deal with matters of faith and family, and we won't be afraid of a history lesson.
A decade ago, this would have filled a legitimate niche.  But there are now dozens of online news sites, many from the right, which do precisely this.
Mediaite's Steve Krakauer reports the site will be edited by Scott Baker, formerly of Breitbart TV and host of "The B-Cast".
People will inevitably make the comparison to Arianna Huffington – whether Beck's role as figurehead behind the site will make The Blaze into a conservative Huffington Post. "The one thing pretty clear around Mercury [Beck's company] is that Glenn is not short on ideas or hesitant on input," Baker said. "His input is already evident in how the site looks, and that's what will continue. It will be a continual flow of tips and suggestions and encouragement."

The "small scrappy staff" behind The Blaze include Baker as well as Jon Seidl, formerly of the Manhattan Institute and American Spectator, and Meredith Jessup, formerly of Town Hall. Also, Pam Key of Naked Emperor News will contribute as a video editor. Baker moved over to Mercury at the beginning of June and began shaping the site. He will continue hosting "The B-Cast" the daily web show, with Liz Stephans.
Aside from the ubiquitous ads from the Goldline scamsters, which seemingly undercuts the "faith and family" message, the site looks very much a right-leaning Huffington Post.    Tucker Carlson is already trying to fill that niche with Daily Caller.   But, let's face it, Beck is a much bigger draw than Tucker.  The site has a very good chance of catching on despite the competition.
UPDATE:  In terms of the HuffPo comparison, there are at least two ways in which The Blaze thus far falls short.
First, while Beck is relying on a "small scrappy staff," Huffington has a massive one, most of which are unpaid.  Presumably, Beck will follow suit here and, unlike Carlson, he's well positioned to inspire enthusiasts willing to provide hundreds of pages of content every day in order to support the cause and for the privilege of seeing their name in print.
Second, while Huffington launched her site intending it to be a conglomeration of celebrity opinion — which it became — it only succeeded as a business model when she gave the audience what it really wanted.  Which is to say, celebrity gossip and soft core pornography.    While all or almost all of the stories highlighted on the front page on any given day are about politics, that's not where the pageviews are coming from:

Given his family values platform, Beck will have a hard time copying this plank of Huffington's success.