Glenn Beck, Sarah Palin Draw Large Crowd To Lincoln Memorial
Glenn Beck and Sarah Palin held a rally on the National Mall, but at times it sounded more like an old-time religious revival than a modern political rally.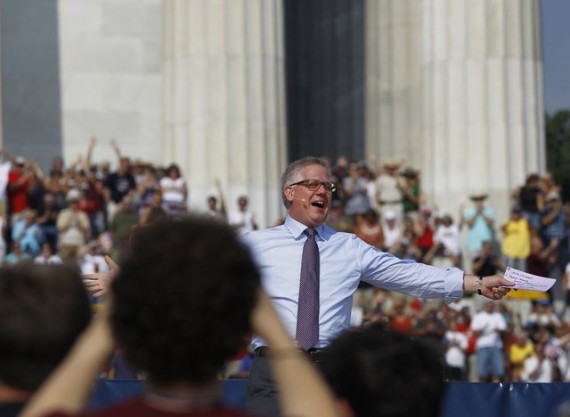 The crowd estimate wars are likely to start up soon, and I don't plan on engaging in them, but whatever the number there's no denying that there was a large, enthusiastic crowd today for Glenn Beck's "Restoring Honor" rally at the Lincoln Memorial:
WASHINGTON — Tens of thousands of people rallied at the steps of the Lincoln Memorial Saturday at an event organized by the conservative broadcaster Glenn Beck, who called for a religious rebirth in America at the site of Martin Luther King Jr.'s famous "I Have A Dream" speech 47 years ago to the day.

"Something that is beyond man is happening," Mr. Beck in opening the event as the overwhelmingly white crowd thronged near the memorial grounds. "America today begins to turn back to God."

Mr. Beck, a Fox News broadcaster who has been harshly critical of President Obama and Congressional Democrats, has come under attack for dishonoring the memory of Dr. King by staging the event on the anniversary of his speech, which was part of the civil rights movement's March on Washington. Critics suggested Mr. Beck was trying to energize conservatives in advance of the coming midterm elections. Civil rights activists intended to march to the site of a King memorial being constructed nearby.

But while Tea Party activists and other conservatives have generally focused on fiscal issues and steered clear of social themes this year, Mr. Beck, in speeches Friday and Saturday, imbued his remarks with references to God and a need for a religious revival.

"For too long, this country has wandered in darkness," said Mr. Beck, dressed in a shirt and tie on a sunny late-summer day. "This country has spent far too long worrying about scars and thinking about scars and concentrating on scars."

Mr. Beck was followed by Sarah Palin, the former Republican vice presidential candidate and Alaska governor. She said that she had been asked, in keeping with the theme of the day, to focus not on politics, but to speak as the mother of a soldier.

"Say what you want to say about me, but I raised a combat vet and you can't take that away from me," Ms. Palin said.'
The religious overtones of the event are even more apparent when you read the Washington Times' take:
From the steps of the Lincoln Memorial, conservative broadcaster Glenn Beck told a crowd of tens of thousands of people Saturday that the U.S. has too long "wandered in darkness."

His rally's marquee speaker, Sarah Palin, praised "patriots" in the audience for "knowing never to retreat."

The two champions of the tea party movement spoke from the very spot where Martin Luther King Jr. delivered his "I Have a Dream" speech 47 years ago. Some civil rights leaders who have denounced Beck's choice of a venue staged a rival rally to honor King.

Palin, the 2008 GOP vice presidential nominee who may make a White House run in 2012, said activists must honor King's legacy by paying tribute to the men and women who protect the United States in uniform.

Beck, pacing back and forth on the marble steps, said he was humbled by the size of the crowd, which stretched along the Washington Mall's long reflecting pool nearly all the way to the Washington Monument.

"Something beyond imagination is happening," he said. "America today begins to turn back to God."

"For too long, this country has wandered in darkness," said Beck, a Fox News host. He said it was now time to "concentrate on the good things in America, the things we have accomplished and the things we can do tomorrow."
Notwithstanding Beck's pre-rally statements that the rally was "non-political.," what this rally was actually about, and what it means, largely depends on what side of the political aisle you sit on. For Beck and his fans, it was about "Restoring Honor" and, for a brief time, honoring America's troops. For many on the left it's seen as a slap in the face considering that it's taking place on the anniversary of Martin Luther King's "I Have A Dream" speech:
WASHINGTON – Broadcaster Glenn Beck and tea party activists have a right to rally in the nation's capital but not to distort Martin Luther King Jr.'s vision, the Rev. Al Sharpton said Friday.

Sharpton described the demonstration planned for Saturday by Beck and his supporters as an anti-government rally advocating states' rights. And he said that goes against the message in King's famous "I Have a Dream" speech, in which the civil rights leader appealed to the federal government to ensure equality.

Beck's "Restoring Honor" rally will be held at the Lincoln Memorial, where King delivered his speech exactly 47 years earlier. Beck and other organizers say the aim is to pay tribute to America's military personnel and others "who embody our nation's founding principles of integrity, truth and honor." The broadcaster toured the site Friday as supporters cheered.

Sharpton wasn't the only one upset with circumstance surrounding the event.
Sharpton, who is hardly a paragon of racial tolerance himself, is holding his own rally later this afternoon, with participants including the New Black Panther Party, and has reportedly been turned down in requests that a member of the King family join the event.
After listening to the Beck rally this morning, though, I think the charges of racism were clearly over the top. That doesn't mean it wasn't a political rally, though. Regardless of whatever Beck might say, the political undertones were rather obvious, and the degree to which it mixed religion and politics should quite honestly be disturbing to anyone who believes in the value of secularism in politics.
I'm not sure what the impact of this rally will be. I'm sure Beck has something more planned, he always seems to, stay tuned.