Glenn Beck Leaving FOX News
Glenn Beck will leave his Fox News show in December.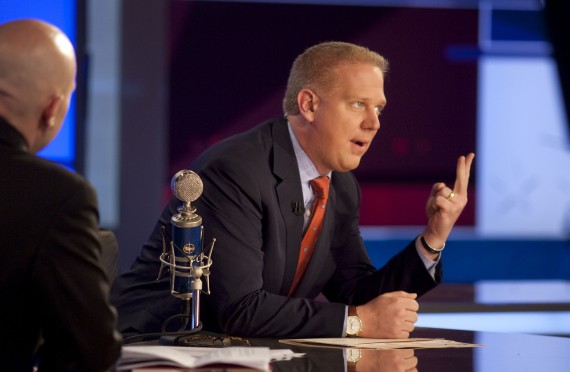 Details are sketchy right now but NPR's David Folkenflik reports that Glenn Beck is ending his weekday show on Fox when his contract ends in December but will perform "special projects" for the network.
Bill O'Reilly had this to say on Don Imus's show yesterday:
I mean, this guy is building quite an empire…like him or not, he's a savvy business guy…I don't know if he's going to do that or not. I mean, television for me is my main deal, but not for him."

O'Reilly said Beck's radio show is "pretty powerful in the middle of the country," and that Beck could also focus on the many personal appearances that he makes. "It's a business decision that he's going to make," he said.
Speculation has been that Beck would form his own media company. Writing at Forbes, Marc Babej thinks this would be a non-starter.
So what about the prospects of a Glenn Beck TV channel? Look at it this way: with OWN, Oprah Winfrey has made a play for a personality-driven network. However, Oprah has four key advantages: she's associated with entertainment, not politics; she's almost universally liked; she has been around for a long time.

Fourth, and most importantly, Oprah has a proven track record of minting money for those who invest in her. Beck, meanwhile, is having a hard time in that crucial department. Despite high ratings, Beck's FNC program  has failed to attract advertisers comparable to rivals CNN and MSNBC in the same hour. In the last week of February, for example, Beck attracted 39 advertisers – none of which is a true A-lister. We're talking the likes of Goldline or SeniorPeopleMeet.com.
I think that's right. Crazy can attract eyeballs. But blue chip companies don't want to be tainted by the association.
Update (Doug Mataconis): The New York Times reports that the speculation that James Joyner notes above has been confirmed by Fox and Beck:
Glenn Beck will end his daily Fox News Channel program later this year.

His departure was jointly announced in a statement on Wednesday by Fox and Mr. Beck's company, Mercury Radio Arts. The statement did not specify an end date for the show, called "Glenn Beck," which has been telecast at 5 p.m. on Fox News since early 2009. Mr. Beck's contract with Fox ends in December.

Fox News and Mercury Radio Arts, which have sometimes clashed over the making of "Glenn Beck," will "work together to develop and produce a variety of television projects for air on the Fox News Channel as well as content for other platforms including Fox News' digital properties," the companies said in the statement.

As expected, a senior Fox News executive, Joel Cheatwood, will join Mr. Beck at Mercury Radio Arts starting later this month.

The statement was briefly posted on The Blaze, a Web site owned by Mr. Beck, but it was then taken down. Representatives for Fox and Mr. Beck did not immediately explain why.
So Beck isn't really leaving Fox so much as he's stepping behind the camera in some manner. As for the reasons why, there have been plenty of stories about tension between Fox and Beck that don't need to be retold but it's also worth noting that Beck disclosed some time ago that he was suffering from an illness that would cause to him to eventually go blind.
Also, Howard Kurtz provides a behind the scenes look at the relationship between Beck and Fox News, which had deteriorated over the past year (not unlike the manner in which the relationship between Keith Olbermann and MSNBC fell apart in the end when you think about it.)