Are Opponents Of Same-Sex Marriage Bigots?
The fact that someone disagrees with you doesn't mean they're evil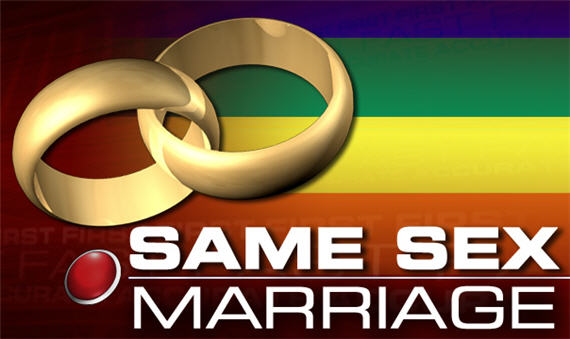 The comment thread to my post yesterday about the Chick-Fil-A controversy ended up evolving into a debate over whether or not opposition to same-sex marriage was always per se bigoted. Michael Reynolds and several others take the position that it is:
When Mr. Obama opposed SSM he was a bigot. I said so then. And the African-American churches who campaign against it are bigots. I said that, too.

There's a time when reasonable men can be simply misinformed, or unaware, or when their attitudes can be seen as part of a transition. Like Jefferson with slavery, let's say, though that's stretching it.

But at the point where an issue has been clearly laid out, and one side no longer has any rational argument but merely reiterates its opposition to an expansion of liberty and proposes to continue second-class status for some group of their fellow Americans, they cease to be "another opinion," and become, "bigots."

In my opinion we have crossed that line.
I understand the argument, but while I stand in support of same-sex marriage and disagree with people like Dan Cathy or, up until a few months ago, Barack Obama, I find it hard to take the leap into saying that every single person who opposes same-sex marriage is, by definition, a bigot. Same-sex marriage is an emotional subject matter for the supporters and especially those who are directly affected by the current state of the law. However, it should also be recognized that it's also an emotional issue for many people on the opposite side of the argument as well. For many of them, it's seen as a matter of deeply held religious values. For others, it's a matter of tradition and the fact that, they contend, that same-sex marriage would constitute a radical change to centuries of how marriage has been defined in the west. Now, I happen to believe that neither of these arguments have much merit. As to the first, nobody in this country is seriously talking about forcing religious institutions to accept same-sex marriage (if they did, I would oppose it as much as I suppose SSM). As to the second, the fact that we've done something one way for a long time doesn't mean that it's the right way. The institution of marriage as recognized by the government brings with it certain benefits and legal protections and laws banning same-sex couples from attaining that legal status are a violation of equal protection because there is no rational basis for the state to define marriage as only being between one man and one woman.
So, the opponents of same-sex marriage are, in my opinion at least, wrong. But, does that mean that they are all bigots too?
Well, to answer that question, perhaps we need to remember what the definition of a bigot is:
A person who is obstinately or intolerantly devoted to his or her own opinions and prejudices; especially : one who regards or treats the members of a group (as a racial or ethnic group) with hatred and intolerance
Are there some opponents who fit this definition? Most assuredly, and one need only listen to the words of men like Bryan Fischer of the American Family Association to see that, for some people, opposition to same-sex marriage is based as much in hatred for homosexuals as it is any appeals to what the Bible says or "tradition." Indeed, many of them use the words of the Bible itself to justify their hatred, the most extreme example of that being the vileness that is the Westboro Baptist Church. Those people are justifiably called bigots. However, I don't think it's necessarily fair or accurate to apply that label to every single opponent of same-sex marriage.
Under this logic, as I mentioned in the comment thread yesterday, this would mean that President Obama was a bigot until his "big announcement" in May, that the African-American ministers who continue to oppose same-sex marriage are bigots, and that every single religious person who opposes same-sex marriage is bigoted simply because of that is both inaccurate and unfair in my opinion. Surely, if these people are also advocating discriminating against gays and lesbians, or re-instituting the laws against sodomy struck down by Lawrence v. Texas then the label can be applied, but not everyone who opposes SSM takes those position. Many of them support civil unions and other rights for gays and lesbians, but don't believe it's right to expand the definition of marriage. That's the position that President Obama used to take, for example. You can say that they're wrong, and I do, but to label them as bigots strikes me as hyperbolic and counterproductive.
Besides, if you're going to call people who oppose SSM bigots, then what word is there to describe the Bryan Fischer's of the world, or the Islamic nations where homosexuals are regularly put to death merely because they are homosexuals? On the grand scale of things, I'd say that last part is the most egregiously anti-gay position of all and yet I see people here in the United States spending more time worried about some relatively innocuous comments by the President of Chick-Fil-A on a radio show than the Iranian mullahs who are murdering gay people at will.
There's one other point that's worth keeping in mind here, I think. There's no question that public opinion on same-sex marriage has changed drastically in a very short people of time. You need look no further than this Gallup chart to show how dramatic, and quick, the change has been: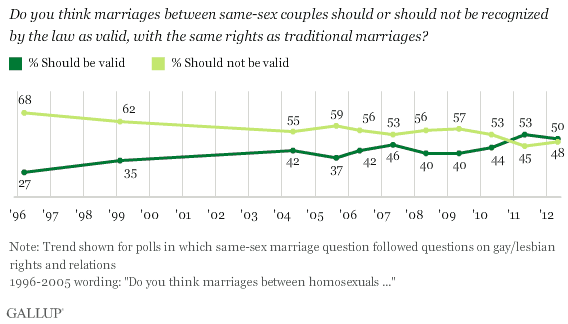 Just sixteen years ago, nearly 70% of Americans opposed same sex marriage and only 27% said that they supported it. In a very quick period of time we've gotten to the point where same-sex marriage is, quite literally, a 50-50 issue. To understand just how unusual this rapid change in public opinion is, take a look at this chart showing the results of polling on interracial marriage from the time before Loving v. Virginia to today:
Loving was decided in 1967, striking down anti-miscegnation laws across the country. However, it wasn't until sometime in the late 90s, according to this poll that 50% of the American public supported interracial marriage. That's a period of time nearly twice as long as the period during which same-sex marriage has gone from something supported by less than one-third of the public to something that half of Americans support, and if you add civil unions into the mix the support for legal rights of some kind for gay and lesbian couples goes even higher. It's easy to see where the trends are going here. Thanks largely to demography, but also to the fact that gays are a broadly accepted part of American life, we're going to reach a day when the vast majority of the American public supports same-sex marriage. At that point, either the laws will have been struck own by the Courts, or they will be overturned by popular will.
Keeping that in mind, it strikes me that characterizing all of your opponents as bigots isn't exactly the best way to win hearts and minds on this issue.  A lot of people have changed their minds on the issue of same-sex marriage over the years, most notably our President. If the cause of same-sex marriage is going to be advanced, more people's minds will have to be changed. You're not going to do that by telling them that they are no better than the Ku Klux Klan.