As The Year Draws To A Close, Trump's Job Approval Numbers Continue To Be Dismal
As we near the end of the year, the President's job approval numbers remain at historically low levels, and there's no sign that they'll improve in 2018.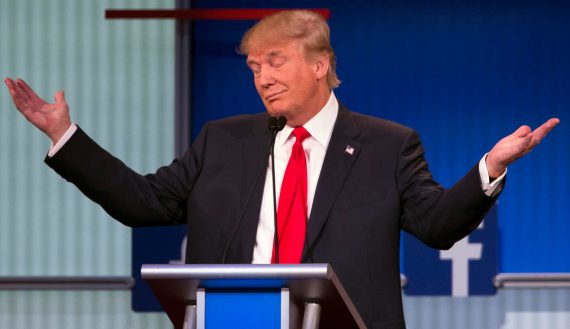 As we head toward the end of the year, the last round of polling of the President's job approval is being released, and it's showing the same thing that we've been seeing since the beginning of the Administration. Specifically, of course, I'm referring to the fact that this President has some of the lowest job approval numbers ever seen this early in a President's term, something that doesn't bode well for Republicans as we start gearing up for the midterm elections next fall.
First up, there's a new poll from CNN showing that the President has reached now lows in that poll:
Nearly one year after his inauguration, President Donald Trump's approval rating sits at 35 percent, according to a new poll released Tuesday by CNN, a historic low for a commander in chief in the December of his first year in office.

The 35 percent approval rating is Trump's worst mark yet in CNN polling. Fifty-nine percent of respondents said they disapprove of the way Trump has handled his job as president. Before Trump, no president dating back to Dwight Eisenhower ever had an approval rating lower than 49 percent in December of the first year in office.
This poll also had bad news for the GOP when it comes to the tax cut package that could be signed into law as early as tomorrow or Thursday:
The tax reform package championed by Trump that is currently nearing completion on Capitol Hill also polled poorly among respondents to the CNN survey. Fifty-five percent of those polled said they oppose the tax reform plan, a 10 percent increase over last month. One in three respondents said they support the measure

The tax reform bill has faced stiff opposition from Democrats, who have suggested that it amounts to little more than a tax cut for wealthy Americans that will balloon the deficit. Republicans, poised to pass the measure without any Democratic support, have argued that the bill will stimulate economic growth and make the U.S. more globally competitive by cutting the corporate tax rate.

The poll released Tuesday by CNN seems to indicate that Democratic messaging on the legislation has been more successful. Two-thirds of respondents said they believe the tax bill will benefit the wealthy more than the middle class, while 37 percent told CNN that they believe their family will be worse off if the legislation is signed into law by Trump.

Poll respondents also indicated they believe the tax bill backed by the president will offer benefits to Trump and his family. Sixty-three percent said the legislation will leave Trump and his family better off. The number of respondents who said they disapprove of Trump's handling of taxes is up 6 points, to 57 percent, relative to a month ago.
These numbers are similar to those indicated in the new poll from NBC News and The Wall Street Journal, which also showed the Generic Congressional Vote leaning heavily toward Democrats:
And the NBC/WSJ poll — which was conducted right after Democrats' surprising Senate victory in Alabama — finds President Donald Trump's job approval rating at 41 percent among all Americans, which is up three points from October, while 56 percent of Americans disapprove.

But those who "strongly disapprove" of Trump's job (48 percent) outnumber those who say they "strongly approve" (24 percent) by a 2-to-1 margin.

"All in all, I think a 41 percent Trump approval and an +11D lead in the control of Congress definitely puts control of the Senate and the House as more doable for Democrats in 2018," said Democratic pollster Fred Yang of Hart Research Associates.
Finally, there's a new poll from Quinnipiac that has similarly bad numbers for the President:
American voters disapprove 59 – 37 percent with the way Trump is doing his job overall and give him low grades on most character traits:

62 – 34 percent that he is not honest;
62 – 35 percent that he does not have good leadership skills;
62 – 37 percent, that he does not care about average Americans;
70 – 28 percent that he is not level headed;
57 – 40 percent that he is a strong person;
52 – 45 percent that he is intelligent;
65 – 32 percent that he does not share their values.

"Confidence in the economy is eclipsed by profound doubts about the president's level headedness, honesty, empathy for fellow Americans and handling of foreign policy," said Tim Malloy, assistant director of the Quinnipiac University Poll.

"A big bag of coal under the Mar-a-Lago tree from a voting public that has little confidence in the president."

American voters give Trump negative ratings for his handling of several key issues:

33 – 62 percent for handling foreign policy;
45 – 48 percent for handling terrorism;
37 – 60 percent for handling immigration;
29 – 64 percent for handling health care;
35 – 58 percent for handling taxes. Sexual Harassment/Sexual Assault
Looking at the overall picture, RealClearPolitics puts the President's job approval at 38.4% approval versus 56.8% disapproval, giving the President a gap of -18.4 points. On the economy, Trump's approval has turned decidedly negative notwithstanding the seemingly positive state of the current economic situation, with an average of 44.8% approving of the President's performance in this area while 47.0% disapproval. On foreign policy, the numbers are nearly as bad as the President's overall job approval numbers with 37.3% approving of how the President is handling foreign relations and 57.3% disapproving, which makes for a -20 point gap for the President in this crucial policy area. The Pollster average, meanwhile, puts the President at 37.3% approval and 58.0% disapproval with overwhelming numbers of Democrats unexpectedly disapproving of his job performance while a similar margin of Republicans voice approval. Among Independents, meanwhile, the President stands at 32.8% approve and 60%  disapprove. This is both worse than the President's approval number among the population as a whole and worse than his number among independents has been since the start of his Administration. Finally, the FiveThirtyEight average shows Trump at 37.1% approval and 57.4% disapproval, a gap of more than 20 points.
As the RealClearPolitics chart shows, while there has been some movement, Trump's numbers continue to be bad and seem to be trending worse as the year winds  down: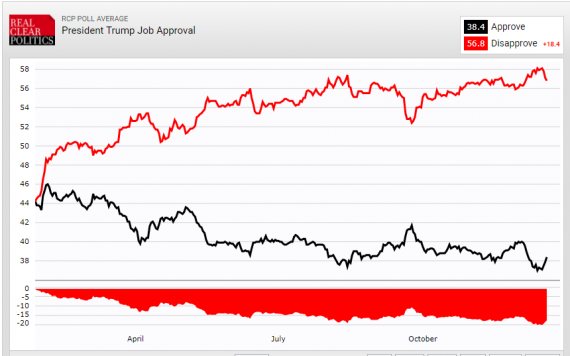 With just over a month to go before we hit the one-year anniversary of the Trump Administration, it seems fairly clear that, notwithstanding whatever one might say about actual policy achievements, the President is destined to end his first year in office with some of the worst job approval numbers we've seen for any President since the Second World War. As we head into the 2018 midterms, this is clearly not good news for the Republicans in their bid to either gain seats or to prevent Democrats from gaining seats and possibly taking back control of either chamber of Congress. As I noted this morning, the Generic Congressional Ballot shows Democrats in a very good position headed into the new year, and all signs right now seem to indicate that this coming round of midterms is going to be rough indeed for the President and his political party. Even outside of the impact on the midterms, these numbers and the deeper analysis in several of the polls noted above show that the President is in a very difficult position when it comes to the overall opinion regarding his trustworthiness and his ability to handle a crisis situation. Fortunately, we've been able to make it through 2017 without such as crisis occurring, but that's something that could change at any given moment and when the Oval Office is occupied by a man who the public fundamentally doesn't trust that does not bode well for the public's confidence in the government as a whole. At some point, this Administration is going to be tested and it's going to depend on the trust of the American people. If these numbers are an indication, that trust is going to be hard to find.