More Bad Signs For The GOP In 2018
More good poll numbers for Democrats as we headed into 2018.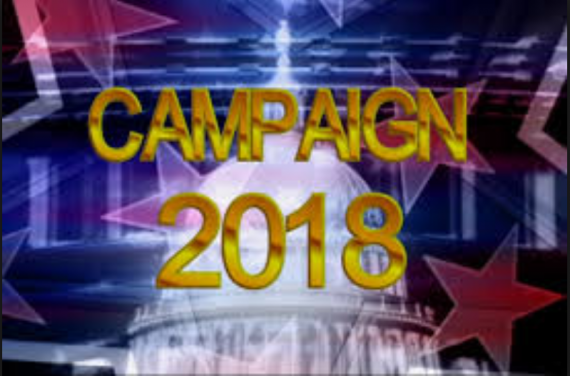 A new poll from NBC News and The Wall Street Journal has more bad news for Republicans as we head into the 2018 midterms:
In this most recent poll, Democrats hold a whopping 48-point lead in congressional preference among voters ages 18-34 (69 percent to 21 percent), a 20-point lead among female voters (54 percent to 34 percent) and a 12-point lead among independent voters (43 percent to 31 percent).

By contrast, Republicans have a 2-point edge among white voters (46 percent to 44 percent) and a 12-point advantage with whites without a college degree (50 percent to 38 percent).

Notably, Democrats lead among male voters by 2 points, 46 percent to 44 percent, and among seniors by 4 points, 46 percent to 42 percent.

The NBC/WSJ poll also shows Democrats with the intensity advantage, with 59 percent of Democratic voters saying they have a high level of interest in next year's elections (registering either a 9 or 10 on a 10-point scale), versus 49 percent of Republican voters saying the same thing.

Additionally, 62 percent of voters who said they voted for Hillary Clinton in 2016 have a high level of interest in next year's midterms, compared with 50 percent of Trump voters.

"A double-digit margin here is an important indicator of Democratic intensity," said Republican pollster Bill McInturff of Public Opinion Strategies, who conducted this survey with Democratic pollsters from Hart Research Associates.
As I've said in the past, it may be a bit too early to look at poll numbers as an indicator of where things are headed next year. There's still plenty of time for intervening events on either the domestic or international front that could have a significant impact on voter preferences, and the big unknown at this point is what state the economy will be in when voters head to the polls next November. Republicans, quite obviously, hope that the tax reform bill, which will be passed by the House today and the Senate tomorrow or Thursday, will stimulate the economy sufficiently for voters to think that the GOP should be rewarded for delivering on a decade-old promise. Realistically speaking, though, that we won't see any real economic impact from the tax bill until the end of 2018 at the earliest, and probably won't really know how it has impacted the economy until 2019 and beyond. Democrats, of course, seem to be likely to pin many of their hopes for 2018 on public disapproval of the Trump Administration and Republicans on Capitol Hill. While this is a standard strategy for a party out of power, it seems fairly clear that the party will need to come up with something more than just being anti-Trump. Such a strategy will help to motivate the Democratic base, of course, but it's not at all clear that it will enough to cause non-Democrats to pull the lever for a Democratic candidate in a Congressional or  Senate election.
All that being said, it's fairly clear that the playing field is looking good for Democrats in the coming year, even in the House of Representatives. As things stand, the RealClearPolitics Congressional Ballot Average gives Democrats the same eleven-point average advantage over Republicans that we see in the NBC poll. That average shows 47.9% of voters saying they'd be inclined to vote for a Democratic candidate next year and just 36.8% saying they'd be inclined to vote for a Republican. It's also consistent other recent polls that also give the Democrats a double-digit or near double-digit lead over Republicans, including polling from  Public Policy Polling and Monmouth that give Democrats an eleven-point and fifteen-point lead respectively, polls from The Economist and YouGov and Reuters/Ipsos that give Democrats an eight-point lead, and a Quinnipiac poll that give Democrats a twelve-point lead. All of these polls were conducted over roughly the same period last week. The Pollster average, meanwhile, shows a narrower margin between the two parties with 41.5% saying they'd be inclined to vote for a Democrat and 35.1% saying they'd vote for a Republican. FiveThirtyEight's numbers, meanwhile, show 48.9% saying they'd vote for a Democrat and 37.5% saying they'd vote for a Republican.
Additionally, as the RealClearPolitics chart shows, there has been a gap in favor of the Democrats for some time now, but it appears to be growing as we head into the new year: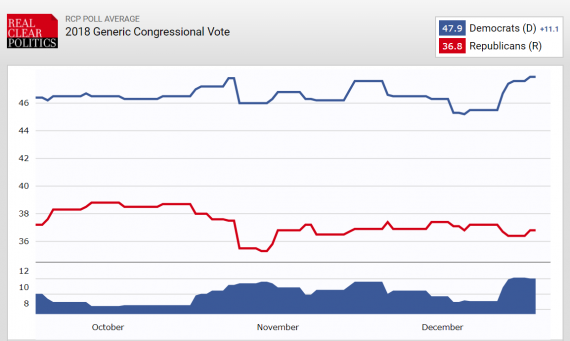 As I've said before, history tells us that it's likely that Democrats will gain seats in Congress this year in any case simply because they are the party out of power. With the notable exception of the 2002 midterms, this has been the historic norm going back decades now and it's likely to be the case next year. Given those historical norms and the general disdain for the President, that's in the political air these days, and things look good for Democratic gains. The question, of course, is whether those gains will be sufficient to give them control of one or both chambers of Congress. On paper at least, the Senate looks much more favorable for Democrats today than it did even a week ago thanks to the victory of Doug Jones in Alabama, but the fact remains that Democrats still have far more seats to defend next year than Republicans do, so it's unclear whether or not they'll be able to win the two net seats they'd need to gain control of the upper chamber. In the House, Democrats would need to gain at least 25 seats in order grab a slim majority n the House, meaning essentially that they'd need what constitutes a wave election similar to what they saw in the 2006 midterm and 2008 General Election or what Republicans saw in the 2010 midterms. While current generic ballot polling is consistent with numbers that have preceded wave elections in the past, it's not clear if that alone will be sufficient to give the Democrats the lead. Nonetheless, the signs are certainly looking good, and President Trump could find he has a problem on his hands once 2019 rolls around.